Do you know how many students are open to taking up entrepreneurship immediately on graduation in the graduating class of 2017? Which domain do you think is the most popular among aspirants and 1st years and how does that preference change once they are in the 2nd year?
It's time to reveal our findings. This is year 5 of our Recruitment Survey and Recruiter Rankings. The only platform that provides insight into what students and management professionals think. We look at their aspirations and motivations. We also come out with lists of the most desired recruiters across top business school campuses in India. These findings are based on surveying over 1200 students who answered over 25 questions in our questionnaire.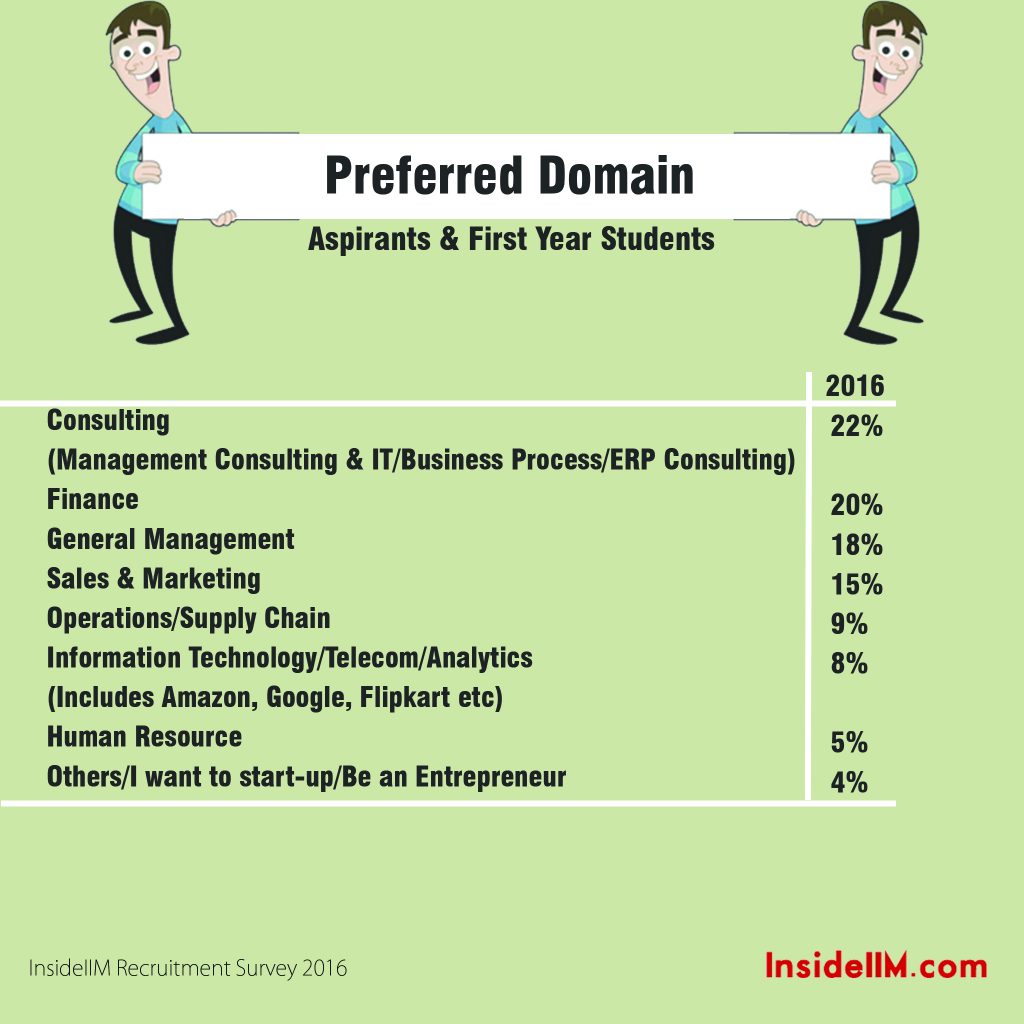 As is the case every year, before joining business school and in the first year of MBA a large proportion want to get into Consulting. The realisation dawns later that the odds are not very favourable if you are not in the top 7-8 schools in India and/or have poor acads or have a very ordinary overall profile. Consulting as a domain has seen robust hiring over the last 5 years but it is still not as easy to get a consulting job. Banking & Finance remains popular among this segment in part because of the money and partly because of the glamour attached to it. The numbers generally come crashing down for 2nd year students owing to realisation that there just aren't enough top quality banking jobs in India or for Indian MBAs anymore and that foreign banks hire very selectively from the top tier of schools. Only 4% want to be entrepreneurs from this lot! This even before entering a school or spending a year in b-school. Is it that MBA now attracts only those who want to get a cushy job or was it always the case?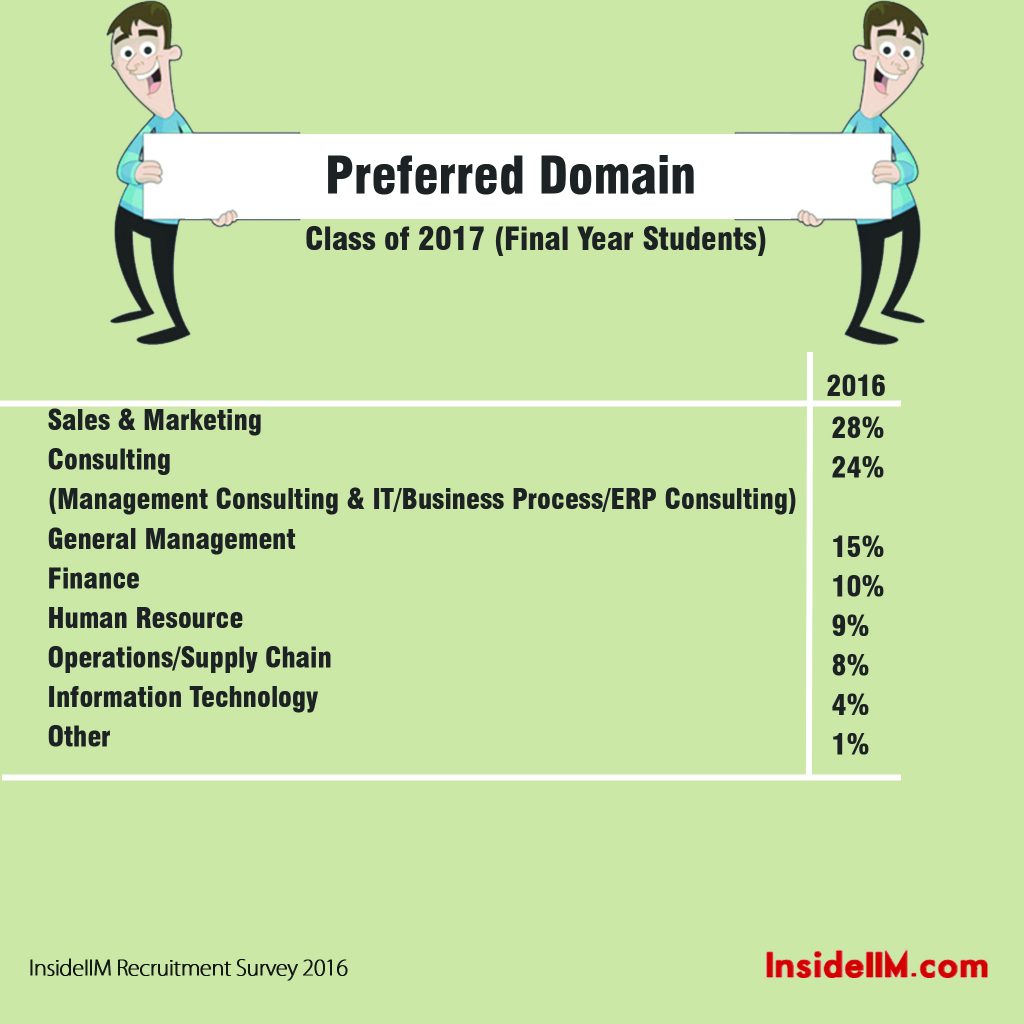 Almost every single year we see Sales & Marketing overtaking other domains when we ask final year students. Summer Internships have been experienced. The reality around Banking & Finance is now known (look at the contrast when compared to Aspirants & First Year students 10% vs 20%) and a lot of people seem to switch in big numbers out of it. Consulting is still very popular and desirable. HR sees a jump and the trend has been in that direction for some time and it continues to grow. More schools are also offering an HR specialisation - apart from the incumbents XLRI, TISS, SCMHRD we also have MDI-HR, IIM Ranchi - HR and other private schools supplying more HR professionals to the industry.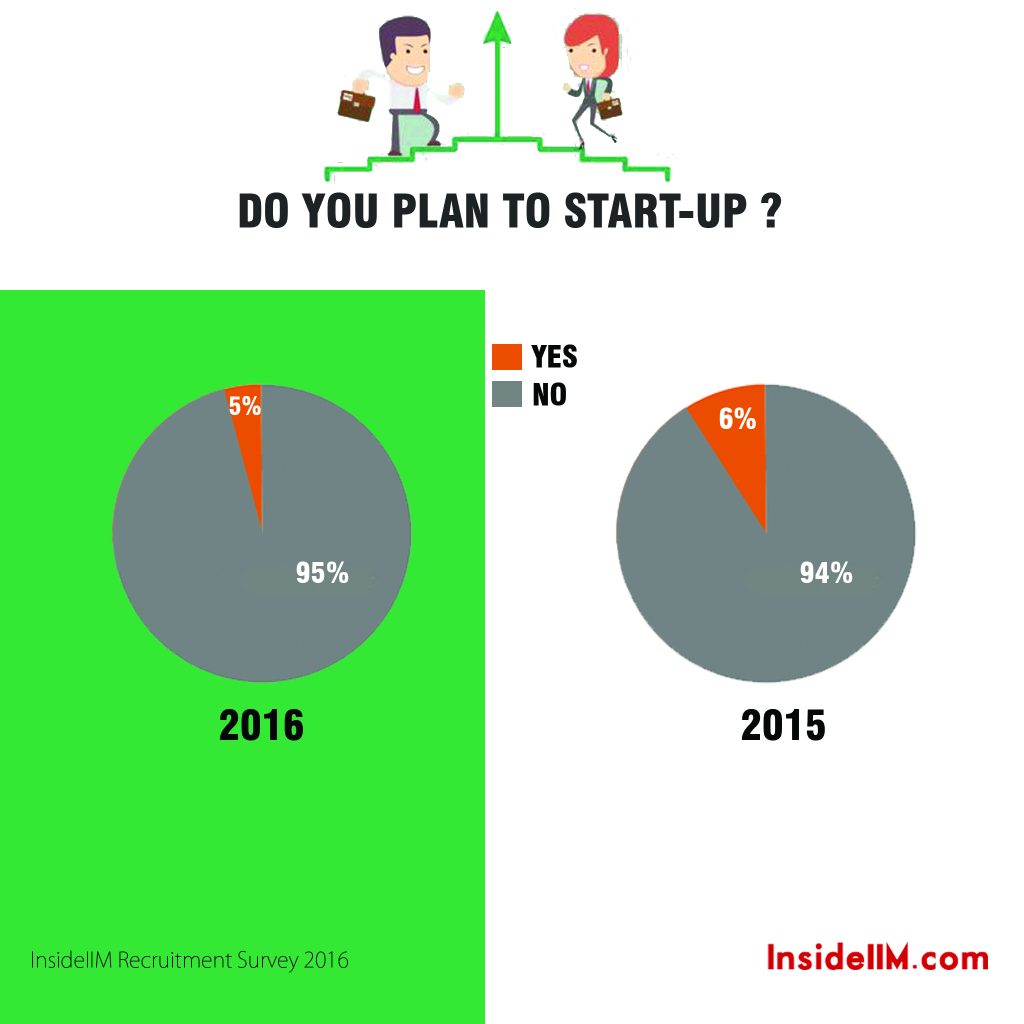 There is not much to analyse here. Number of graduating students willing to take up entrepreneurship continues to remain very low and we don't see this changing unless there are some big changes made by business schools around fees, scholarships and placement policies. The MBA from an IIM today has become too expensive for students to become entrepreneurs immediately. Most private schools also have programmes which are very heavily priced. You can't pay an EMI of 30k along with trying to start a company. It just doesn't work.