1. Only Indian official position holder
2. Only Indian-Indian, not Indian-American (the most important Republican who cannot vote)
3. Trump stood for anti-illegal immigration, this person was contrary to this belief
These, and many such unique epithets adorn Mr Avinash Iragavarapu, IIM Lucknow' alumnus, as he showed the world what management in action can bring about. Aastha from IIM Lucknow , and part of Team InsideIIM spoke to Avinash about his journey.
Q. So Avinash, could you please tell us something about your background? How did you come to choose the rather unusual (for a B-school grad) field of politics?
A. It might sound poetic, but it was politics which chose me. My grandfather was very active in Andhra state politics, hence politics was not a stigma in my family. Activities like election campaigning was a regular affair. One of my earliest memories is, as a 10-year-old, I had campaigned for the candidate my family supported in the 1994 elections. So, politics as a field of activity had always interested me.
Academically speaking, I was the typical South Indian boy (laughs). I was good in mathematics and engineering came naturally. Looking back, all the dots connect; had a good GRE score, but chose to join IIM Lucknow. Before this, I was working for a franchise business, travelling all over AP.
Q. That is a pretty interesting! So how was life here at IIM Lucknow? Did politics take a backseat in your mind space while you were here?
A. On the contrary, I used to think the management principles could be used in politics and more specifically, campaigning. I was in IIM L at a very interesting time, 2009-11, when Twitter had just started in India and social media was increasingly becoming important. I used to think how social media could be leveraged in campaigns. I am guilty of losing myself in my own thoughts in classes! In the Operations classes, I used to think of ways to optimise campaigning, where to set up the office to optimise costs, etc. In the Promotional Strategy class, I used to wonder how to utilise marketing concepts in elections!
I was part of the Alumni Committee (ALCOM) at IIML. Nostalgia (our annual alumni get-together) was underway, when I spoke to a famous alumnus, and the conversation got me thinking about what I wanted to do in the next 5 years. I left campus to join HCL Technologies.
Q. How did the foray into politics happen, then?
A. Like I said, I had never thought of being an active politician but always loved the campaign part of it. In 2004 Andhra state elections, I just walked into one of the candidate's office and asked if I could be of some help. I was just an engineering student back then.
Then I heard about Mamata Bannerjee taking on interns from IIM Calcutta, on her team. I got more interested and active. I became a regular audience member on TV debates, the one Barkha Dutt used to host on NDTV, and put questions to politicians. But I couldn't have done it all without the IIM name.
I happened to observe Uttarakhand elections once, met people and observed things. Back home, Y.S. Jagan Mohan Reddy had started a new party. I happened to know certain people in the new party and got an appointment with him. I moved to Andhra after the Delhi stint of HCL, and part-timed for Jagan Mohan during weekends. I stayed in any lodge/hotel/any place and used to talk to the people of the state. It was purely a CONSUMER BEHAVIOUR study. The voter, what does he think, what a woman voter thinks, what do they think in the different rallies.
Q. Wow! That sounds so hectic!
A. Yeah, it was pretty hectic. But it was a great learning curve.
Q. How did you manage the job when things got even more hectic?
A. So during the March, 2012 by-elections, I took a 3-4 week sabbatical from work, and did end-to-end work which had a lot of impact. A lot of the work involved consumer study, observing and suggesting changes, etc. Many a times, the party volunteers aren't trained in all this. So I quit my job, for full-time indulgence. Politics is all about trust, like in a family-run thing. The faster you show results, the more they trust you. I had a team of 150 people, engineers and other professionals, who in groups of 5 surveyed villages to judge public sentiment and candidates' position.
Q. WHOA! You quit your job for full-time campaign management! Well, how did the US political scenario show up in your life?
A. Somewhere in this journey, I got married. She was in US, I went there to bring her back to India. I was in a car when I saw an ad appealing for votes (the state's gubernatorial elections were imminent). As all things political appeal to me, it got me curious about the US elections. Even while at the gym and in the sauna, I spoke to a lot of people sitting next to me, to get an idea from them. For further research, I went to the library, studied US elections systems. It has a 'primary' system, wherein the people choose the candidates from each party, who then run for the governor's/president's post.
Post my research, I wrote to the candidate, who was a businessman, and understood the concepts I brought forth. He hired me. Then there was no looking back. He won the primary, became the republican nominee, and needed to get a majority of state senate and congress. He went on to become the Arizona Governor, and then I was hired as the Political Director of the state party, then moved on to become the Executive Director of Arizona Republican Party (they have one exec director for each state, and all these directors are part of the Republican National Committee).
Q. Well that sounds like a story out of a fairy tale! Could you please shed some light on the use of data and the analysis that you bring to election campaigns?
A. The campaign team uses a lot of data, especially on the response of the voter base. We use age/gender/religion/ethnicity and other such clustering to decide which is the most favourable demographic.
We also analyse data to decide how to allocate budget. Say, you have $100, how do you spend that on campaigning: phone calls/mails/social media, TV ad, etc. How to spend the budget, where to spend, ensuring that people vote on party lines, what appeals to which group of people, etc. Politics works on deadlines similar to those in a sales role, but since I loved it, I never felt pressurised.
However, I did have to miss my only sister's wedding, and my mother is still mad at me for that!
Q.Hawww.. that's kinda sad :/ But yeah, part and parcel of the job, I guess.
How did you handle media criticism, the negativity around Trump, and the party work in general?
A. Media was biased against him, but we went into the field and in our focus group studies and surveys, we had a lot of positive response which kept us going. Yes, we were underdogs, but never left any stones unturned. The results speak for themselves. You also hear a lot from people around you, but you keep going on.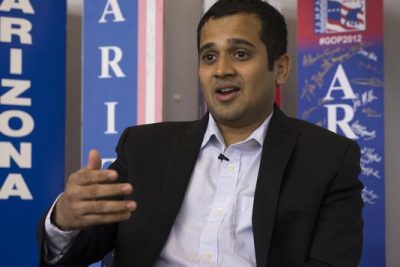 Q. What do you believe is the future of analytics in Indian politics?
A. Let me start by saying that US elections are much more transparent. Databases in US are far more superior. India too would definitely reach that stage, no doubt; the question is when.
See, companies had been running even before social media and analytics, but such tools have become a part of the business now. It's the same with politics. It existed even before technology, but the technology makes it much easier and has become an increasingly integral part. 10 years down the line, a party NOT using data analytics might have a SUPER popular leader or a super big budget, MAY win. But analytics makes everything much more efficient.
Q. Nothing could be closer to the truth! So what does future behold for you now?
A. People from other countries reaching out, for more campaign work. So I am in the process of getting like-minded people together, want to build a team so that they can be honed for big campaigns (building websites, writing articles) but political instincts is needed. It is so much of a management work (SOCIAL MEDIA, HR, FIN, MARKETING)
Q. Avinash, any message for us?
A. In the campus, there is a lot of social pressure about which company you get into, it does not matter in the end. If you are competing in the right field, is all that matters. People have done well everywhere. KEEP SANE WHILE IN THE CAMPUS. If you want to start up, they shouldn't be competing for jobs, and that is the right thing to do. Don't indulge in escapism. I had taken CFA out of social pressure, nothing wrong in that, but it didn't really help much in my career path. Your career choice should be about what appeals to you and you should start with getting a clarity.
Thank you so much for sparing your valuable time for InsideIIM, Avinash. We are sure many of our readers would be inspired by your story.
Aastha Sneha Pathak is a 2nd-year student at IIM Lucknow. Besides living the hel(L)ish life, she loves to read. She is also a member of Forty Two, the literary and debating club on campus, as well as, Team Disha, the committee of placement mentors.