IMT Ghaziabad is one of the few B-schools in the world which are accredited by global accreditation body Association of Advanced Collegiate Schools of Business (AACSB). Only four other Indian B-schools; namely IIM Calcutta, XLRI, ISB, and TAPMI are accredited by AACSB. Only 5% or nearly 700 B-schools in the world have this accreditation. All the programs offered by IMT Ghaziabad have AACSB accreditation which includes two-year PGDM (Full-time), two-year PGDM (Dual Country Program), 15 month full-time residential PGDM (Executive) and three-year PGDM (Part-time) programs.
The Ghaziabad campus is a 14.7-acre fully residential campus of IMT. It is an environment-friendly, lush green campus and is always buzzing with the activities of students even at night. The campus has various sports facilities as well – football and cricket ground, floodlit basketball court, badminton and volleyball court, which keep the students engaged. The amphitheatre at the heart of the campus is another major attraction.
The new academic block has state of the art and Wi-Fi enabled air-conditioned classrooms. Since the students spend many hours every day in the classrooms, they are well-designed to take care of all their needs. They are spacious and provide for presentations, performances and events alike.
The IMT campus is always buzzing with activities.Chakravyuh (B-school sports festival), Passion (annual B-school fest), Amphi Nights (alumnus meet), Communicon (Annual Media Conclave), Zest (fresher's night) etc. are the main events. Students participate in extra-curricular activities, quizzes, conclaves and competitions at various B schools. The campus has an amphitheatre which is the favourite spot with the students for entertainment, performances and open houses. Some of the performances are truly enchanting and enthralling!
Library has 44102 Books (Print), 138212 E-Books, 10621 E-Journals, and 1914 AV Cassettes & CD-ROM and has institutional membership of American Information Resource Centre (AIRC), British Council Library (BCL), Management Libraries Network (MANLIBNET) and Developing Libraries Network (DELNET) to full fill information needs of faculty and students. Library is a source to get information support for students' course curriculum and self-development. A well-stocked fully automated library equipped with latest books and journals on business management and general subjects.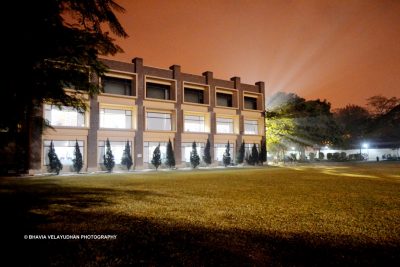 IMT Ghaziabad campus
This is one of the most amazing aspects of IMT Ghaziabad. The mess at IMT Ghaziabad was established in 1980.The Mess Committee facilitates the availability of quality and variety of food to over 1,250 students, faculty members and academic & non-academic staff four times a day and seven days a week. A dedicated team of many mess staff workers put relentless efforts for making this possible. Pizza Nite, Mess-o-mania, Diverse India, Mess Day; Pasta Nite etc. are the key initiatives of mess committee. Jain food is also provided to students who prefer no onion and no garlic food.
IMT Ghaziabad has a strong alumni network of more than 9500 alumni worldwide with its alumni taking over many prestigious positions across the globe. Politician Sachin Pilot, Renowned lyricist, screenwriter and ad-guru Prasoon Joshi, and Deepak Mangla (Chief Executive Officer & Global Head Of GSCs, JP Morgan) are a few of the noted alumnus.
The students at IMT Ghaziabad are groomed to take up leadership roles in various organisations and institutions. Nearly the entire set of activities at this B-school is run by its students. Students here have an active engagement in sports, parties and academic activities which help them gain key insights into acquiring leadership roles, learn practical management lessons and networking. All the clubs and committees are student driven activities having faculty members as mentors. As a student you are tested to limits you didn't even knew ever existed, you make an effort to discover yourself among all that. You become vulnerable to prospects and try to embrace the entropy. IMT is the place where the 'Sun never sets'.
IMT Ghaziabad has its very own Toastmasters club, which gives a unique opportunity to students to become good public speakers and improve their linguistic skills. Students love to attend Toastmasters meetings and the improvement in their personality is visibly evident. Pranjal Joshi who is the writer of this article has been the Sergeant at Arms at this club and a member of its core committee.
10. The Social Initiatives
IMT Ghaziabad believes in giving back to the society and it patronizes social changes aimed at spreading joy. Make A Difference Foundation or MADF is IMTs social wing which organizes events such as Joy of Summers (school children spend an eventful day at the campus to witness a fun-filled event), Sahyog(distributing clothes collected from students to the deprived), Needz(a convenience shop operated by students) and a blood donation camp called Sanjeevani etc.
About the Author: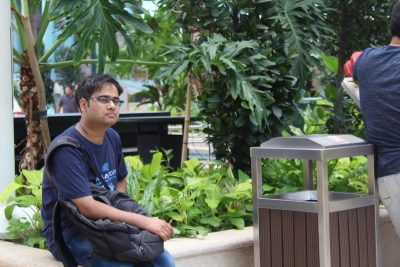 Pranjal Joshi is a student of PGDM (Executive)/PGPX at IMT Ghaziabad, which is a 15 months full time residential programme. He is a Bachelor of Engineering in Computer Science and hails from Jaipur, Rajasthan. He has been passionately writing articles, blogs, essays etc. for different magazines, websites, newspapers and portals for more than a decade. His areas of interest include politics, social causes, sports, current affairs, spirituality and general issues etc. He loves to express himself as a public speaker and is a prolific writer. He substantiates his writings by means of constructive criticism and satire, he is well-known for his ability to express the truth seamlessly, his thought provoking ways of judging and explaining characters and situations enlightens the audience. Pranjal loves to travel and socialize and is an avid art lover.