This morning, my mother asked me to look for newspapers outside the door. I picked them up and saw the front page of TOI (Yes. We curse it everyday but like thousands of households in India, we still subscribe to a copy of the Times of India).
[caption id="attachment_36184" align="aligncenter" width="512"]
22nd April, Mumbai, Front Page[/caption]
Note this - 1 English Premier League Story and 1 Champions League story on the front page. However, what is more important is the absence of any IPL, (arguably India's biggest cricket event) related news on the entire page. It is significant in my eyes that events in a foreign football league are bigger news for India's biggest English language newspaper than India's domestic Cricket league which was not too long ago touted as being the next big thing in sports.
It motivated me to finally write down what I have been discussing with close friends for quite a while now. I have been observing the steady decline in interest in Indian cricket over the last 3-4 years now. Also, I have become an avid follower of the English Premier League. I used to follow scores earlier but it was always peripheral. Recently, I have quit doing many other things on weekends for football.
Here are a few reasons why I think Football (especially EPL) may overtake cricket soon (by 2020) in India :
1) Timezone, TV and the Internet : Unlike all other types of content, the value of sporting content is highest when it is available live. It is an event and the romance is in the uncertainty. While you could watch a Breaking Bad episode a few hours after it was first telecast, the prospect of watching a match whose result you already know is not very appealing. Hence, live broadcast is critical. All EPL matches are perfect prime time weekend watch. The timezones are favourable. Indians understand English. I think the only reason EPL has more followers in India than the La Liga is the time the matches are broadcast. La Liga has chosen South America (and rightly so) as its principal market out of Europe.
Also, the advent of the internet makes it easy for you to follow the sport. Someone relatively new to the sport can easily get the context. There is a ton of information online. Thousands of blogs and pictures and stories. People start identifying with the club's history by reliving it through the internet. Live broadcast on the internet makes sure you can watch any match in the league. Internet has played a huge part in the sport and the league becoming even more popular in India. The increase in subscription model of revenue for TV/Internet will ensure high content quality.
2) Football academies of Footballing giants in India : Manchester United, Barcelona, Arsenal and Liverpool all have academies for youngsters from ages 6 to 18 across big cities in India. A lot of money has been pumped in and they are professionally run. It is a matter of time before India throws up a young promising player who will catch the imagination of the world. More importantly, he needs to catch the imagination of India.
3) Corporate interest in Football : Last week ,we saw team auctions of a new football league in India where celebrities and cricketers bought football franchisees for cities across India. Sachin Tendulkar, Sourav Ganguly, Ranbir Kapoor among others own football clubs in the India Super League. This league is supported by the big daddy of corporate India - Reliance. This is a small step but a step nonetheless. Big names will ensure that the league is a least noticed. Milind Deora a politician in India, runs a football competition for kids in South Bombay with the help of a few corporates. All these developments will only add to building a long-term football fan base in India.
A note of caution though. The I-League of India has never really taken off in mainstream consciousness of the Indian public. Results of the league are generally tucked away in discreet corners of the sport pages of leading dailies. They are rarely on the homepage of leading websites in India. In 2007, FIFA's Blatter called India a sleeping giant. However, even Syria and Afghanistan are ranked above India in the FIFA rankings. We are yet to play in a Football World Cup. We can only hope this will change.
4) Football Leagues are better Content : At the heart of it, football leagues around the world make for better content than sports like cricket. Take the EPL for example, there are enough competitive teams that make the league interesting. The format is viewer-friendly. It is a game that is easier to understand. Women seem to find football interesting too. 90 mins is great for our shrinking attention spans. You also need to appreciate the effort put into the production quality when a match is telecast - the commentary, the analysis etc. The eco-system is very strong. The organizers 'respect' the fan and the player the final product is always very rich.
Cricket was complex but it has become increasingly so with rules being changed all time in ODIs. DRS system does not make it easy. There are only 2-3 top test teams that dominate. It is boring to keep watching an India vs Sri Lanka match or an Eng vs Aus match. Top teams need to play each other more often to make matches competitive which takes away the novelty and uniqueness of the event. As far as T20 leagues go, they are definitely more popular but have very little history or context to them yet. Players keep switching teams and there is no loyal fan base. Football is not corruption free but the reputation of leagues like EPL has been largely untarnished. IPL on the other hand suffers from serious credibility issues. Cricket has ignored the fan for too long. Administrative bodies like the BCCI have abused the fan to rake in the money for far too long. Even channels broadcasting matches seem to cater only to the advertiser.
5) It has become aspirational to be a Football fan : Nothing works more for Indians than being classified into a new category that makes them 'perceptibly elite'. A lot of people think they appear 'cooler' by being football fans. Nothing else explains the mad rush to be a Manchester United fan over the last decade. People not knowing anything about the club, the sport or even the geography of Manchester became overnight Man Utd fans. This phenomenon may not play out fully since Man Utd may not be the same anymore after Sir Alex Fergusson's retirement, but EPL and football are becoming mainstream in India and this process will accelerate rapidly as more and more people would want to 'belong' to a 'cooler' category.
To all those who say it will take a long time for it to reach rural India - Well. Football is far easier to play than cricket. You just need a football. It is really the poor man's sport. It is only in South Asia where a traditionally 'elite' sport like Cricket is more mainstream than the commoner's sport - Football.
Mobile data and Internet will ensure the reach is more rapid. Also, we are already seeing EPL commentary in Hindi. You need electricity for 7 hours to watch a cricket match. Surely, 90 mins is easier. It is not as far-fetched as it seems.
I will leave you with an heart-warming image via @arseinho on Twitter (Original Tweet). Not many would have seen even a single match in the I-League but Bengaluru FC winning it on debut have made people sit up and notice. When was the last time you saw people waiting for a football team to be welcomed for a domestic tournament at an airport in India like this?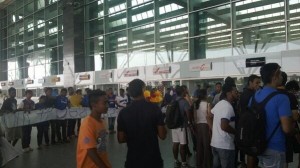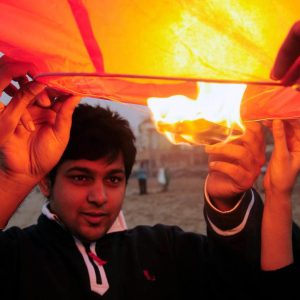 If you disagree, you can counter it by writing here