When one hails from a city like Bombay, niceness, courteousness, and soft-speech are things one has never had to deal with. This goes deeper than we realize. Niceness or lack of it is a part of a city's lexicon; its grammar and its body language. And Bombay revels in exactly this – a language where kids call parents with the most disrespectful pronoun – "Tu", a grammar where mostly all inanimate objects are treated as male for convenience, people push and shove each other everyday to get into trains and buses and fight with taxi drivers as a part of a daily routine. It is then only natural that when a person from Bombay comes to a particularly courteous place, he just notices the oddity all the time. What's more, he himself sticks out like a sore thumb, especially in off season.
There is another thing about niceness. It is monotonous and difficult to break through. With this nice little layer of practiced courteousness in place, its annoyingly arduous to have meaningful conversations. I guess it's a part of the scheme to avoid people from really getting through to a deeper aspect of your personality. What it does to a traveler is either he gives up or he starts paying closer attention. He works harder at concentrating and gleaning things - which is a more rigorous process here and hence more rewarding. Another corollary to this is how unlike most of India, where a point is put across by repetition across media, here the point is put across by minimalism, by removing all other distractions and keeping the single point at the centre.
Take Your Career To The Next Level. Ask Our Experts Anything. We Will Respond Within 48 Hours.
When I was looking for a guest house, I almost bullied the caretaker to give me the room of my choice at my price. And throughout the negotiation, there was an air of such simplicity and courtesy, that by the end of it, the joy of getting my price was outdone by the guilt of bullying a nice man.
( Read : The entire Baazigar Series - Kunj's chronicles on Kashmir, Amritsar, Mcleodgunj, Mussoorie, Delhi-Gurgaon, Mughal Sarai – Varanasi, Bangalore,Pondicherry, Hyderabad, Puri, Dantewada, Kanha, Goa, Gujarat, Rajasthan,Kolkata Ranchi and Patna.)
Baker's Café, which is at the center of Gangtok's famous MG Road, was the place where I spent most of my writing time. By the end of my 5th day there, I was nowhere close to knowing the people of the Café as when I was on the 1st. It would be the same everyday – the same waiter would wish me goodmorning and take my order – always extra cream on the caramel hot chocolate; always a smile enquiring about my health, always finding a way to set me up near a plug point. At the end of my time, there would always be the lady behind the counter who would accept money with her right hand while touching the inside of her right elbow with her left hand, as a sign of respect and closing the eyes for a split second, as if in reverence and gratefulness to her god for paying for her toil for the day.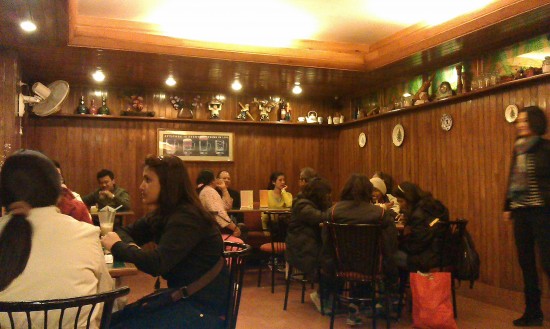 Pic 1 – The intimate Baker's Cafe
As I said, niceness can prima facie seem like an insufficient inspiration by itself. But its only one of the many masks people across this entire country use to conceal what they actually feel or experience. Remove the mask, and every type of artist has something to take from a city. I met a woman here in a shack on the way to the Nathu La border. Over a hot wok of Maggi, we discussed her life and how her kids studied down in the city. How her parents and her husband had also shifted in a slum down below because they couldn't take the cold in the higher mountains. She told me simply how having tourists over was a source of some 'entertainment', indirectly telling me about her lonely life. She was beautiful and one of my fellow tourists made that point. He then told her how it was only natural since all Sikkimese women were beautiful. This time she thanked him but only barely managed to conceal her insincerity. It made me wonder if a woman is complimented and then her beauty is explained away by the excuse of her race, is she going to take it as a compliment at all? Such an exchange on a snowy evening with the prayer threads flying in the air outside and the dirty carpets inside the tin hut, with the woman's eyes gleaming in the yellow light would inspire several stories for a filmmaker. The Buddhist chants oozing out of the Rumtek monastery and becoming part of the green tea you have at the stall outside, coupled with soulful, therapeutic Nepali rock playing in the taxi driver's car stereo, could provide a musician with several fresh sounds to compose a new song. And then there is the MG road, with its street lights and flower arrangements. There are perfect evenings with a violet sky and cobbled streets damp with the snowing. The streets reflect the violet of the sky and the sky reflects the illuminated red and yellow street lights. Gangtok is indeed a Van Gogh kind of place too.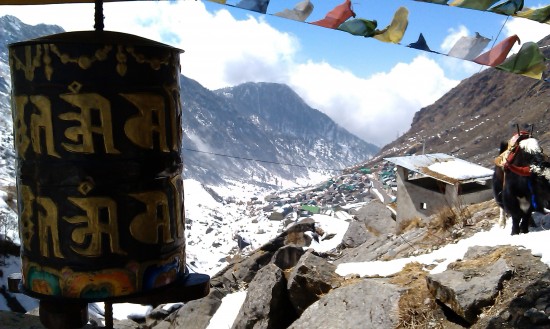 Pic 2 – The shack in the mountains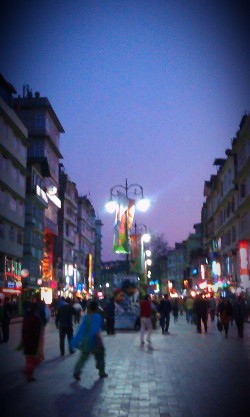 Pic 3 – The picturesque MG Road
The mother of all inspirations is, of course, the Tsangu lake. For a thing this beautiful, a little bit of showmanship, a lit bit of tantrum would easily be excused. But keeping in the spirit of the place, the lake itself is just extremely nice to you. It sits there quietly in all its icy finery, inviting you to have a look around, sipping on beer. The tantrums come from the road to the place, full of rock and dust. It is so prone to landslides that men keep working on them all round the year and yet it is the most painful journey. The various placards proclaiming the achievements of Border Roads Organisation as your head strikes the roof of the Sumo could drive you to uprooting those placards. The snow around the lake is soft and yields easily under the foot. They say the lake was hard enough to slide on a few weeks ago. Every new position around the lake provides a new vantage point and a different view of the Himalayas. The only brown there is in the sea of snow is either the yaks or their excreta.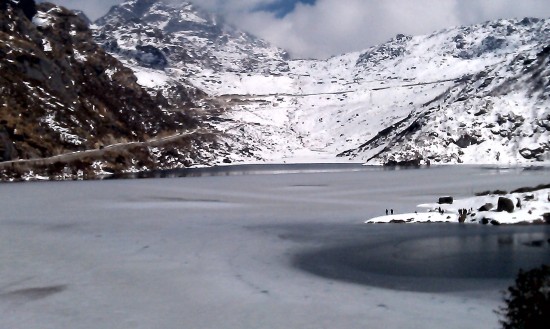 If you have seen Hare Rama Hare Krishna as many times as I have had to, thanks to my mother, you would know the sound of a street in the Himalayas. The buildings are built so close to each other that if the windows of both buildings are open, they would touch each other. So when people shout out on a curve, it echoes through the street. Gangtok is similar to Nepal in that sense – along with, of course, the massive Gorkha population, currently fighting for a separate state along with northen Bengal – called Gorkhaland. One of my hotel room windows, opened into another house right opposite mine. On the last day, as the test match began and Bhuvi started weaving his magic, my TV suddenly came to life as "powers" that be decided to give us a reprieve. And then me and the man in the house I shared my window with, watched Bhuvi together on my TV - discussing Zaheer and Kapil from one window to another. The most interesting moment was when his wife got me coffee, passing it to me as if I were sitting there on her sofa.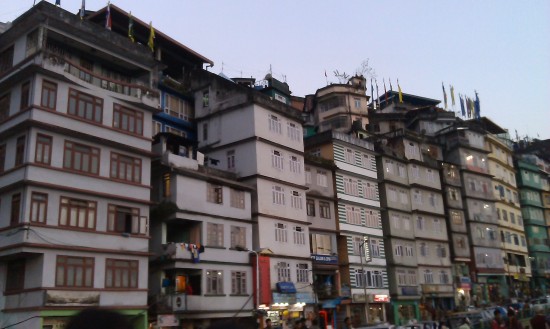 Pic 5 – The buildings stuck together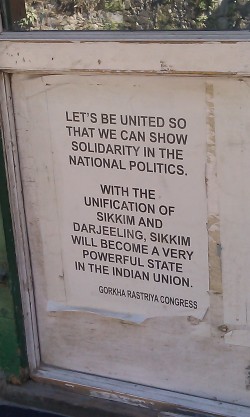 Pic 6 – A poster promoting the Gorkhaland movement
This entire project started with my intention to run away to the Northeast and live somewhere next to the Teesta river and write for six months. It eventually turned into something else, but being next to the place where everything first began, coming towards the end of my journey, gave me a tiny sense of satisfaction. I look at the river and the mountain and wonder if I am actually a pagan.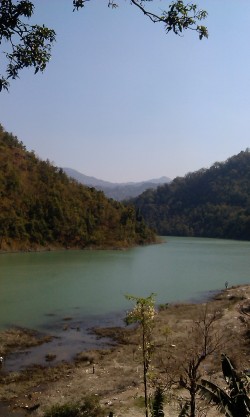 Pic 7 – The mellow Teesta river on the lower plains
I now move to Guwahati and I have no idea whether I will be doing Guwahati or Tawang or Shillong next. It depends on a host of considerations and all I can do is look forward to whatever is thrown at me next.
( Read : The entire Baazigar Series - Kunj's chronicles on Kashmir, Amritsar, Mcleodgunj, Mussoorie, Delhi-Gurgaon, Mughal Sarai – Varanasi, Bangalore,Pondicherry, Hyderabad, Puri, Dantewada, Kanha, Goa, Gujarat, Rajasthan,Kolkata Ranchi and Patna.)
(Kunj Sanghvi will be writing about his experiences in each new city every week on InsideIIM.com. At various junctures on this trip, he'll be found working over cups of coffee in coffee shops across the country. He'd love to meet, talk, discuss with anyone who'd care to meet him; just to know the city and its people better. Follow him on twitter here – @kunjsanghvi. He blogs here.
About Kunj – Kunj Sanghvi is a B.Com graduate from Narsee Monjee College of Commerce and Economics and MBA from Mudra Institute of Communications, Ahmedabad (MICA). Prior to plunging into this adventure he was a Senior Manager at Hindustan Times. He has also worked with whatsonIndia.com in the past. )