Recently, I went through a news article in The Hindu dated July 17-18, 2019 about The Benefits of Blockchain. It mentioned the issue of why a complete ban on all forms of cryptocurrency transactions can take India behind many countries, on a technology, that is basically "The New Internet".
I feel, there is a high need for understanding the role of Blockchain in the world filled with management concerns. It is the right time to acknowledge "Why Blockchain?" more than "What is Blockchain?".
Take Your Career To The Next Level. Ask Our Experts Anything. We Will Respond Within 48 Hours.
Is Blockchain just technology for Cryptocurrency?
The answer is No. Blockchain (in an easy language) is a technology, which holds a common ledger that is shared/updated by the nodes (participants of the Blockchain Network) in a private or a public distributed environment. It stores a transaction between the two parties securely so that it can not be edited or deleted. The transaction can be of money, votes, an insurance policy, gaming or anything that can be distributed.
Instead of explaining it, a few examples would suffice the purpose here.
How Blockchain can help to manage an Election:
Political elections are either paper or EVM Based. But, recent development in some elections has shown how beneficial Blockchain can be in online voting. In the system of blockchain, the voting data is managed by storing it in the blocks, in an encrypted format such that data tampering can be avoided. As it uses a common ledger for sharing information between all the involved nodes, it nullifies the third-party concept and any centralized authority.
As stated by Blockchain Philanthropy Foundation, this kind of system has been used in State Of West Virginia, 2018 Federal Elections and Rock and Roll Hall of Fame, 2017 and 2018 Inductee voting.
How Blockchain can help to manage Insurance Process: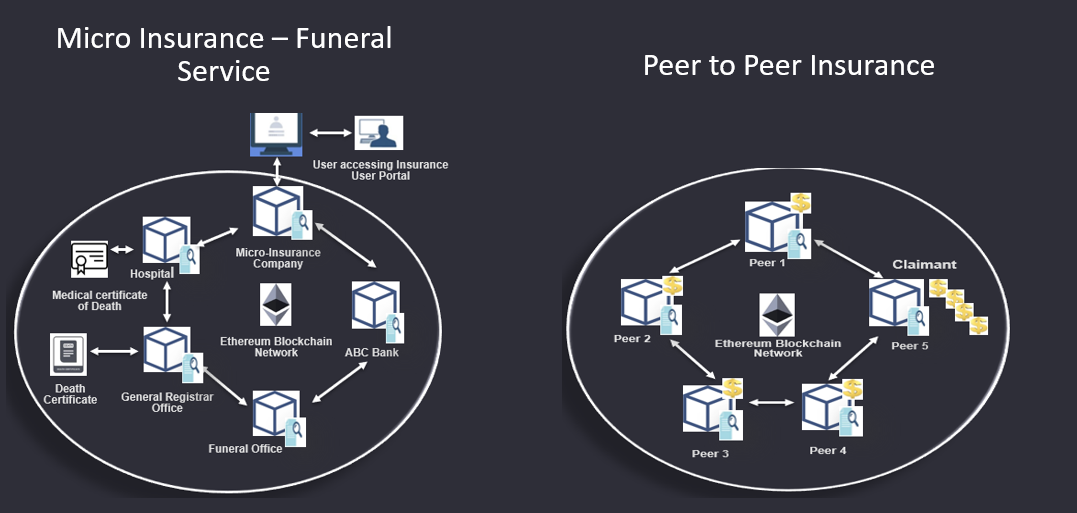 Microinsurance: It deals with lifeline covering specific insurance needs, typically for low-income families and individuals such as Funeral Service. As stated by Disrupt Or Daily, In Africa, Funeral Insurance Service has grown to 200% between 2008 - 2012 and total 172 million lives covered by microinsurance in Asia and Oceanic at the rate of 40% annual increase in just two years (2010-12).
Blockchain, in this case, can help to create a network of Hospital, Insurance Company, Bank, General Registrar Office, and Funeral Office. With its concept of Decentralized Network and common ledger, It can pace up the whole process by nullifying each level based verification, along with, securing the transaction. (I have designed a detailed workflow, which can be seen above)
Peer to Peer Insurance: A system of insurance in which members pool their money as a premium and the required amount is paid to the needed member (a claimant). Rest of the unused money is given back to the members instead of being kept by an investor as a profit.
In this system, Blockchain with its concept of cryptocurrency can help to create a digital wallet in which the participating nodes can place their funds (with no third-party involvement) and concept of shared and secured ledger gives the whole process a much-needed clarity. (Detailed workflow can be seen in the image attached above)
Many other business lines can become more secure, fast-paced and user-friendly if we realize the importance of Blockchain and start implementing and executing it. I feel a system is well managed if it needs the least amount of management in maintaining its productivity, Blockchain is and will be a huge way to bring that change.
Thanks to these pages for being my source of learning and giving shape to my raw views: