"That Day for no particular reason, I decided to go for a little run, so I ran to the road, when I got there, I thought maybe I run to the end of the road……" Forrest Gump. And so the legendary run began...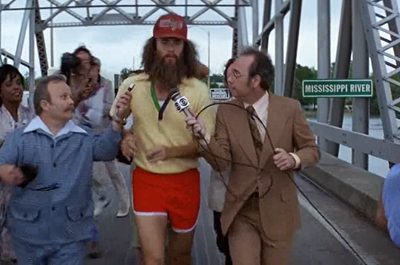 To run has come to mean so many things to so many people and it has transcended the simplistic notion of staying fit. It has become a medium of expressing freedom, solidarity and raising awareness about societal issues. Against this backdrop, Calicut mini-Marathon was started by IIM Kozhikode in 2010 to provide a unique platform of civic engagement and generating awareness on social issues. In a span of seven years, it has become one of Kerala's biggest sporting events.
With Calicut mini-Marathon, 17 less than a week away let us hear right from Calicut mini Marathon's executive committee's member Srinivasa.
Aman: Srini you have yourself been a marathon runner and now you are one of the organiser of Calicut mini-Marathon. How your passion for running grew and why is it so important to run?
Haha! I'm not a marathon runner yet. I aspire to be one. As of now, I've run a half marathon and several 10K runs. Having said that, my passion in running started just as a random preparation for a trek and also in one of the fund raising event of an NGO that I was earlier working with. Initially, I used to run just for a practice, but slowly the habit got the better of me. Running keeps me calm, composed and focussed. With so much chaos in daily life, a happy song playing in my earphones while I run, is all I started to look forward to. Participating in half marathons and 10K, I've realised that it's highly motivating to run in a group and also you get to meet a lot of like-minded people. Over time, it became more of a challenge. I keep pushing myself every last meter before I stop running. While preparing for the half marathon, I realised that mental endurance is what is tested, more than physical endurance. Lastly, I cannot forget a line I've heard from a fellow runner "Don't give up now. Your legs might forgive you tomorrow, but your heart will never"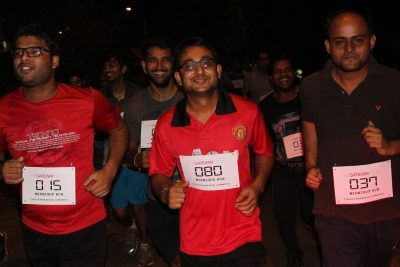 Aman: Rightly said! Calicut mini-Marathon is like one of the biggest sporting events in Kerala. How has it evolved over the years?
Srinivasa: Organised on the last Sunday of February for the past 7 years, Calicut mini-Marathon has seen increased participation over years and has given it a name of the largest student-organized race in the country. The various themes, celebrity presence, low price (in comparison with other 10K runs), year-on-year improvements are few of the things that have been attracting majorly. The social cause associated with the theme has also been one of the major reason for attracting such numbers. Last year, we had an association with the Collector of Kozhikode, when we've seen 3500+ participation in the event. Thorough support from IIM Kozhikode, Sponsors, Government and other stakeholders has what made the event a huge success continuously. We all, together, hope to make the event biggest in the country.
Aman: Apart from the marathon, many interesting events are also associated with Calicut mini-Marathon like Flash Mob, Midnight Run, Bike Rally. What were the motivations behind these events?
Srini: As an event covering a wide range of stakeholders, we would like to keep them engaged in the lead up to the marathon. As a result of this, we organise events like flash mob, midnight run and bike rally thereby making the city people, college students and others an integral part of the event. We generate buzz about the marathon through these events and also utilise it as a platform to spread awareness about our social cause, using pamphlets etc. These events are more of an every year thing. Apart from these, every year we also have cause specific lead-up events. For example, 2 years ago when our theme was road safety we had an event called "Gandhigiri" where we distributed roses to people who were not following traffic rules, thereby making them aware of the need to follow the rules. Last year, we had a sand sculpture that described the importance of "Project Sulaimani", wherein the underprivileged are given free food by the District Collector administration.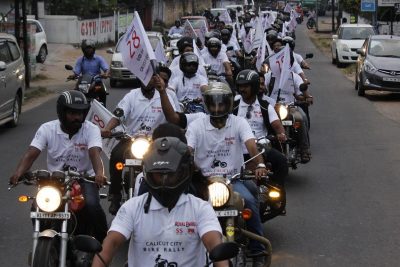 Aman: Amazing! You also talked about the social aspect of Calicut mini-Marathon. Could you tell us a bit more about it?
Srini: Sure. Originally, Calicut mini-Marathon was a spin-off from IIM Kozhikode's Social Service Group. Started with an aim to spread messages about social cause and seeing the huge potential of such an event, the committee was formed. Calicut mini-Marathon has supported various social causes over the years with themes such as 'Compassionate Kozhikode', 'Transforming lives', 'Empowering Women', 'War on Waste', 'Gift a Life' and 'Road Safety'. Along with the marathon, we use our lead-up events as a major platform to spread awareness about the theme. Also, every year we associate with a particular NGO that is relevant to our theme. For the past 2 years, we've had a successful association with 'Niravu Vengeri' who helped us in organising several events to bring people together to sensitise them towards the cause.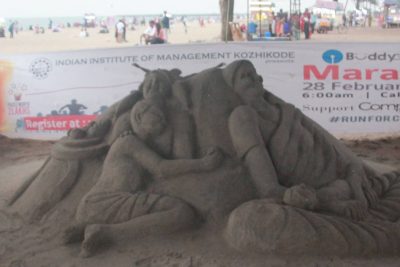 Aman: Calicut mini-Marathon, 17 is coming up on 26th Feb. What is the theme this year?
Srinivasa: The eighth edition of the Calicut mini-Marathon will see thousands running shoulder to shoulder, during February 2017, for the theme 'Healthy Living'. Good health is central to happiness and well-being. In today's fast-paced world, we are burdened with our busy schedules which lead us to neglect our health. This can be seen with the growing prevalence of lifestyle diseases in Kerala. Known as the diabetic capital of India and with around 30% of the population suffering from hypertension and obesity it is imperative that a healthy lifestyle is promoted. We are aiming to bring about a positive change in people's lifestyle through a variety of initiatives like the cycle rally, yoga sessions, midnight run and of course, the marathon.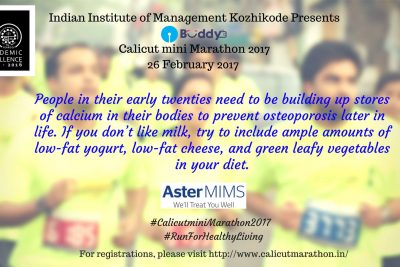 Aman: Managing an event of such a magnitude is tough along with the B-school grind, could you tell us something about how Calicut mini-Marathon executive committee goes about organising this mega-event.
Srinivasa: Well, one thing...passion. In my 2 years, I haven't seen a person who shies away from the committee work. I see very genuinely interested people in the committee. There is a high level of commitment to whatever the work is. Be it the long negotiation sessions or the never ending strategizing sessions or the tiring pamphlet distribution job, we continue to carry the spirit and the passion. BTW, it's not all work, we do party and hangout enough. Also, the work and the fun doesn't keep people away from their daily MBA chores. We've committee members who are among the top 20 in college.
Aman: So true. Passion is really the critical thing. What would be your advice to our readers, gearing up for this year's Calicut mini-Marthon.
Srinivasa: Just four simple words "Happy Running. Stay healthy"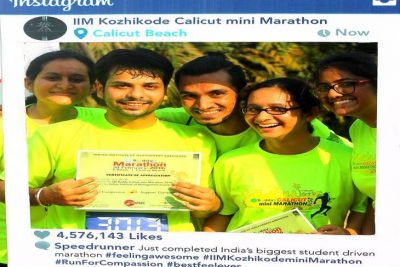 Aman: Also many of our readers, are future b-schooler's. Any parting thoughts for them.
Srini: Over our 2 years at Calicut Marathon Committee, we've all realised that consistency is a very important thing to create a brand image. Something, as simple as having the marathon on the last Sunday of February of every year, has made it an easy recall for our participants, leading to repetitive participation. Calicut mini-Marathon is not even a day-long event. It hardly lasts for 5-6 hours. Handling a participation of 3500+ in such a short period might seem like a Herculean task. However, long hours of planning are what make such short-lived events successful. Sometimes, the planning goes to an extent where we don't just end up with a plan B and create further alternate plans for plan B as well.
Repetitive tasks are better standardised. Though Standard Operating Procedures might seem like the most rigid thing at work. Such level of standardisation is required to make efficient use of optimal time. Also, I realised that recruitment is highly underrated. It's essential to recruit a team that goes well along with your culture and share same value system as everyone else in the team.
Aman: True words of wisdom! Thanks a lot Srini for your valuable time. We wish you all the very best for a successful Calicut mini-Marathon.
Srinivasa: The pleasure was mine.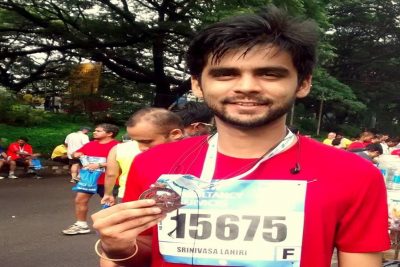 "A second year PGDM student at IIM Kozhikode, Srinivasa Lahiri is a trek enthusiast and has taken up running as a fitness routine. With growing passion in running, he has run several 10KM runs and finished the "sweatiest" half-marathon of the country at Cochin's Spice Coast Marathon. He is one of the 20 member organising committee of Calicut mini-Marathon, the largest student-organised race in the country"