Check Out: Min. CAT Percentile Required To Convert IIM BLACKI - Check Past Data Here!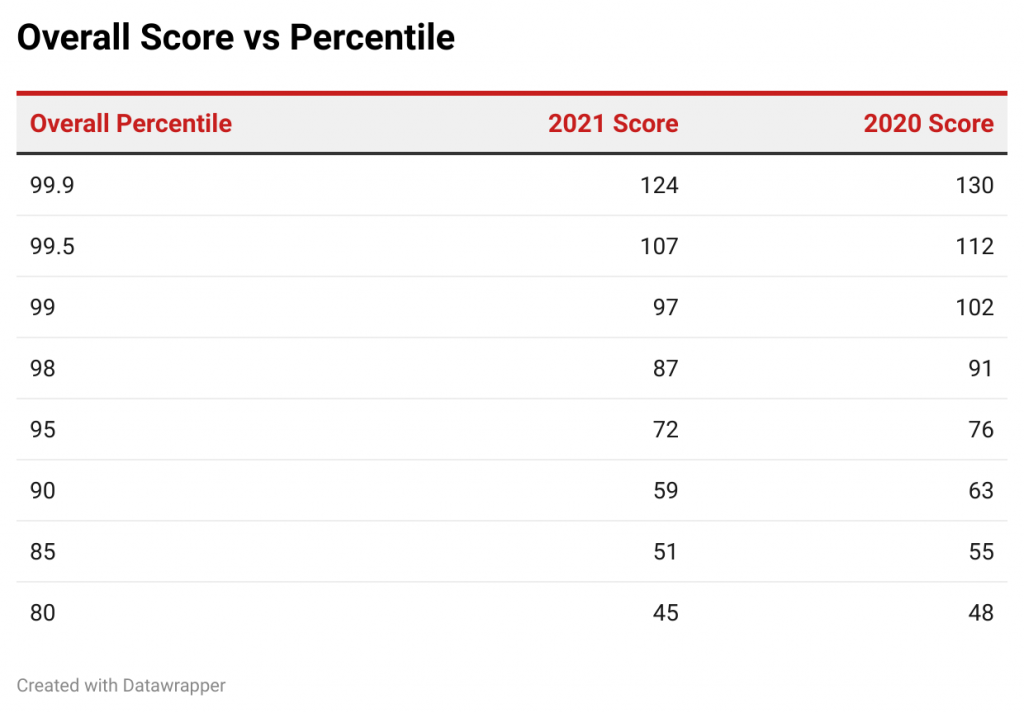 Sectional scores are as important as the overall scores because most colleges have a sectional cutoff, failing which candidates would not receive a call no matter how high the overall percentile may be. Hence we have presented data for sectional scores vs percentiles in CAT for the years 2020 and 2021.
In VARC, as we can see from the below data that the scores went up slightly despite the reduction in the total number of questions. This could have been due to the reduced difficulty level in CAT 2021. Getting 15 questions right assuming no negative marketing would have fetched a 99 percentile in 2021. The full score vs percentile data for VARC is given in the table below.
Check Out: Is Your Academic Profile Good Enough For The Top Six IIMs? Here's What Data Has To Say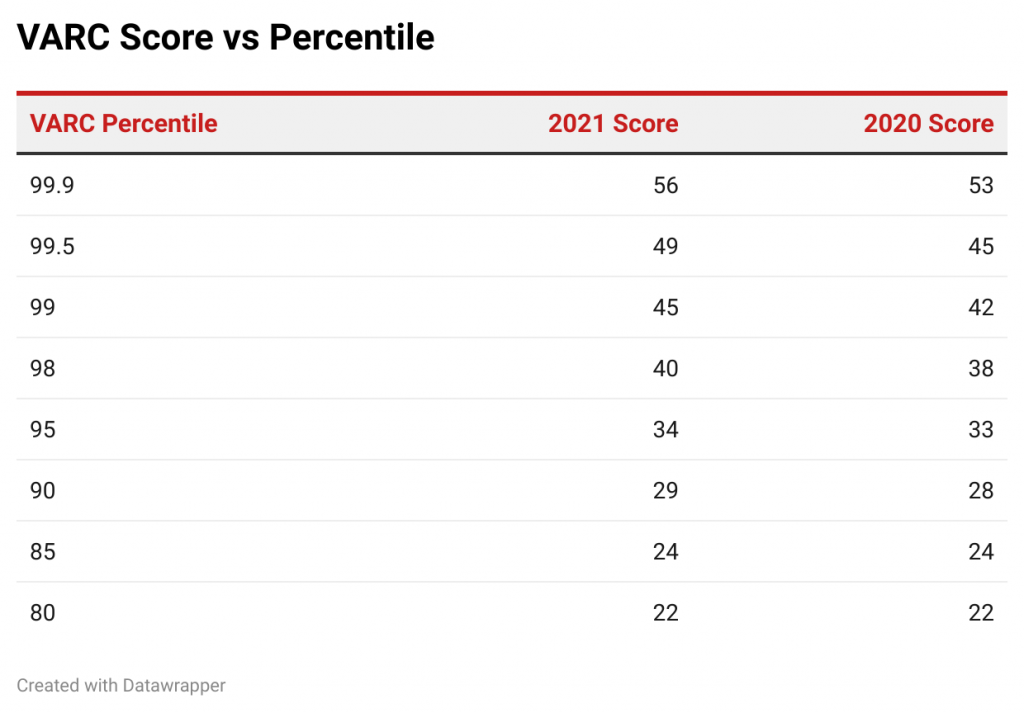 In CAT 2021, getting a 99 percentile in DILR would have required you to get 11 questions correct assuming no negative marking. Usually DILR sets have 4 or 6 questions and hence attempting 2 to 3 sets with high accuracy can fetch you a 99+ percentile. However getting a 99.9 percentile in DILR would require you to get 14 out of 20 questions correct which can only be achieved by lots and lots of practice.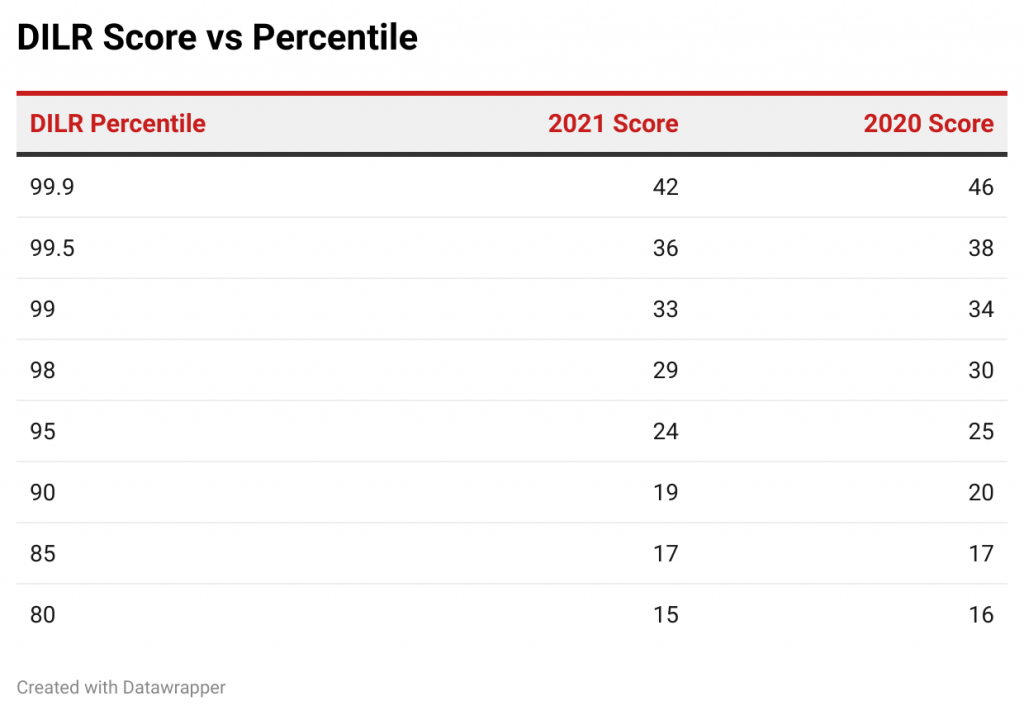 For Quantitative Aptitude, the scores have dipped quite a bit for 2021 compared to 2020. With the reduced number of questions, the difficulty level was also higher which led to people attempting a lesser number of questions. Getting about 12 questions right in 40 minutes would have ensured you a 99 percentile while solving 16-17 questions correctly would have shot up your percentile to 99.9!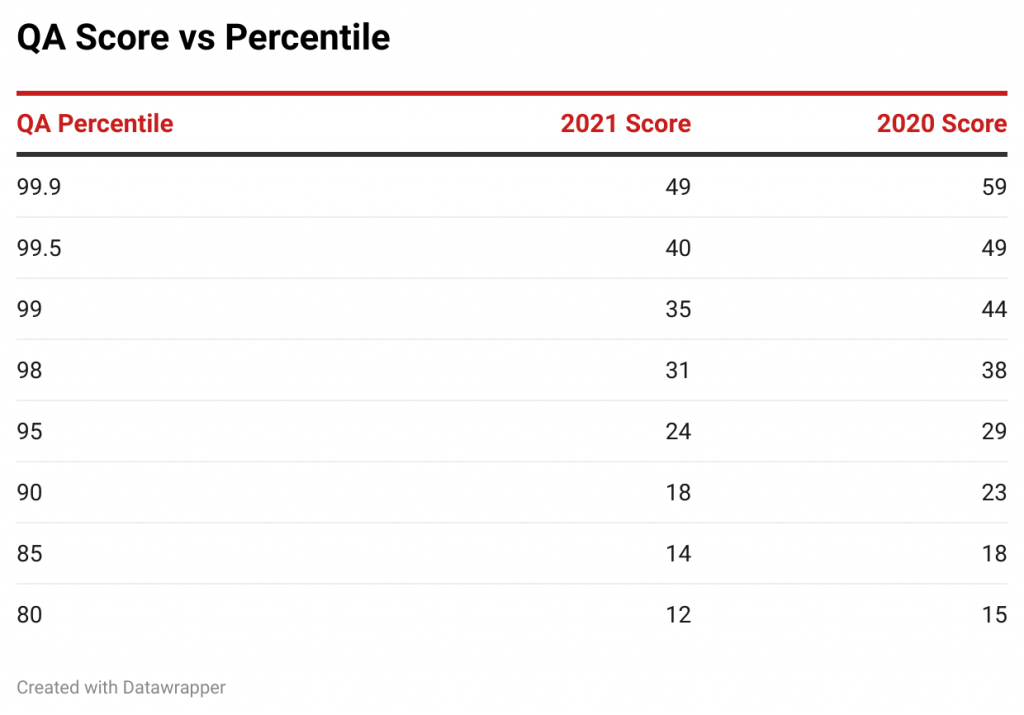 ---
Also, as you might have seen there is a huge difference in scores of a 99.5 and a 99.9 percentiler while the difference of scores between a 98 and 99 percentiler is quite less compared to that. This is because as you keep getting in the high percentile brackets, the competition increases manifold. Hence, instead of aiming for percentiles in absolute numbers, the focus should be on improving the scores as they would need to increase by a much higher margin if you aim to increase your percentile even slightly after a certain point.
While the number of questions and the difficulty level may vary in CAT 2022, keeping these benchmarks in mind would help you during your preparation to know how much improvement you need. However during the exam, the focus should be on getting maximum questions right in less amount of time instead of being fixated on a fix score!