Some stories are touching, some are fun but there are very few stories which show you the clear path and motivate you towards your goal. To the CAT aspirants, if you're thinking of starting or already on your way preparing for this exam, this article has it for all. An unfiltered strategy, honest preparation guide and a dream performance for any B-School aspirant, this is a story of Ankit Desai- one of the CAT '19 toppers (99.91%ile) and IIM A & B convert.
A brief about Ankit's academic profile -
10th – 96.4
12th – 84.5
Grad – 9.61
Let's hear it from the horse's mouth.
---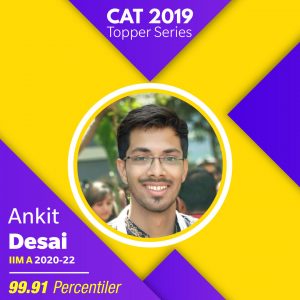 I was born in Kanpur and completed my schooling in 5 different cities before settling in Aurangabad where I completed my boards. Currently, I am pursuing Computer engineering from Vishwakarma Institute of Technology, Pune.
Take Your Career To The Next Level. Ask Our Experts Anything. We Will Respond Within 48 Hours.
A year back I was in the same situation as the current aspirants are. Looking for motivation, struggling to manage studies, wondering if I could really do it, was it really worth the efforts, is IIM A just a hallucination? But it's different today. I am writing this for each and every applicant who goes through this every day. Remember its months and sometimes years of dedicated efforts which takes you to the place of your dreams. I have always felt if someone can even you can. Here's my effort towards letting you know that getting in your dream B- school is possible.
I was in my second year of engineering when I decided that MBA would be my further course of action and the only decision, I had to make was whether to appear for CAT or GMAT. I zeroed down on CAT after evaluating the factors that mattered to me and decided to take CAT in my final year of graduation.
So, it was November 2018 when I decided to start my preparations for CAT and hence joined a coaching institute to be well prepared. Fast forward and it was mid-June until the classes ended. By this time, I had barely started self-studying and all that I focused on was the lectures I attended and a few mocks that I had appeared for. Also, during this time I had grabbed a summer internship in one of the investment banks and found it difficult to cope up with the schedule. Fast forward July end – My summer internship ended, and I finally decided to start my preparations.
During that period of 5-6 months, I realized that VARC was my weakness and although I was an engineer, Quant just wouldn't be a cake walk. While nearing the end of July, I made up my mind and decided to structure my preparation schedule. I prepared for the CAT meticulously for about 4 months working on my weaknesses and honing my strengths. I spent equal time understanding the concepts for each of the three sections. I would mark a few questions for Quant and a few sets in DILR which I could come back to during the last lap of the preparation. I never got comfortable with VARC and always struggled to score well in the section during my mocks. So, it became important to devise a strategy for the same. Not being an avid reader, RCs were the tougher part; hence, I devoted more time to prepare for
RCs and started reading a few articles daily. This helped me up my reading speed and my comprehension skills started developing.
Mocks play a vital role in the preparation. That doesn't mean you end up taking a lot of mocks. The analysis of the mocks after taking them completes the process and serves the purpose of taking the mock. I took around 30-35 mocks and made sure I analysed every possible question and noted down my mistakes. Critically analyse your mocks, understand your mistakes and work towards rectifying them. Also, during my preparation I used to watch a lot of inspirational videos of previous CAT toppers and always wonder how they managed to score so well and end up in the tier-1 B-Schools. I always aspired to be in the same position one day where I could feel the same for myself. This motivation kept me going through the tough times and prepare myself for the journey ahead.
Few takeaways from my preparation -
As an aspirant, you need to understand to work on devising your own strategy. You might need to change your strategies numerous time until you bang on the one that suits you the best.
Staying motivated throughout the journey is the most important thing.
Take few mocks but analyse them thoroughly.
Coming to the day of the CAT. The D-day wasn't an ideal one for me. I felt I had messed up my VARC and couldn't manage to get through the RCs. I somehow gathered my composure and tried to make selective attempts. Moving on from VARC, I knew DILR was my strength and that was one section that could have saved me despite a miserable first section. So, I made sure that I didn't feel exhausted and calmed myself in the first minute and then started to work with sets. My quant didn't go as per planned as my nerves caught hold of me and I ended up solving less questions. Eventually I managed to get a 99.91 percentile and ended up getting calls from all the IIMs I had applied to – ABCLKI and FMS Delhi. An important takeaway from my experience of the D-day is that, if you are prepared well then despite the difficulty level of the exam, you will fare well. A tough examination is always better for the well-prepared as it not only tests your knowledge but also your temperament.
My ABC and K interviews were all scheduled in the last week of February. So, within a span of 6 days, I ended up giving 4 interviews. First up was my Ahmedabad interview and I was highly strung. I had not taken photocopies of the document and I had to find a way to the hotel Xerox room. This added to my stress. Somehow, I managed to make it on time with all my documents. Starting the day on such a note does give you an added pressure and to be honest about how I felt around everyone, I'd say miserable. This was my first big interview and people around were way too calm, sophisticated and had things figured out (atleast that's how they pretended to be) and here I was with everything messed up both physically and mentally. We went for the WAT and then the interviews started right after. I was pretty nervous even after entering the interview room; my hands were sweating and legs shaking (thanks to the round table which hid them). I managed to survive the interview, although I thought I wasn't at my best. This acted as an experience on which I could build upon and started preparing for the other interviews. In a week's time, I was done with my BCK interviews and the only interview I was confident about was B where I was able to accept everything that came my way with equanimity. The remaining interviews were conducted online due to the COVID situation.
Result – I have converted A and B and awaiting other results.
Takeaways from the interview experience
You don't know if you have had a good or a bad interview and you'll never know until the results are out.
Staying calming through the interview not only presents you well but also helps you think faster and in different ways, which can matter a lot.
Critical introspection. Know everything about yourself. Why did you do a certain thing, how you felt doing that, what do you want of your life. Spend time knowing yourself.
Looking back at my journey, I would regard it as one that has made me more confident and aware of the decisions I take. It was definitely a tough one to crack but worthy enough to go after. Treat CAT as a game and devise a winning strategy. Drive your efforts in the right direction and success wouldn't be far.
Good luck to everyone! Keep believing in yourself and one day you'll achieve your goal."
You May Also Be Interested In Reading: