In our list of India's Best 30 - the 30 Most Employable Students from the Class of 2019-21, we celebrate those MBA students who have taken outstanding initiatives that stand out. One of those featured in today's story, Ravi Singh, has demonstrated tremendous zeal towards building a better world. Read on and find out how this Mechanical Engineer from IIT BHU, went on to IIM L and moved to a much more strategic career path in global supply chains.
The following are Ravi Singh's set of responses to a questionnaire floated amongst MBA graduates to determine the top-30 most employable MBA graduates of the Class of 2021. Amongst the massive number of entries and responses being evaluated by the Founder of InsideIIM-Kampus Konversations, Ravi's story and profile stood out. Here's his story in his own words.
Take Your Career To The Next Level. Ask Our Experts Anything. We Will Respond Within 48 Hours.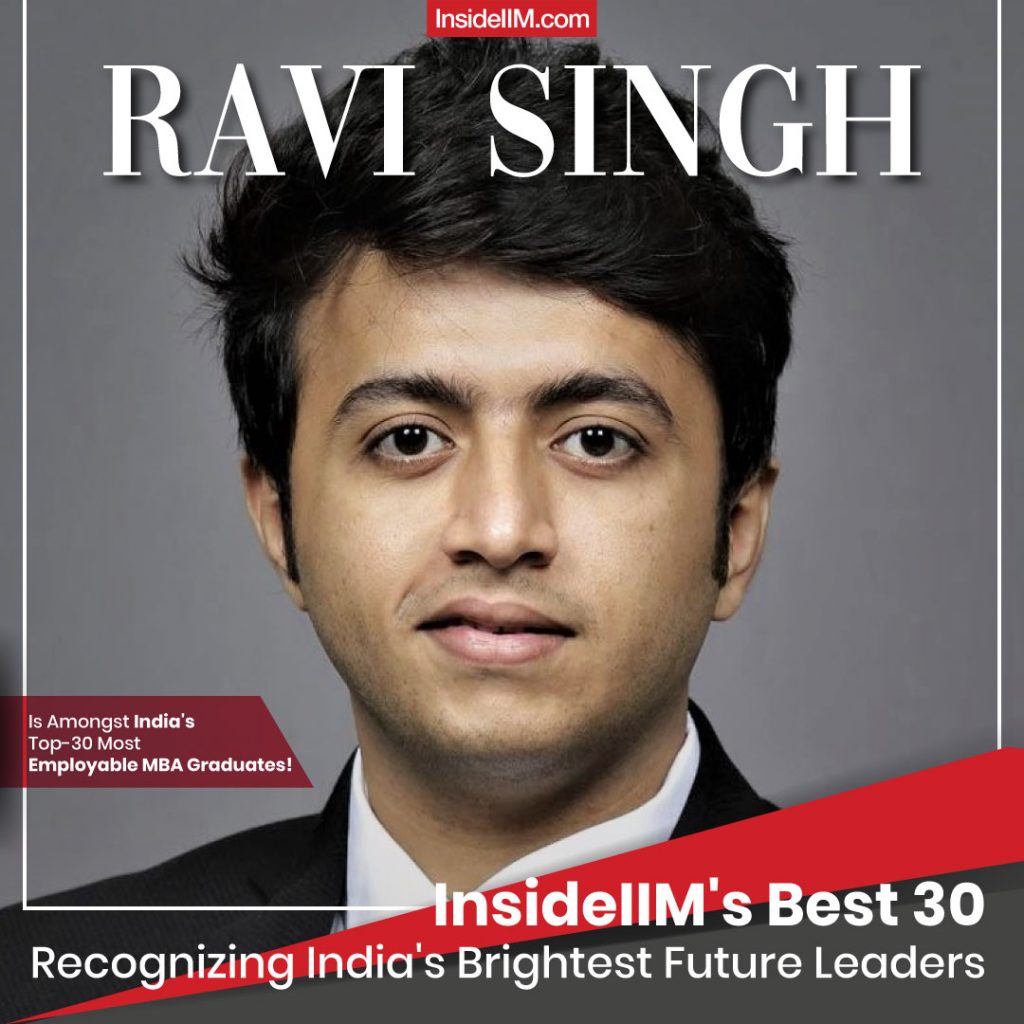 "I am a mechanical engineering graduate from IIT BHU Co 2016 and an MBA candidate at IIM Lucknow Co 2021. My time at IIT was an exponential learning curve interacting with some of the sharpest minds. I received the 'IIT BHU Honorable Mention Award' for holding several leadership roles there. Post which I have worked with Eaton R&D Center for a couple of years. At IIM-L, I am responsible for driving alumni engagement as a part of the Alumni Committee. Outside of work, I am passionate about music - I play the acoustic guitar and sing! I also enjoy exploring new cultures and have backpacked across 5 countries."
Name an instance where you wanted something and went out of your comfort zone to achieve it OR Tell us the biggest risk you have taken so far in your life.
"A ship in harbor is safe, but that is not what ships are built for." – William Shedd
It was a time when I worked in a global R&D role with my previous organization, which is a sought-after role at IITs. A couple of years into the job, I had won a global technology award and had recently gotten a fast track promotion. My salary was now comparable to what B-school graduates earn on average post their MBA degree. I still decided to quit the job to pursue my MBA dream even though the opportunity cost and stakes were very high. Through an MBA, I wanted to gain an understanding of core business functions and join consulting to solve scaled problems across industries. My family and friends were apprehensive and questioned this decision, but I knew my strengths to back it up and re-align my career to fulfill my long-term aspirations.
When was the last time someone relied on you? OR What did you do which was purely for someone else - a truly selfless act.
When I was working in Pune, I mentored the daughter of my maid named Pooja studying in Class VIII, who lived in a slum in Hadapsar, Pune. I visited Pooja's home on alternate weekends for a couple of years with a focus on helping her build her personality, digital literacy, and help with basic topics in Mathematics and Science. The motivating force behind this initiative was that I believe managers of tomorrow must understand this section of the society closely before embarking on their career paths.
While I first visited their house- the environment and the small house with 6 members, a washroom right beside the kitchen stove made me uncomfortable. However, adapting to things that make you uncomfortable is the first step towards getting educated. Honestly, it was not always easy to take time out on Sundays, especially during some weekends when the workload was higher. But the realization of the difference I make in her life by spending just one hour kept me on my toes. There is a great sense of fulfillment in seeing her doing great in school now.
While I taught a few things to my mentee as a mentor; when it came to learning life lessons, I was the mentee. The most important change I underwent was being grateful and not complain about the little things in life. Also, where there is a will, there is a way – a single room house with five people and I could still see Pooja study with concentration and no complaints. And last but not least it is about how you make a person feel and not the riches you have that leave a person feel loved – 'Chai' every time I went was a ritual, the kids came to receive and drop me at the end of the lane and always expressed so much concern about my family back in Lucknow. It truly made me realize that wealth is of the heart and mind, not the pocket.
Tell us about a time when you disagreed with an opinion/idea/decision. What did you do about it?
If you are working with a diverse team; you are bound to run into disagreements and dissimilar perspectives. In my opinion, this is what yields the finest results for a team.
Back in 2017, when I was a part of the founding team of Music Club in my previous organization, multiple stakeholders were involved. Seeing the interest of the employees in joining the club, the club demanded set guidelines and rules. On talking to the cultural lead and the human resource team, I drafted a set of guidelines. Before publishing them, we called for a meeting to hear out the team. While the external stakeholders were aligned with the rules, the club members had a different perspective.
I was in a dilemma as the internal and external stakeholders had different expectations. Even in explaining the rationale, the internal team was not completely aligned. There was a smell of annoyance within the team! To make the club members feel ownership, my solution to this problem was to ask every club member to add their comments in front of the controversial guidelines. We then called for a common meeting with all the stakeholders to discuss and resolve the points of debate. The meeting had a healthy discussion tone, and at the end of it, we could get everyone on board, and the club was launched with full vigor.
What is the one thing you can claim to have some level of expertise or depth of knowledge in - it could be anything - a subject, a sport, a hobby, a venture, an initiative which has led you to do deep work in that field?
An area where I can claim to have some level of expertise is the automotive domain. I developed a keen interest in automotive space early on during my time at IIT BHU and later led the institute's SAE club for various national and international competitions. Having worked with the advanced automotive team at Eaton, I have been fortunate to publish an international research paper and file a couple of patent invention disclosures. This knowledge was further augmented in a different dimension during my summers with Kearney, where I worked on a growth strategy CEO agenda for a leading automotive OEM. In the future, I look forward to contributing towards building global efficient supply chains for Indian OEMs to take the home-grown auto brands to a global pedestal.
If 10 Million Dollars (approximately INR 75 Crores) is given to you to use it any way you deem fit what would you do with this corpus?
Having spent a large part of my life in India's Hindi heartland, I am deeply touched by the appalling condition of primary education in our country. The government's focus remains on higher education - opening newer IITs and IIMs, but the real issue lies in the grassroots. There are innumerable gaps in India's primary education system, ranging from human capital to pedagogy and infrastructure.
I would choose to break down this $10 million corpus into two funds (in the ratio 70-30):
'EduFund' for capital expenditure on primary education sector
'Multiplier Fund' for investment in large-cap equity and government bonds to maintain a sustainable cash flow stream to manage day-to-day operations
'EduFund' would aim at the large-scale transformation of the government's primary schools in Uttar Pradesh (to start with). I am a strong proponent of localized solutions to solve scaled problems in India. The transformation of these schools would focus on three key levers:
Human capital improvement: Structured and effective hiring-cum-training of teachers is the first step in this journey. This could be supplemented with improved compensation while cutting down costs in legacy processes by reducing inefficiencies. Rotation programs would be set up for teachers across various schools for talent retention and collaborative opportunities
Digital excellence: Implementation of digital technologies at multiple levels would be the key to improving teaching, convenience for students, tracking the performance of departments & schools, reduce corruption, and localize pedagogy
Optimized spending: Auction based procurement to be implemented for various resources such as meals, stationery, furniture, digital tools, equipment, etc. Standardizing sourcing across all primary schools for effective allocation of resources will streamline this initiative
---
You may also like to read: