Summer Internships are the gateways for B-school students to get a perspective of the real business world. It provides a window to take up challenges within a particular organization and put forth their understanding to come up with viable solutions. We at InsideIIM spoke to one such intern from XLRI Jamshedpur, Nivedya Sunil who interned with the FMCG giant Nestlé!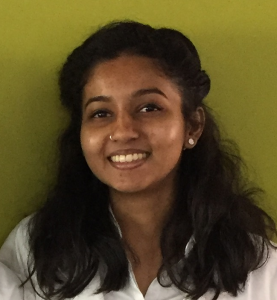 Without prior work experience, Nivedya was initially quite intimidated by the sheer scale at which Nestlé operates. But with time and able guidance, she made a mark with her project and ended up with a PPO. The following is an excerpt of her interview.
1. After a Degree in Economics, was HR always something that you were interested in? Tell us about this shift in your education.
Initially, my thought process was - I want to do an MBA. But I wasn't really sure about the field I wanted to get into. However, I was clear about which field I definitely did not want to go for - Finance. After doing a fair amount of research about HR, I was convinced that this was where my calling lied. HR is more technical than people give credit to, as it deals with people management which too like other management principles requires a proper data analysis. It is a dynamic subject with 'people' at the forefront. I figured that this is the field where I could use my strengths, and that is how I shifted to HR.
2. What has been the learning curve for you after coming to XLRI? Tell us some of the major learnings so far from the institute that has helped you during your summer internship experience with Nestlé.
I was born and brought up in Kerala and did my graduation in Economics from Mumbai. When I shifted to Jamshedpur for my MBA at XLRI, it was kind of a culture shock for me. But as I blended more with the students at XLRI, I came across a mix of people from different regions with varied cultural values. Working hand in hand with these people on campus for different campus events and projects helped me immensely. Along with this, I learned a lot of time and stress management, which came in handy during my summer internship with Nestlé. As I don't have prior work experience, my days at XLRI prepared me to take up the challenge that the internship stint throws at you.
3. What was the first day of the summer internship like? What were some of your memorable moments from your summer internship induction?
We had a week-long induction programme planned for us. Along with the introduction from the leaders from different functions, we got to interact with bright minds from different campuses across the country on the first day. All of us interns interacted and learned a lot during our induction. We visited the world-class R&D facility that Nestlé has to offer along with the gigantic factories. It was a very comprehensive week where we got to know a lot about the company at large.
4. What was the moment like when you got to know that you would be interning with the FMCG behemoth, Nestlé?
I was at home when I received the email from placecom that I had been selected at Nestlé. I was anxiously waiting for it. I remember accepting it within a minute of it being sent to me. And I think I celebrated that evening with a bowl of Maggi at home!
It's kind of a dream to work with a company like Nestlé. I don't think there's anyone in India who has not used one Nestlé product or the other in his/her life at least once. I was really nervous during my interview procedure, thinking constantly about where I would end up. And I would say I really felt proud when I got to know that I had cracked it with Nestlé.
5. Interning with the largest FMCG company with cutting edge technology, world-class R&D laboratory and factories, how has been the experience and key learnings for you during your stint?
What I liked the most about working at Nestlé is that the projects given to interns are of significant value. I was entrusted to come up with a compensation model where I was given a lot of real-time data. And this project was a real-life business case that the team was itself working on. I was more a partner to the project than just an intern.
6. What were the key strengths that you think played in your favour during your internship with Nestlé?
I am a very curious kind of person and I love to dig deep. During my internship as well, I never censored myself from asking questions. I always used to go straight to my guide and buddy for clarification for any doubts I had in mind. The real-world application for any domain is pretty different from what you study in your classroom and thus you should always use the help that is at your disposal. Along with this, I did a lot of research on taxation and other compensation models during my stint. I think it helped me understand my role better and come up with effective solutions.
7. Working in the HR domain, people come at the forefront. What were some of the challenges that you faced in this front while working on your project?
When you are working on a particular project, you need to get a lot of perspectives from people who are part of the current ecosystem. For this, I interviewed a lot of employees currently working on different roles within the organization, which helped me designing the model I was working on. Setting up these meetings also required a proper channelling within the organization, taking help from your seniors, mentors, buddies and friends. It was at times challenging to align all of it together, but in the end, it helped me a lot broadening my understanding within the organization.
8. Tell us about the mentorship that you received during your internship and how it helped you achieve your project deliverables on time?
I think the best part of these two months is the mentorship I received from my mentor and buddy. Both of them have been with the compensation team of HR at Nestlé India for some time. They taught me things like an employee of the organization and not for once made me feel like an intern. They constantly provided me with feedback and my project kept getting better every time I presented to them.
9. What are some of the things you experienced at Nestlé that you weren't familiar about it as an organization?
There is a lot of interdepartmental conversation that takes place at Nestlé. Initially, I had an idea that in huge corporations like Nestlé, each department would be a company on its own operating separately. But when I stepped into Nestlé I came across the open workplace that it provides to its employees. There are no cabins and it entails an open environment amongst its employees. People can approach others without any hesitation, irrespective of what rank they are in and what domain they work in.
10. What were the three things about Nestlé during your internship that made you accept the PPO?
I think the first thing that made me accept the PPO at Nestlé was the kind of work and responsibility that I was given at the organization. I enjoyed it to the fullest and it motivated me to work for Nestlé. Secondly, I genuinely liked the guidance provided by the mentors and my buddy during my internship helping me at each juncture. Thirdly, I would say I was drawn towards Nestlé because of the brand that it is.
11. How excited are you about working for Nestlé and what is your prep like before you start?
I have aligned my second year at XLRI, taking up papers that are going to help me further when I start at Nestlé. I have taken a course on international HR management which would help me going forward when I work with an MNC like Nestlé. We have a subject on career competency in my second year and I am sure it is going to help me while I join Nestlé.
To be honest, I am eagerly waiting for my second year to get over so that I can start working for Nestlé and implement the ideas that I have in store!
* This is a promoted feature