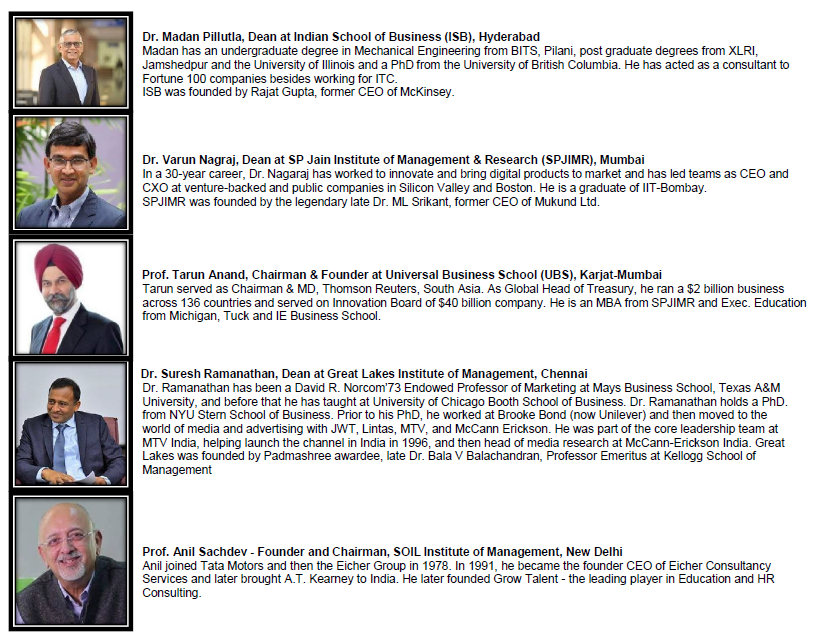 Why join any one of these top five private b-schools?
Founders/Deans with Global Industry Experience
Since led by global CEOs and managed by industry stalwarts, these institutes have focused the curriculum development on industry-academia collaboration on two key parameters – maximum industry exposure for learners and creating impactful knowledge through joint research projects. Their curriculum is innovative, industry relevant, application based and focused on holistic development for maximum career impact.
Global Education: International curriculum, Global Degree and Global Partnership
When we think about the world economy today, it is highly integrated with American and Chinese companies coming to India or Indian companies collaborating internationally. This is leading to a steady rise in demand for a leader to manage and lead such diverse organisations. It is imperative, for an MBA aspirant to become a global manager in the future and to be effective, they need to have a global degree with an international curriculum with several global immersive learning opportunities. ISB, SPJIMR and UBS lead in providing MBA programs and global degrees with international curriculum in collaboration with global academic partnerships with prestigious international universities.
Global standard for Education: Indian and International Accreditation
The National Education Policy envisions attaining highest global standards in the quality of higher education in India. Institutes with Indian and International accreditations are hallmarks for imparting quality education and a robust and transparent system.ISB, SPJIMR, UBS and Great Lakes have either Indian (NBA) or international (AACSB, AMBA, EQUIS) or both accreditations.
Industry Expeditions: Problem solving and Action-based learning
Live industry projects during an MBA program are a must, as it provides real-time professional management experiences and make learners corporate ready. Since the management team comprises of industry veterans, the focus of these five b-schools is to provide maximum opportunities to solve real business problems in a live corporate environment. While institutes like ISB and SPJIMR prefer applicants with industry experiences, young and progressive institutes like UBS have taken strategic initiatives to include five such deep learning opportunities for its learners through two industry projects in first year, before summer internship and one live consulting project in the second year of program. The student has the opportunity to work with four companies in four industries during their two-year MBA.
International Expedition - Global Career
If an MBA aspirant is looking at a global career, then they can choose a program which will provide them an immersive learning environment in an international setting. ISB, SPJIMR and UBS offer multiple programs with such immersive learning opportunities for learners by allowing them to study the full academic year at their partner universities. In addition, some of these programs will give dual degree, one from the home institute and the other from international partner universities. For instance, ISB provides an international expedition to Kellogg School of Management (USA). SPJIMR provides an international immersion to McCombs School of Business, and Johnson School of Business (USA). UBS provides dual degree in collaboration with Cardiff Met. University (UK), Swiss School of Management (Italy), INSEEC (France), Lincoln University (USA) and North-Eastern Illinois University (USA). Great Lakes provided an international immersion for University of Miami (USA).
Managing Diversity: International students and faculty and international exchange programs
One of the many challenges of today's leader would be to manage a diverse and multi-cultural team and to provide solutions to global customers. To be successful, the leader must have an inclusive mindset, appreciative of a diverse team and sensitive to myriad cultures. Such a mindset can be inculcated by a learner either through a global immersion MBA Program or studying in an institute that attracts learners and faculty across India and world. ISB, UBS and SPJIMR provide the learners with global immersion opportunities as learners can study and do their internship at partner universities in Europe, UK, and USA.
Universal business school provide the learners with global immersion opportunities as learners can study and do their internship at partner universities in Europe, UK, and USA.
Environmental, Societal and Governance awareness: ESG/PRME/GBSN
Importance of Environment, Social impact, Ethics and Governance is paramount both in business and society. Some of these six institutes are pioneer in initiating sustainable development practises both in curriculum and managing the institutes' ecosystem. These values will inculcate in all stakeholders a sense of awareness for practicing sustainable development at local, regional, and global scales. In addition, global companies look at applicants who have shown their commitment to sustainable development goals through being part of socially impactful projects, as they can be the budding sustainable development practitioners. ISB, SPJIMR & UBS are b-schools have taken memberships of these prestigious international organisations.
Thought Leadership: PhD/Fellow Program and Joint industry-academia research projects
Institutes like ISB, SPJIMR and UBS offers doctoral/fellow programs with an intent to create thought leaders. Also, these institutes are collaborating with industry, global academic and key stakeholders to work on relevant projects which will have positive societal impact and build on intellectual contribution towards creating impactful knowledge with managerial implications.
For Industry by Industry
These institutes are led and managed by industry professionals with a keen focus on building industry academia collaborations for co-creating value for its stakeholders. From curriculum development to faculty recruitment and from providing industry projects to skill development for learners; all aspects of a program are designed in collaboration with industry experts, keeping in mind their requirements. If you are an MBA aspirant, then one of these b-schools should be your choice. Their industry relevant program and practitioner's approach will groom you for a corporate career and help you to differentiate yourself from other MBA graduates.
| | | | | | |
| --- | --- | --- | --- | --- | --- |
| Parameters | ISB, Hyderabad | SPJIMR, Mumbai | UBS, Karjat-Mumbai | Great Lakes, Chennai | SOIL, New Delhi |
| Founder with Global exposure | √ | √ | √ | √ | √ |
| International Curriculum | √ | √ | √ | √ | √ |
| Global Degree | X | √ | √ | X | X |
| Global Partnerships | √ | √ | √ | √ | √ |
| Indian Accreditation | X | √ | √ | √ | X |
| International Accreditations | √ | √ | √ | √ | X |
| Industry Expeditions | √ | √ | √ | √ | √ |
| International Expedition | √ | √ | √ | √ | X |
| International Double Degree | X | √ | √ | √ | X |
| International Students & International Faculty | √ | √ | √ | √ | √ |
| International Exchange program | √ | √ | √ | √ | √ |
| ESG / PRME / GBSN | √ | √ | √ | √ | X |
| PHD / Fellow program | √ | √ | √ | X | X |
*This is a promoted feature