IIM Indore selection criteria 2018 has been released for the PGP Batch of 2019-2021.
Highlights of IIM Indore selection criteria -
There has been no change in selection criteria from last year, and the weight remains the same for all components of the selection criteria.
CAT score has the least weight in IIM Indore's selection criteria 2018. A candidate with an excellent academic background and an above average CAT score can also get a call from IIM I.
There is no weight for Graduation marks of a candidate, both in shortlisting for WAT-PI and Final Selection.
There are no points for academic diversity, but 4 marks are awarded for gender diversity.
Almost 80% of the marks in WAT-PI shortlisting criteria and 20% of the marks in Final Selection criteria are 10th+12th marks. Therefore, more than the CAT percentile, a candidate's previous academic performance will be a major deciding factor in getting a shortlist call from IIM Indore.
IIM Indore Admission Criteria 2018
Eligibility -
Take Your Career To The Next Level. Ask Our Experts Anything. We Will Respond Within 48 Hours.
The following are the minimum CAT 2018 cut-offs for IIM Indore.
Note - the actual percentile required would be upwards of 98 percentile for General category (based on previous trends).
| Category | QA | DI-LR | VA-RC | Overall |
| --- | --- | --- | --- | --- |
| General | 80 | 80 | 80 | 90 |
| NC-OBC | 70 | 70 | 70 | 80 |
| SC | 55 | 55 | 55 | 60 |
| ST | 45 | 45 | 45 | 50 |
| PwD | 45 | 45 | 45 | 50 |
IIM Indore Selection Criteria 2018: WAT-PI Shortlist -
The following are the components and their weights that will be considered for a shortlist call by IIM Indore -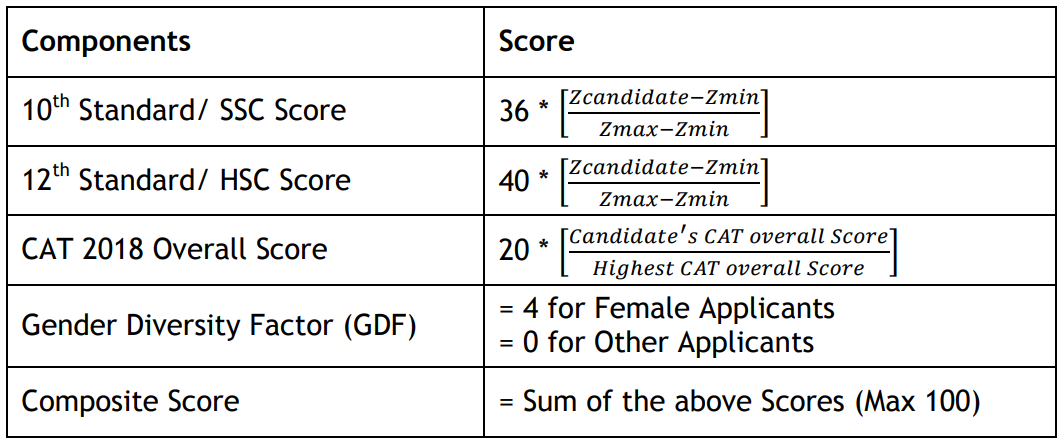 If a candidate meets the composite score cut-off set by IIM Indore, he/she will be eligible for the Writing Ability Test and Personal Interview round at the centre of their choosing.
IIM Indore Selection Criteria 2018: Final Selection Criteria -
After the WAT-PI is complete, candidates will be shortlisted on the following criteria: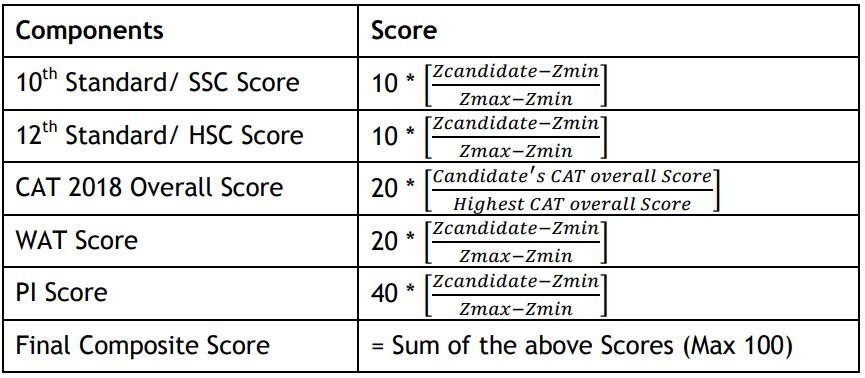 Based on the Final Composite Score, a candidate will be given an admission offer at IIM Indore.
Much like its Calcutta counter-part, IIM Indore lays major importance on 10th and 12th score of an applicant. Therefore, if your academic profile has been not-so-stellar in either of the two, your chances of getting a shortlist call can only be salvaged by an exceptional CAT 2018 score. There is no weight for work experience at all, so freshers and working professionals are on the same plane. Further, non-engineers are not given any preference for academic diversity, so anyone from any academic background has an equal chance of getting into Planet-I.
According to the InsideIIM Gender Diversity Report, IIM Indore is one of the most gender-diverse B-schools in the country but wants to continue growing in that direction. Therefore, a total of 4 points will be given to female applicants this year as well, according to IIM Indore selection criteria 2018.
Since 10th and 12th scores of most applicants are generally in the same range, it is that 20% weight to the CAT score that will become crucial to getting a WAT-PI shortlist call from IIM Indore.