IIM Indore has successfully completed the summer placements process for its batch of 2020-2022. The summer placements season at IIM Indore witnessed participation from over 190 companies, including over 70 first-time recruiters collectively rolling out offers to 575 participating students. Top recruiters on campus included the Boston Consulting Group, Bain, Goldman Sachs, JP Morgan, HUL, Google, and Microsoft, amongst others. Here are the key highlights from IIM Indore's summer placements process, as well as important details around recruiters on campus and stipends offered to the batch of 2022.
---
5 Key Highlights From IIM Indore's Summer Placement Process For Batch of 2020-2022
IIM Indore, which has the largest batch size across all IIMs, saw a tremendously successful summer placement season for its batch of 2022. Here are the most important highlights from IIM Indore's summer placement process.
The highest stipend offered to the batch of 2022 touched ₹3.20 lakhs.
The average stipend offered to the batch stood at ₹1.86 lakhs, which is an increase of 11% over the previous year.
The average of the top-100 stipends offers stood at ₹3.15 lakhs.
More than 190 companies participated in the summer placement process at IIM Indore, including 70+ first time recruiters. Top recruiters on campus included Mahindra, Amazon, Google, Microsoft, BCG, Bain, PwC, Hindustan Unilever, American Express, Barclays, Credit Suisse, and HSBC Bank, amongst others.
IIM Indore witnessed first time participation from Amazon Web Services, Cloudtail, Lubrizol, Marsh, Rohatyn Group, Tata Consumer Products, Veritas and many other companies hiring students from campus.
Take Your Career To The Next Level. Ask Our Experts Anything. We Will Respond Within 48 Hours.
Additionally, the batch of the 5-year IPM Degree that appeared for summer placements along with the PGP batch attracted interest from recruiters like AT Foods, Avalon Consulting, CRISIL, Cummins, Edelweiss Tokio, ICICI Bank, TAFE, Wonder Cement among others.
---
IIM Indore Summer Placement 2020-2022 | Companies Offering Finance Roles
Goldman Sachs, Deutsche Bank and JP Morgan Chase & Co continued to recruit for a multitude of roles that included Investment Banking, Equity Research, Risk Management & Corporate Treasury among others. Marquee recruiters like Barclays, Credit Suisse, D E Shaw, HSBC Bank, and State Street offered coveted roles.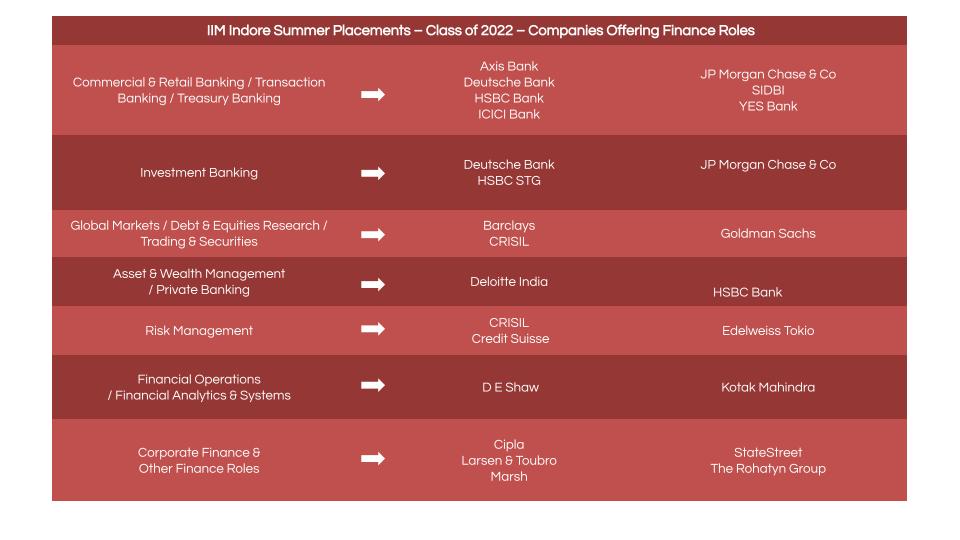 ---
IIM Indore Summer Placement 2020-2022 | Companies Offering Consulting, General Management & IT Roles
Prominent recruiters in the Consulting domain included Boston Consulting Group, Bain & Co, Everest Group, PricewaterhouseCoopers SDC, while McKinsey & Co returned after a brief hiatus. Other legacy recruiters like Deloitte India, Deloitte USI, GEP Consulting, Optum continued to engage with IIM Indore.
Major conglomerates such as Mahindra & Mahindra hired for their coveted leadership programme. Other prominent recruiters such as Amazon, ACT Fibernet, Cipla, JSW Group, Larsen & Toubro, and Tata Steel also joined to recruit the growing talent at IIM Indore for their General Management and Operations roles.
The IT & Analytics sector saw participation from marquee recruiters like American Express, Baker Hughes, Google and Microsoft. The behemoths including Capgemini, General Electric, and Walmart Labs offered coveted profiles to IIM Indore students.
---
IIM Indore Summer Placement 2020-2022 | Companies Offering Sales & Marketing Roles
Sales & Marketing continued to be among the top domains with leading FMCG brands like Asian Paints, Dabur, Hindustan Unilever, ITC, L'Oreal, Marico, and Piramal continuing to recruit in large numbers while first new recruiters included GlaxoSmithKline Consumer Healthcare and Puma.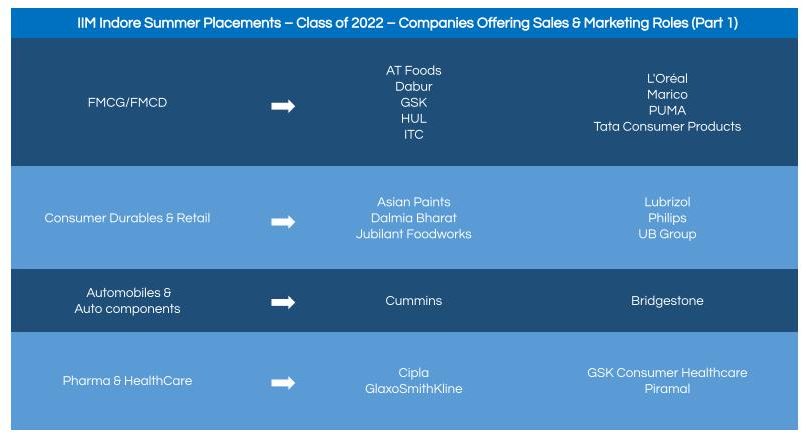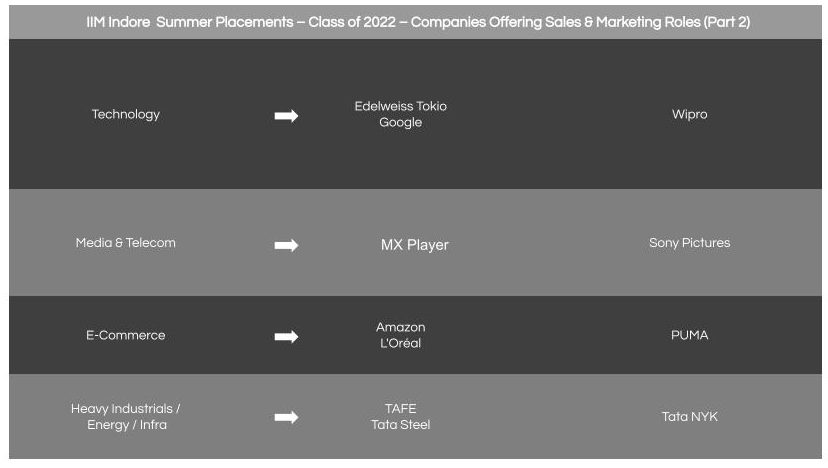 ---
IIM Indore Summer Placement 2020-2022 | Companies Offering HR, Operations, & Other Roles