IIM Udaipur students have voted Dr. Kunal Kamal Kumar as their professor of the year in 2021! Dr. Kumar, who is an Assistant Professor of Organizational Behaviour and Human Resource Management at IIM Udaipur, is adored for his unique style of teaching. Here's what IIM Udaipur students have to say about Dr. Kamal and what he brings to the classroom!
---
Meet Dr. Kunal Kamal - Assistant Professor At IIM Udaipur & InsideIIM Professor of The Year In 2021
Dr. Kunal Kamal Kumar is an Assistant Professor at IIM Udaipur and teaches Organizational Behaviour and Human Resource Management to his students. He has been associated with IIM Udaipur since 2017, and earlier was a faculty member at TAPMI Manipal. He completed his FPM from IIM Indore, and holds MA and BA degrees from the University of Delhi.
Take Your Career To The Next Level. Ask Our Experts Anything. We Will Respond Within 48 Hours.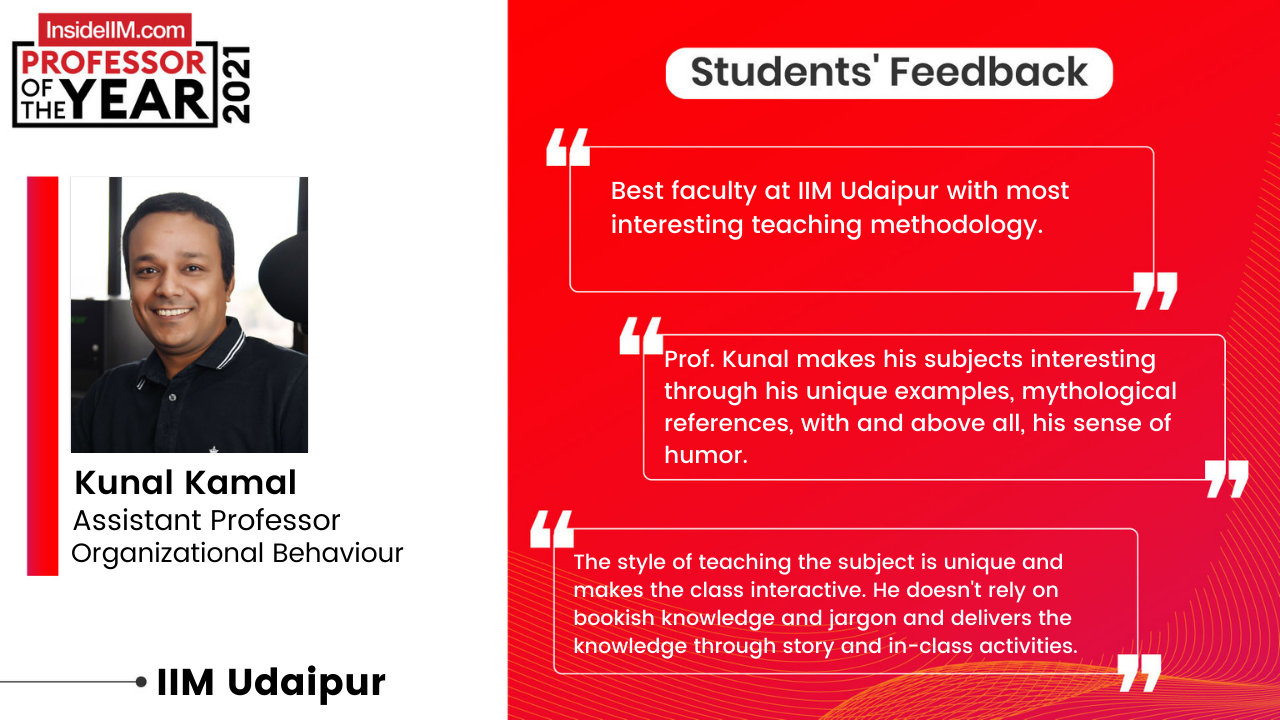 ---
InsideIIM Professor of The Year 2021 - Here's What IIM Udaipur Students Have To Say About Dr. Kamal
"Best faculty at IIM Udaipur with most interesting teaching methodology. We are always at splits with laughter in class but are always able to grasp the underlying message of session that sir wants to convey."
"His style of teaching the subject is unique, and he makes the class interactive. He doesn't rely on bookish knowledge and jargon and delivers the knowledge through story and in-class activities."
"He has the ability to make every topic interesting and learning a fun experience. He has tremendous depth of knowledge and has the capacity to deliver the same in the best way."
"Prof. Kunal makes his subjects interesting through his unique examples, mythological references, with and above all, his sense of humor. His classes are engaging, which is even better considering the subjects he takes are all theoretical. He extends help and support beyond his duties to all his students."
"Most of the students don't like HR classes, that too in online mode but he made his classes interesting with his humor. The way he explains each concept has now made most of the students like HRM."
---
What The InsideIIM Professor of The Year Series Is About
In the last year, the whole country struggled in coping up with the pandemic and lockdowns. In this time of crisis, it was the great leadership shown by our teachers and professors to ensure that learning never stops. They went beyond just teaching and found solutions and created new learning environments for their students to continue learning.
We at InsideIIM want to recognize the efforts that various B-School professors throughout the country put in to ensure that their students are not left behind and continue to meet their potential and achieve great things. This is why we asked MBA students of the current batches in 2021 to nominate their favorite professors on campus for the title of 'Professor of The Year' as a small token of gratitude for professors who have made so many efforts in the last year, just so that students can head out to etch a successful career for themselves!