For earlier Parts under this series, please click below :
Take Your Career To The Next Level. Ask Our Experts Anything. We Will Respond Within 48 Hours.
Outside we face peer pressure and back home its parental pressure, both being inevitable I continue to track Tito Nano Chinappa in his quest to destiny and finding out where he belongs. 3 months—20days (corporate banking)—10 days (corporate finance). Another 2 months in hand, Tito wondered what was in store for him. Will he succeed in making a choice?
The next day Tito was walking along the streets of South Mumbai when a huge block shaped structure curved a little on the sides seemed to be visible. Tito neared the building walking through the hustle bustle on the Dalal Street. He was awed by the sheer magnitude of what was the Bombay Stock Exchange. He strained his neck in counting the number of floors but failed. However the exercise left him mesmerized. Engrossed in his thoughts he was standing in the middle of the narrow street when a Jaguar passing by went mildly over his leg and he fell. Even though he was not severely hurt the gentleman in the car decided to take him to the nearest doctor. Seated in the car the man introduced himself as Mr Manikchand Shah and extended his card to Tito who looked like a perfect professional in his black trousers, crisp white shirt, tie and a blazer. Tito Nano Chinappa saw the card read 'Raisins & Shah' Investment Banking firm. He introduced himself and narrated his experiences in finding what is right for him. While narrating he realized the impact the atmosphere around the stock exchange had on him. He had not noticed a full fledged car moving towards him. The car had a television and the famous hindi movie Nayak was going on in the background on mute mode. Tito liked Mr Manikchand and still deep in his thoughts he casually blurted out "How I wish like Anil Kapoor gets a chance to be the chief minister for a day, I get a chance to explore each area in finance by spending a day on the chair and then decide" The wish was granted, it was investment banking next.
Tito woke up next morning as the warmth from the rays of the sun created a different energy in his body. He was going to spend an entire day at Raisins & Shah one of the best firms. Last night TC had researched and found out the basics with regards to investment banking and his diary was ready-
An investment bank is a financial institution that assists individuals, corporations and governments in raising capital by underwriting and/or acting as the client's agent in the issuance of securities.
The investment banks provide a large number of finance-related services –
Underwriting
Raising capital for companies by issuing equity or debt securities
Facilitate mergers
Consulting services
Mediator between investor and issuer
They also provide ancillary services such as market making, trading of derivatives, fixed income instruments, foreign exchange, commodities, and equity securities.
Globally investment banking also includes fund based services in the capital market which are divided across three areas-
Equity market activity
Debt market activity
Mergers and Acquisitions
Investment banking firms do not include only the multinationals but also include the small firms entering the market. They are called boutique investment banks or boutique financial advisory firms.
There are two sides of the business i.e. the buy side and the sell side.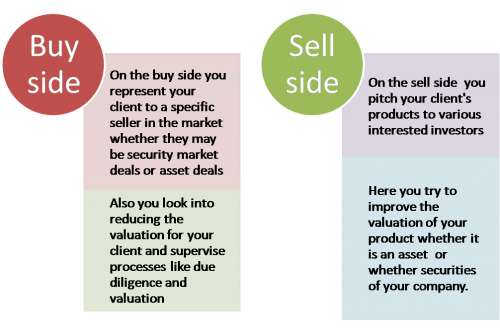 The Sell-Side: Investment Banking (M&A and Fund Raising) - You pitch your products to various investors and try and persuade potential buyers.
The Buy-Side: Private Equity, Hedge Funds, Prop Trading, Venture Capital, Asset Management - The idea here is to raise capital from investors and invest them in the best possible way to maximize returns
Tito entered Raisins & Shah and the first thing given to him was a manual which explicitly stated all the sectors across which they provide services. Tito made his notes-- Investment banking services change with every different sector. Every sector has its norms which have to be followed.
1.Media, Telecom and Technology
The investment banking services to this area include IPOs, equity and debt offerings, hybrid instruments, risk management, acquisitions and credit advisory.
--ITV Media Acquired NewsX from Indi-Media Network
The services provided include mergers and acquisitions, loan syndication and securitization; help real estate companies raise funds from the capital market, assist in pricing and distribution of commercial real estate debt. Real estate investment trusts are also included under this head.
--Credit Suisse bought around 0.60% stake in Housing Development and Infrastructure Limited (HDIL) through bulk deal on NSE.
3.Power Utilities and Infrastructure
The investment banking services to the power and infrastructure sectors include creating a financing structure, marketing and placing debt for both public- and private-supported facilities for infrastructure growth, advisory services to help clients in bidding and negotiation. These include water and wastewater systems, schools, libraries, airports, highways etc. It also includes providing credit, structuring, risk management and market access advisory services to the power sector.
--L&T is planning an equity sale in various infrastructure projects. The company is targeting matured assets within the portfolio for the equity partnership, according to BS. L&T is planning to reduce the portfolio size of the company and generate funds which could be used as equity in new projects.
The investment banking services to retail sector include services to all kinds of restaurants, supermarkets, apparel industries, education, household goods etc. There are new retail chains established on a regular basis and investment bankers help them by assisting them in the initial setup, fund procurement, mergers, divestitures and risk management.
--Fabindia, Shoppers Stop led by The Bombay Store are shortlisted to place final bids to form a JV with government owned Khadi Gram Udyog Bhawan in running and marketing around 10 outlets of its mega store across the country, according to BS.
This sector also provides services to other areas like bio technology, pharmaceutical companies, life sciences etc. The investment banking team provides necessary advisory services with respect to restructuring, mergers, fund raising and corporate defense against hostile takeovers.
--Manipal Health Systems would raise around $ 33.5 mn from Kotak PE Fund in a structured transaction. It would give an exit to IDFC PE Fund.
The financial institutions include banks, insurance companies, funds, special institutions, asset management companies etc. A wide range of services are provided by investment bankers to these institutions like structured financing, hedging, restructuring, financial advisory services, mergers, takeovers etc.
--Yes Bank has raised $155 Mn and 50 Mn euros through a dual currency syndicated loan facility for one year. These funds will be used for general corporate purposes and trade finance.
After a hectic morning of continuous reading and understanding and after what Tito thought was too quick to be called lunch he met the HR consultant who had a session lined up for him on the skills.
Jobs and Skills for Investment Banking
As an entrant the best position to apply for is that of an analyst. Many college graduates start in investment banking in an analyst position. The skills to succeed as an entrant include:-
Analytically fluent
Good spreadsheet skills
Dedication
After Tito wrote down aspects a starter needs to know the HR consultant provided him with a deeper insight. He said, "However the general skills required to be a successful investment banker are:-
Tough to break in -- It is extremely difficult to break into investment banking and requires a person to be

perseverant

.
Communication – Also one must be capable of communicating with ease as it is about 'how many deals went through?' at the end of the day.
Quantitative skills-- Some jobs in investment banking call for very strong mathematical ability. If you are good at math think about getting an advanced degree in a technical field (studying areas such as stochastic calculus and differential equations)
Accounting skills -- The ability to analyze accounting numbers critically is important in most analyst positions. Ultimately, you should aim for the CFA designation. The CFA helps you become much more mobile over time.
After Tito had his session with skills he was allowed to sit in the operations area and help the analysts with their work, understand it and get a feel of the environment he was completely unaware of. After that from 4pm to the end of the day which was 4 am next morning he saw what investment banking meant for the first time. He had not only learned but lived it for a day and had enough to fill his dairy.
Another way to look at how a full service investment bank operates which also has a Global Markets division :
Different services offered by an investment bank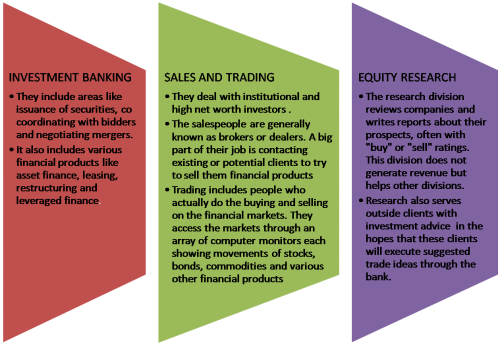 Global banks which also have strong Corporate banking arms usually offer services such as Cash Escrow and Securities Escrow. A open offer or a private equity deal will typically necessitate an Escrow account.
Most international investment banks also have middle offices where a lot of off-site due diligence, pitch preparation and number crunching is done for the front office investment bankers based in London, New York and Hong Kong. In India, a lot of such units are found in Bangalore and Mumbai. Many IIM grads, Chartered Accountants and IIT graduates work in these offices. IIM graduates getting placed at Equity Research middle offices in Bangalore is very common. It is important to know the difference between the profiles offered by the global investment banks in Asia as there is a considerable difference in the compensation and career graph of bankers in the middle office and those in the front office. Business schools routinely mislead potential applicants by not fully disclosing the profile offered at their campus by global banks such as Goldman Sachs, JPMorgan ad Deutsche Bank.
There are other areas in the middle and back office of an investment banking unit :-
Risk Management
Internal Control
Operations
Technology
The risk management looks into market risk and credit risk. Another important area is to ensure economic risks are captured. They also look into aspects of operational risk.
They involve data checking activities on trades that have taken place. It ensures accuracy of the numerous transactions. Many banks however outsource their operations.
All investment banks have sufficient in-house software and technology. They are all created by the team which provides technical support instantly if required. Since technology has evolved over a period it has great usage in the banking world.
At 4 am as Tito Nano Chinappa hailed a cab, the darkness, the moonlight and silence all seemed to be walking with him. He felt a sense of fulfillment which he could not understand. It felt like he found something worthwhile but he could see the cab preparing to turn around the corner and he realized there was still a road ahead – undiscovered and unexplored.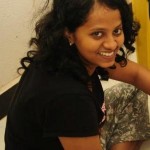 Kala Krishnan is a Chartered Accountant and pursuing her Company Secretary course. She is a graduate from Narsee Monjee College of Commerce and Economics. She has a passion for writing and oration and the idea of being an author and owning a publishing house excites her the most. She has been the Sub editor of 'Sans Frontiers' the official magazine of Umang – Narsee Monjee College's festival. A cricket lover, Rahul Dravid and Sourav Ganguly inspire her and she dreams of writing their biography someday…..