One of the most important aspects of placements, be it Summer Placements or Final Placements, is knowing which company you want to work for. It is imperative that you understand the work-culture, the vision and mission statement, and the approximate CTC that you are likely to receive.
Therefore, we have created the InsideIIM Company Profile series where we publish facts about the most sought-after recruiters which will help you make an all-important career decision.
We recommend that you use these reports as a starting point for your own personal research in order to get a comprehensive understanding of an organisation.
ITC Limited - Who, What, Why
ITC Limited is a diverse conglomerate, with its presence in FMCG, Agri-Business (tobacco included), Hotels, Printing, Paperboards etc. Famous ITC products are Aashirvaad, Sunfeast, Wills Lifestyle, Fiama Di Wills, Candyman, Mangaldeep and various cigarette brands. It has various hotels (over 100) across India which are market leaders and provide luxury and service of the highest quality. The company's statement of belief is: "Let's put India first."
The company is headquartered in Kolkata.
ITC Limited Headquarters - Virginia House, Kolkata: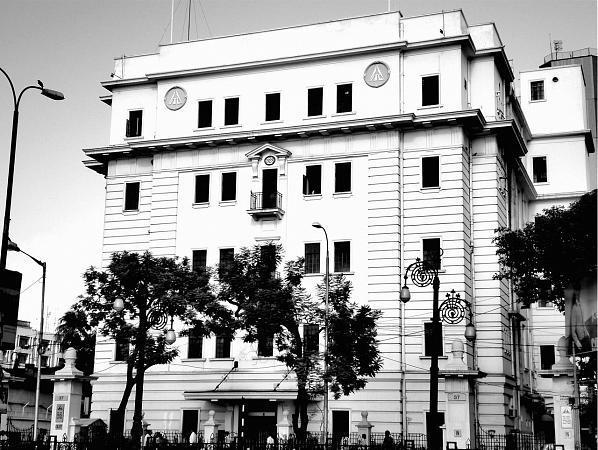 Vision Statement - Sustain ITC's position as one of India's most valuable corporations through world class performance, creating growing value for the Indian economy and the Company's stakeholders
Mission Statement - To enhance the wealth generating capability of the enterprise in a globalising environment, delivering superior and sustainable stakeholder value.
ITC's vision, according to CEO and Executive Director Chairman Sanjiv Puri, is to gain 1 Lakh crores from FMCG division by the year 2030.
ITC will also invest 80% of its capital in the non-tobacco FMCG division of the company. In the year 2018 itself, ITC has put 30+ new products into the market, including frozen snacks and other consumer products.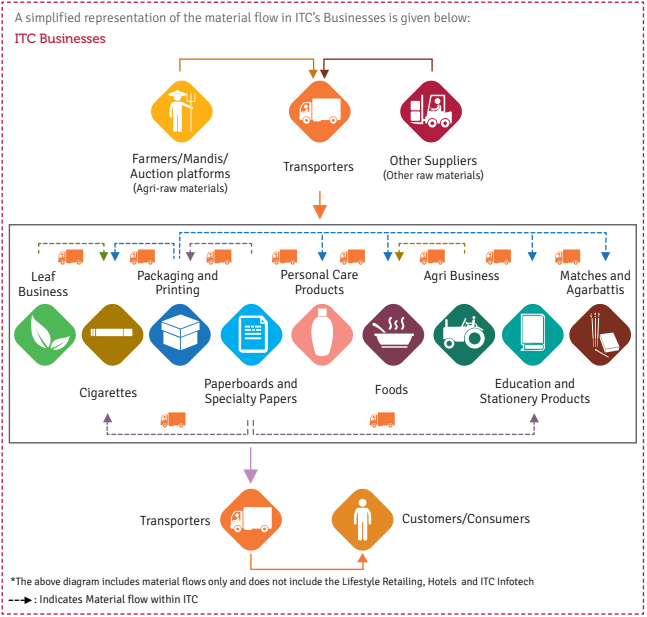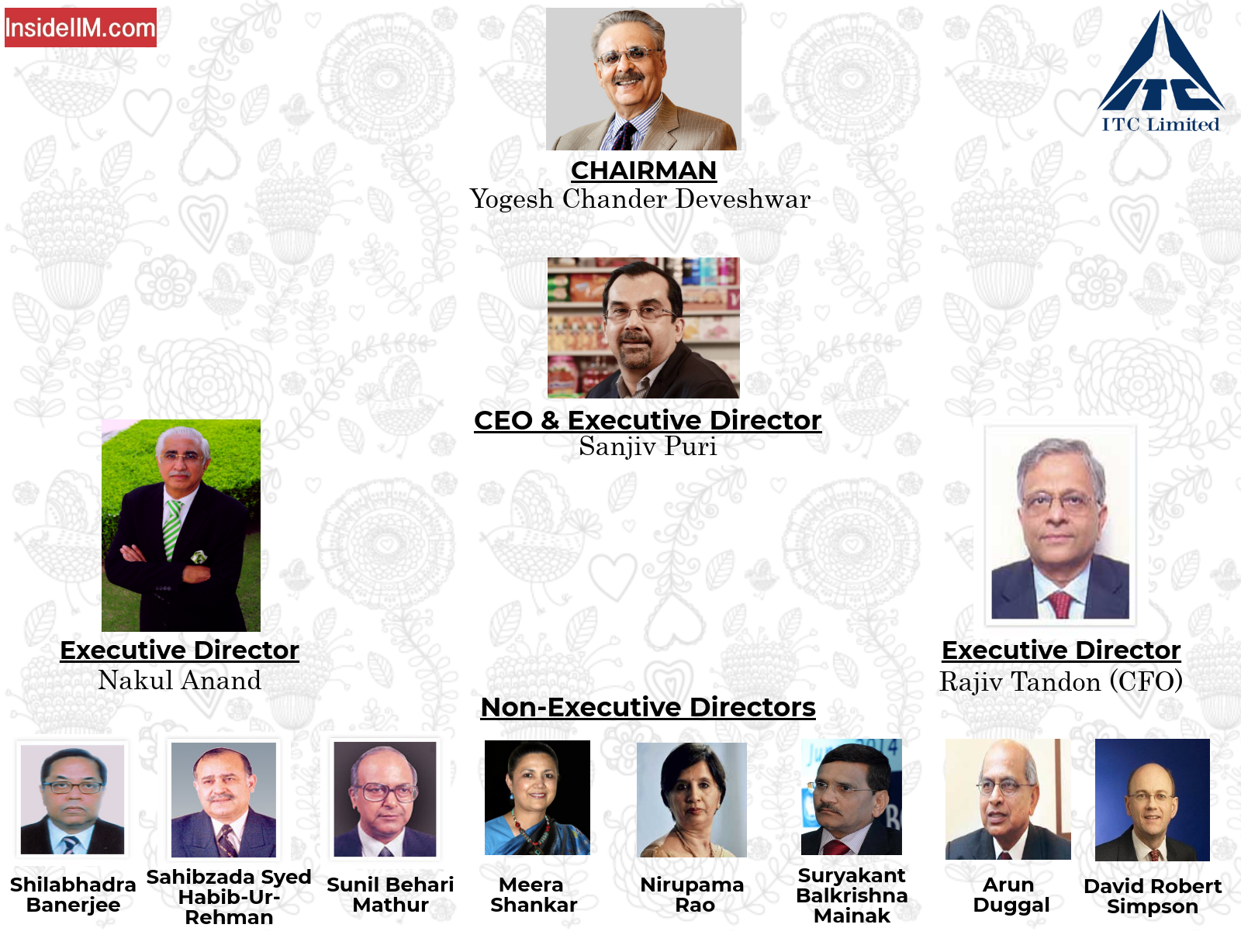 The leadership of ITC Limited has a combined average industry experience of over 37 years, with Executive Chairman YC Deveshwar leading the pack with almost 5 decades of experience during which he received a myriad of awards and accolades.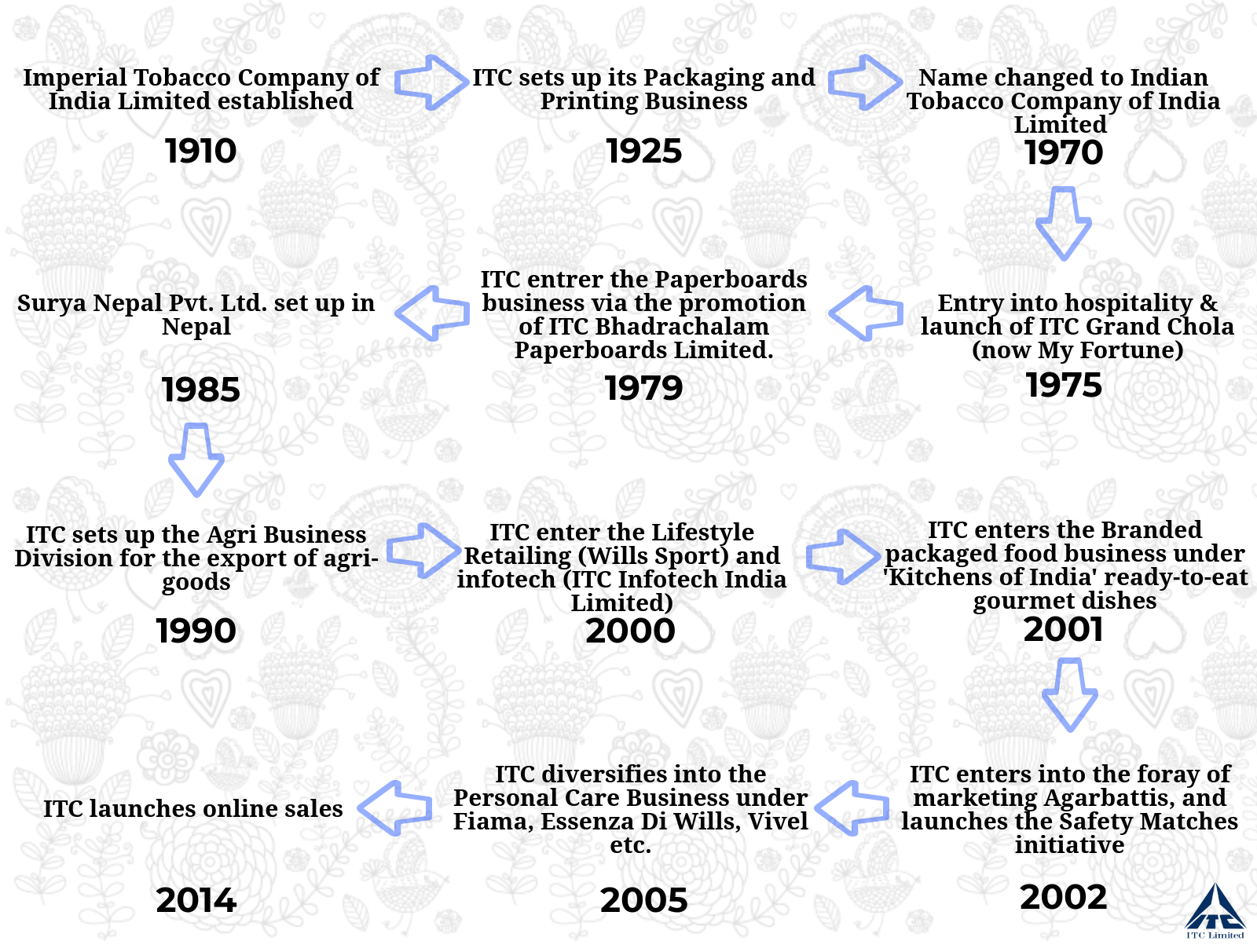 Products Mix of ITC
FMCG

- Cigarettes, Branded packaged foods, Lifestyle Retailing, Incense sticks and Matchsticks, Education & Stationery.

PaperBoards & Packaging

- Packaging boards, Speciality boards, Graphic boards, Speciality papers.

Agri-Business

- Agri-export of Feed ingredients, Food grains, Marine products, processed fruits, coffee. ITC's most profitable tobacco business is also classified under the Agri-Business division.

Hotels

- With over 100 hotels, ITC Hotels is one of the largest hotel chains in the country, and also the greenest. The hotels are spread across 70 locations and provide luxury accommodation to its guests.
For the year 2016-2017, 73.61% of the company's net turnover was brought in through FMCG, followed by Agri-Business which constituted 13.73% of the net turnover. These were followed by PaperBoards, Paper & Packaging Business, and Hotels.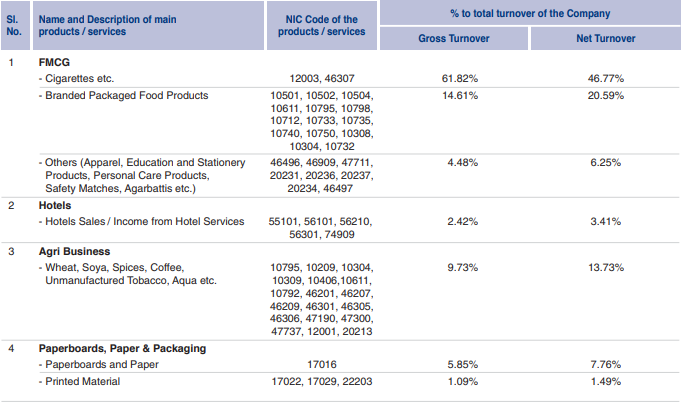 ITC Limited (Current Students)
2017
2016
2015
2014
Rank
8th
8th
3rd
9th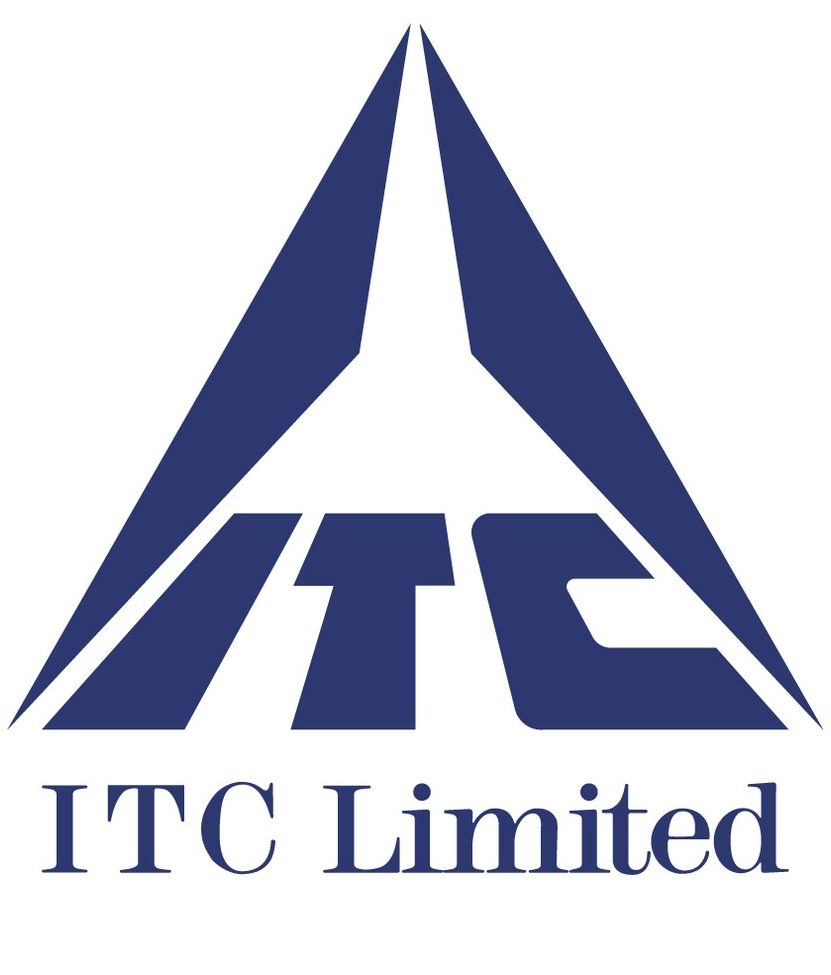 Over the years, ITC has entered various sectors and created products that people recognize and purchase on a daily basis. The company has won various awards and accolades for manufacturing excellence and product quality. We all identify with Aashirvaad whole wheat flour, Classmate notebooks, Sunfeast biscuits, Fiama Di Wills, Navy Cut cigarettes, Gold Flake cigarettes etc. The various ITC hotels across the country and abroad are also well-known for their unparalleled luxury and service.
ITC is also known for its various CSR (Corporate Social Responsibility) initiatives such e-Choupal for farmers, Primary education, Women Empowerment etc.
Its CSR presence increases its brand value, as the idea of an environmentally sustainable company resonates with a consumer.
For example, ITC's WelcomGroup Hotels take pride in being LEED (Leadership in Energy and Environmental Design) certified. Another example is of ITC's Classmate Notebooks brand. For sale of every four notebooks, Re 1 is donated to the foundation that manages the education of the poor.
ITC Limited's CSR initiatives include: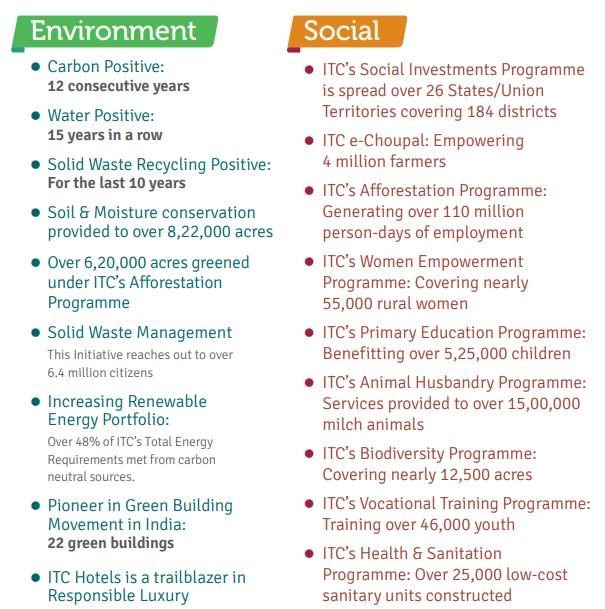 Campus Activities & Management Training Programmes
KITES - Summer Internship with ITC Limited:
KITES stands for Knowledge, Initiative & Talent Excellence, and is the 8-week Summer Internship Programme by ITC.
Read here about ITC Internship experiences:
On-Campus Activities:
On the B-School campus, ITC conducts the 'Interrobang', which is an event that promotes interaction between the business leaders of ITC Ltd. and the students of premier management institutes. Launched in 2011, the event includes talks by the leadership of ITC, as well as the famous 'Interrobang Case Study Challenge'.
As a run-up to 'Interrobang', ITC's Talent page on Facebook conducts the 'Interroquiz', which is a daily online quiz. 'Interrojam' is sessions provide a B-Schooler with a chance to engage in a dialogue with the business leaders of ITC and understand the company's processes.
The 'Interrobang Case Study Challenge' allows students to find innovative solutions to real-life corporate challenges faced by the ITC Ltd. management. ITC offer prizes worth over Rs. 35 Lakhs to the winners and a Pre-placement Interview opportunity.
Interrobang has been conducted across IIM-Ahmedabad, IIM-Bangalore, IIM-Calcutta, IIM-Indore, IIM-Kozhikode, IIM-Lucknow, NMIMS-Mumbai, XLRI-Jamshedpur (Marketing); NITIE-Mumbai (Supply Chain); TISS-Mumbai, SCMHRD, SIBM Pune, (HRM).
Here is an Interrobang - IIM Indore winner's experience.
Management Training Programmes:
ITC provides a 1-year Assistants Under Training (AUT) Programme to students of premier institutes who want to pursue a career with ITC Limited.
Applicants of premier colleges are asked to apply online, and screening takes place based on the selection criteria established by the company.
Following the screening, a non-technical online assessment is conducted for short-listed candidates.
This is followed by a group discussion based on a case-study provided by the company panel.
Shortlisted candidates then appear for a PI round with ITC's senior management panel. The candidate can be asked questions based on the contents of their respective CVs, past projects, domain knowledge etc.
Upon selection, the candidate is asked to visit the ITC Head office in Kolkata for a final round of interaction.
An IIM graduate says that ITC's Assistants Under Training (AUT) programme is a "Great learning experience.", while for another, the AUT was a very good experience and that, for him, ITC was "a dream company to start with."
However, some had a less than positive review of the company (as mentioned in the 'Work Culture' section below).
Opportunity To Work Abroad
ITC does not provide any opportunities to its employees to work abroad. Although the company will be coming up with a new hotel in Colombo, Sri Lanka, it is due to be launched in 2020 and would perhaps be an exciting prospect for the ITC Hoteliers who are Management Trainees. MBAs may have to work only in India.
Below, you can find the Glassdoor reviews for ITC Limited: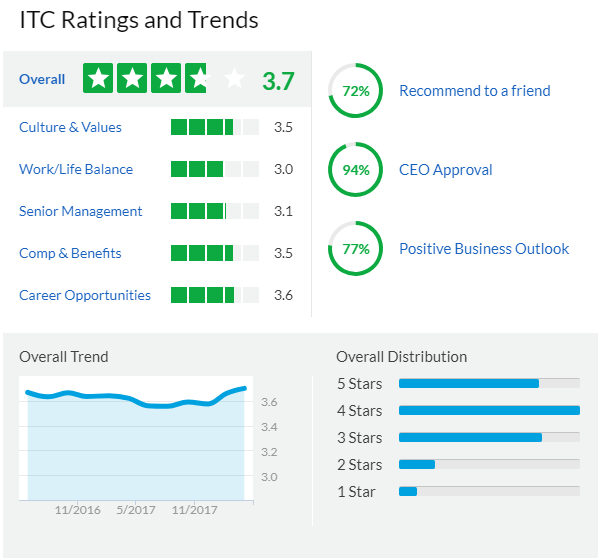 While making this report, we asked the students of IIMs and other MBA institutes about their experiences at ITC Limited. Here is what they had to say:
(Note - To maintain the anonymity of the respondents, we will be referring to them as A, B, C and so on. All of the respondents are alumni of the top business schools in the country)
A - They conveyed that the work-life balance at ITC is "Satisfactory" and could be better. They scored ITC Limited an 8/10 as a company to work for. They also believe that in terms of growth prospects, the company deserves a score of 8/10.
B - They mentioned that the work-life balance for them at ITC was "Excellent". They have scored ITC an 8/10 in terms of growth prospects, and have scored the company a 9/10 on an overall basis.
C - They conveyed that the work-life balance at ITC was "Horrible". They defined their AUT experience as "Very Mediocre", and ranked the company 3/10 on an overall basis. They also ranked ITC Limited 6/10 in terms of career growth.
Profile And Compensation Offered At ITC
Profiles offered
An MBA graduate joins the Assistant Under Training (AUT) Programme and joins as an Assistant Manager upon completion of the 1-year programme. During the first two weeks of the programme, the AUTs are taken through a corporate induction programme wherein the heads of ITC businesses introduce the new managers to the various divisions of ITC Limited. Following this, the AUTs join their respective divisions, where they are oriented with the business model of the division, the key functions, and their own roles and responsibilities at ITC.
The compensation offered is greater than Rs. 20 Lakhs per annum. (Exact figures could not be revealed by former and current employees)
Details of compensation for management (2016-2017) can be found here. (Page 145)
Advice From Managers To Future Managers
Growth will be slower compared to consulting / banks/ start-ups but once you make it to the senior management, the rewards are excellent (ESOPs, No. of people working for you, the impact you create, Perks etc.)
Tremendous learning opportunities, as ITC is a big group with multiple roles and channels. However, branch roles (sales) can be a little tiring after some time.
You can join for the ITC brand name, but that's about it.