MICAT 2 is scheduled for 30th January, 2021 and this time I had the opportunity to interview the prodigies at MICA regarding their last-minute preparation tips for MICAT.
Be genuine and consistent with Psychometric. Don't think too much while marking. However, make sure your core personality representation remains the same throughout the paper.
Don't forget to Attempt all the questions in psychometric. Double-check you haven't missed even one. Same is true for Descriptive.
Attempt enough questions to be through all the sectional cutoffs. Even if you're champion in quant or love verbal, have some patience. Attempt 5-7 questions of each section first to make sure one doesn't sink your ship when you are so close to meet the shore.
Attempt General Awareness first. You either know its answer or you don't. It's great to get it out of the way within a few minutes. This will give you a much more holistic picture to divide time later on.
Attack your forte, your strong area next, then prioritise based on your section-wise difficulty assessment (which you would've known based on initial attempts).
Quants won't bother you much if you would've prepared well for CAT. The biggest advantage here is that you can aim for 100% accuracy. Don't hit darts in the dark here. Usually, DI sets are good scoring options.
Don't leave Reading Comprehension or Data Interpretation sets for the end as you can't attempt individual questions in it with less time on hand in the end.
For word mapping, ensure you've thought about each permutation and combination, sometimes three relationships work well but the fourth doesn't and you end up marking the wrong answer.
For the descriptive section, time is paramount. Ensure you've attempted at least basic points in all the four questions first. Then go detailed into whichever is your forte (picture-story for creative minds or rational-arguments for scientific minds). Don't repeat any point or beat around the bush. Make sure you cover all that you wanted to say with minimum spelling or grammatical mistakes. Be creative as hell in the story you form.
At the end of the day, it's a beautiful test that covers all the aspects of the personality as well as intelligence, attitude as well as aptitude, creativity as well as critical thinking. Don't stress too much, as the MICAn culture is more about being yourself than what the world wants you to be. Don't fret over what the result is going to be, the fact that you would've enjoyed the test would be more than enough to win the day.
Take Your Career To The Next Level. Ask Our Experts Anything. We Will Respond Within 48 Hours.
Wish you all the very best of luck! Hope to see you on campus :)
---
Ashutosh Aggarwal
Read Current Affairs
Write Stories to practice
Read Opinions on Current Issues
Practice Quants like Crazy Cat
Attempt Mocks or Prep Papers
Start Typing Fast
Have Opinion about Topics
Analyse Mocks Be Honest with Yourself
Chill. Learn. Unlearn. Get Smart.
---
Nikita Talwar
If you have prepared for CAT, the sections involving quantitative ability and verbal ability shall not be an issue
Practise as many mock tests as possible as they give you the real picture of the exam
Give emphasis to story writing, pick any four pictures you like and frame a story get it read by somebody else
Have a good hang of typing out long paragraphs since the keyboards at the centres may not be as per your comfort
Pick up general topics and write about them from all perspectives for eg. Is privatisation good for the economy? Think for both its pros and cons and have a neutral stand.
Do practise questions on divergent and convergent thinking as they might appear confusing in the first go
---
Shreya Krishnatray
Check sample papers (available at mica website) to get familiar with the pattern
Try out a few, free psychometric tests online
Try to attempt the descriptive section by writing about common GD topics and time it, this will help you prepare the order in which you will attempt the descriptive questions
For the story section, pick random photos from Google and try to create a story on your own
Brush up your major quant topics (Trigonometry, time and work, time and distance, probability)
For GK section check out the logos of some of the major brands, CEOs of big companies, current affairs
Plan the order in which you will attempt all the sections (it helps with time management)
Watch your favourite movie or read a book, this helps with your creativity at the last moment
Get 8 hours of sleep, a fresh mind is a must for MICAT
If possible talk to someone who has given MICAT before to get more clarity about the exam
---
Mrinai Gulhane
MICAT has a descriptive section which requires one to weave a story from 4 images, usually unrelated. If you are not from a creative background, it would be wise to practice a few of those
In the psychometric section honesty is the best policy. Try not to think too much same with the convergent-divergent thinking, usually, your first instinct is correct. Try not to overthink
Don't forget quants. Know your basics and practice well
Read current affairs for GK
There is negative marking in some sections, so sometimes it may be wise to leave some questions
Hope this article helps the potential candidates in preparing for MICAT 2.
To help MICAT aspirants, we at InsideIIM had launched a MICAT 1 crash course in association with Tanya Shridhar, who is a MICA alumna. On popular demand from the aspirant community, we are back again with a crash course to crack MICAT 2 in January. Excited to bring to you, Road To MICA - MICAT 2 Crash Course By Tanya Shridhar! If you're interested, please fill out and the form below and sign up for the course!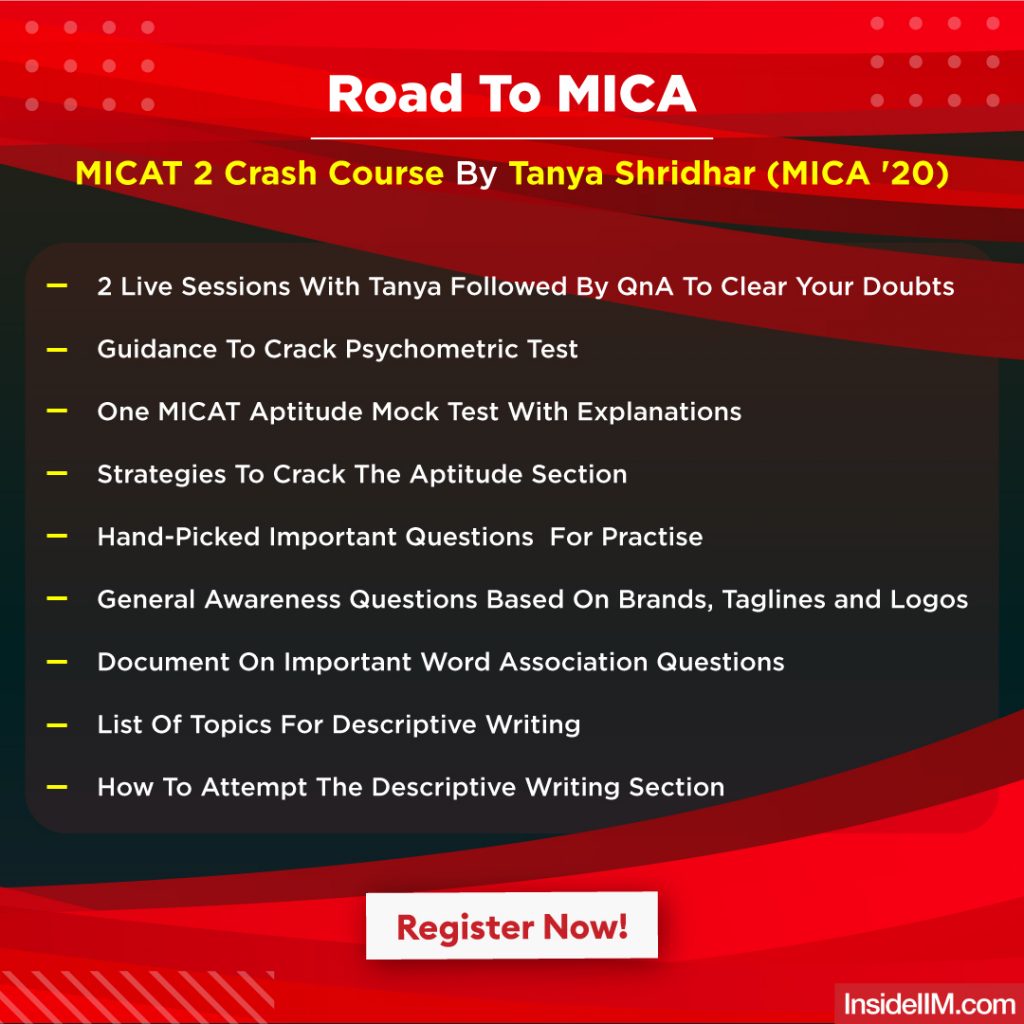 ---
Know Your Instructor
Tanya Shridhar is a MICA alumna from the class of 2020. A marketer in spirit and a registered architect by degree, Tanya likes to share insights on her switch from a non-engineering background to marketing in order to help people who want to do the same.
Take a look at what some of the students had to say about the MICAT 1 Crash Course:
"Thank you for making us write the essays and evaluating them during the session. I think 200 questions on Word Association was very helpful. Thank you!"

"The tips on PESTLE and evaluating our entries were very helpful. Really commendable how Tanya patiently took each and every question."

"Tanya's journey from an architect to a Marketing professional has motivated me. Thank you for taking my questions."