Remember the stories of Ramayana and Mahabharata? There was always a mention of the sacred guru-shishya (teacher-student) bond. Unfortunately, in those times, the transaction of knowledge was only reserved for people of a certain class and caste. Thankfully, we don't live in that kind of world anymore. Or do we? While, the number of ST, SC and OBC students is slowly rising in institutes of higher education, the case is not the same for faculty and scholars. In a working paper co-written by Siddharth Joshi (Doctoral Student, IIM B) and Deepak Malghan (Associate Professor, IIM B) titled - Missing Scholars: Social Exclusion at the Indian Institutes of Management, it was found out that, "As of January 2018, of the 642 faculty members across the 13 IIMs, 4 were from the Scheduled Caste (SC) and 1 from the Schedule Tribe (ST) categories." This report comes as a shock since SCs/STs represent more than a quarter of the country's population!
The following are a few statistics which will tell you how grave the situation is -
Table: No. of Faculty in 13 IIMs as per 2017 (Category Wise)
| | | | | |
| --- | --- | --- | --- | --- |
| Institution | ST | SC | OTHER | TOTAL |
| IIM, Calcutta (1961) | 0 | 0 | 83 | 83 |
| IIM, Ahmedabad (1961) | 0 | 0 | 96 | 96 |
| IIM, Bangalore (1973) | 0 | 0 | 86 | 86 |
| IIM, Lucknow (1984) | 1 | 0 | 73 | 74 |
| IIM, Indore (1996) | 0 | 0 | 88 | 88 |
| IIM, Kozhikode (1996) | 1 | 0 | 65 | 66 |
| IIM, Shillong (2007) | 1 | 1 | 20 | 22 |
| IIM, Rohtak (2009) | 1 | 0 | 13 | 14 |
| IIM, Raipur (2010) | 0 | 0 | 14 | 14 |
| IIM, Ranchi (2010) | 0 | 0 | 15 | 15 |
| IIM, Kashipur (2011) | 0 | 0 | 33 | 33 |
| IIM, Tiruchirapalli (2011) | 0 | 0 | 19 | 19 |
| IIM, Udaipur (2011) | 0 | 0 | 32 | 32 |
| Total | 4 | 1 | 637 | 642 |
Chart: Total Faculty Break-up of 18 IIMs as per Data Gathered from RTI (2018)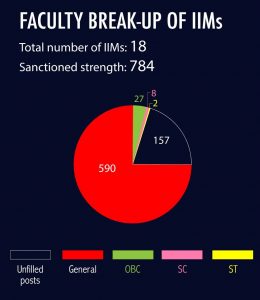 How Does NOT Having A Faculty from ST/SC Or OBC Categories Affect You?
Why Are There Very Few ST/SC Faculty In IIMs?
There is a direct relationship between the education opportunities that SC/ST and OBC candidates get and their ability to ultimately teach. This means, simply put, since SC/CT and OBC students do not have as many opportunities as general category students to pursue higher education, they are ultimately unable to become professors too. Check out the major reasons as to why there are very few SC/ST faculty at IIMs below:
'No Entry' In Doctoral Programs:

Like all major research institutes, IIMs are both

producers and consumers

of faculty talent.

Nearly a third of all faculty at IIMs receive their doctoral training from the very institutes they are teaching now. However, due to IIM Bill Act, 2017 (which gives full autonomy to IIMs with regards to their administration, recruitment and daily functioning), many IIMs are now thinking of dropping reservations from their doctoral programs. IIM Ahmedabad has already put that plan into action. They came up with an

advertisement

inviting applications for its doctoral programme and mentioned no provision for reservation of seats for applicants from socially disadvantaged sections. Such actions are not only blatant violated the

Reservation Act

, but also puts extra hurdles in the path of ST/SC applicants who may aspire to be a faculty of the "prestigious IIMs".

Fear of Stigmas:

At many public institutions in India (and not just in IIMs), the students and faculty from the "reserved categories" are seen as trespassers, freeloaders and even usurpers. In such an environment, many students and faculty members from ST/SC sections choose to

mask their social group

identity rather than speaking about it, out in the open.

Get Trapped In The 'Merit' fallacy

: IIMs and other institutions of higher learning want to hire professors based on pure merit (quite similar to IIMA as mentioned above). They want someone with intellectual rigour. However, these people fail to understand that the parameters of "

merit

" are pre-set by a certain group of people (upper caste) who historically have an upper hand over the access to knowledge and resources. The argument of merit in this case, not only negatively affects the decision to become a faculty but also questions their intelligence and experiences.
Recent Development In 2020
A recent development has taken place. All the 20 IIMs have requested the HRD Ministry to exempt them from the reservation policies in the teaching staff. This includes - Scheduled Caste (SC), Scheduled Tribe (ST), Other Backward Classes (OBC) and Economically Weaker Sections (EWS).
Many premier business schools currently don't have reservation policies for teaching positions. The IIMs have been earlier following the 1975 rule of - Department of Personnel & Training that pardons scientific and technical teaching posts from the reservation policy. But the Ministry has ordered the colleges, to provide quota in faculty positions for SC, ST, OBC and EWS candidates.
IIM- Ahmedabad already under the fire, and currently caught in a battle on the issue with the high court. In November 2019, the Human Resource Development Ministry wrote to all institutes to ensure implementation of the Central Educational Institutions Act.
It is to this note, All the 20 IIMs have asked the HRD Ministry to exempt them from implementing reservation policies in the faculty hiring process. B-schools request the ministry to let them adopt a fair recruitment process and give equal opportunities to all, including disadvantaged sections of society.
In an Olympic racing track (which is oval in shape), the one who is on the outer side of the track has to cover more distance than the one who is in the inner side of the track. Hence, different starting points are allotted to the racers in order to give everyone a fair chance.
Similarly, If you are someone who is arguing for an equal opportunity make sure it is not about superficial fairness but a substantial one. What is the point of equal opportunity, if there are people who do not have the means to grab it? Equality in this sense does not mean equal treatment but differential treatment in order to achieve true equality.
People coming from diverse backgrounds give a new perspective to any problem. Therefore, choosing exclusion in the name of merit will only promote mediocrity.