We had the pleasure to talk with Miss Ritika Chopra, Head - Human Resources - West at Aditya Birla Fashion and Retail Ltd. and our alumnus from the Batch of 2013. Miss Ritika was a part of the prestigious Aditya Birla Group Leadership Programme when she embarked on her Corporate Journey with Aditya Birla Group in 2013.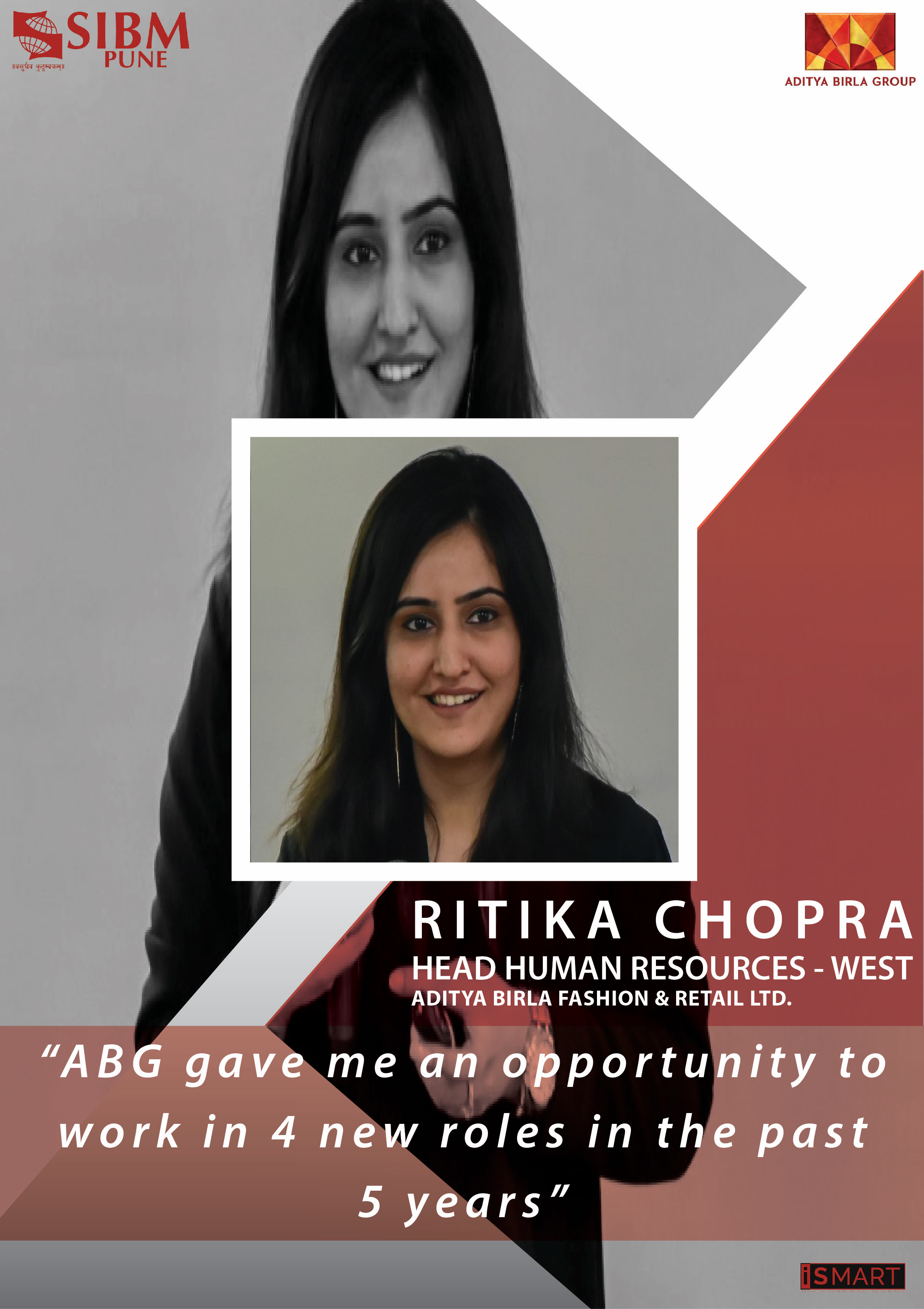 Here are a few snippets from the interview -
Interviewer: Hello Ma'am. You have been a part of one of the most coveted Management Trainee Programmes - the Aditya Birla Group Leadership Programme (ABGLP). Could you share your ABGLP journey with us?
Miss Ritika - I joined the Aditya Birla Group Leadership Programme straight from campus in 2013. In the first year of ABGLP, you are given 4 projects of 3 months each. This is to help you get well acquainted with all the sectors, businesses, and geographies where ABG is present. The first year thus is focussed on learning and experiencing the whole width and span of Aditya Birla Group by taking up challenging on the job projects where you are expected to own up and deliver. To help you deliver on this you are assigned a mentor who is the CHRO of any business across the ABG and a buddy who is a senior stakeholder in the organization. This also helps you to get leadership face-time where you are expected to shadow your mentor and meet your buddy.
Thus, year one is highly focussed on two things - one is your individual learning and development and other is you taking up live projects in that particular business.
There's also a lot of rigour when it comes to reviewing your performance, thus you have a mid-year review and an end-year review based on which you are given your final rating - based on which you are confirmed in the organization. At the beginning of every project, you set your goals and at the end of each project you rate yourself against the goals. Thus there are 4 performance reviews in the first year, unlike the normal end-year review.
One of my projects was in group HR, so I got a complete top macro view of things. The next project was in Thailand so I got a chance to work in an International location. The third project was in Renukoot which gave me an opportunity to experience an Indian plant. And my last project was in the service sector, in More in ABRL. So I got to experience manufacturing as well as the service side of things.
So this was about my year 1 at ABG. Now, I have spent 6 years in ABG and I am already on my 4th role. I started as an area HR, then moved on to doing recruitment for Pantaloons, then took up Learning and Development at Pantaloons and now I am heading HR for West zone for Pantaloons. So basically, leaving the first year aside, I had an opportunity to take up 4 new roles in the past 5 years.
Interviewer: Could you shed some light on what makes the culture at ABG unique?
Miss Ritika: ABG is a highly employee-centric, development-oriented and entrepreneurial - open to new ideas and forward-looking organization. Flexi working hours, work from home, maternity support programs are a few of the policies which we have here at ABG. And the learning here is immense.
Interviewer: What message would you like to leave with our students who are looking forward to working with ABG?
Miss Ritika: You have to display very high learning agility, you have to be immensely proactive. You have to be ready to learn and absorb very fast - speed being one of our values. Another thing is you need to take up ownership and accountability for the deliverables given to you. Try and internalize everything and find solutions from within.