Samarth Singh Gahlot did not really like finance. But he managed to work successfully as a consultant and landed a PPO with BCG post his summer internship. He also, interestingly, found reading and working with financial statements dreadfully boring and frightening. But now he trades in Futures & Options post investing his Stipend and receiving 82% returns. Then there's the bit about him helping his family's driver to set up a retirement home, financial plan and income source. Makes for very interesting reading - this story! Also the ability to learn and grow and contribute meaningfully and smartly to problems sees Samarth Singh Gahlot, MDI Gurgaon student on the list of InsideIIM's Best 30 - one of India's most employable graduates from the class of 2021! Read on to find out more!
The following is Samart Singh Gahlot's set of responses to a questionnaire floated amongst MBA graduates to determine the top-30 most employable MBA graduates of the Class of 2021. Amongst the massive number of entries and responses being evaluated by the Founders of InsideIIM-Kampus Konversations, Samarth's story and profile stood out. Here's his own story in his own words.
Take Your Career To The Next Level. Ask Our Experts Anything. We Will Respond Within 48 Hours.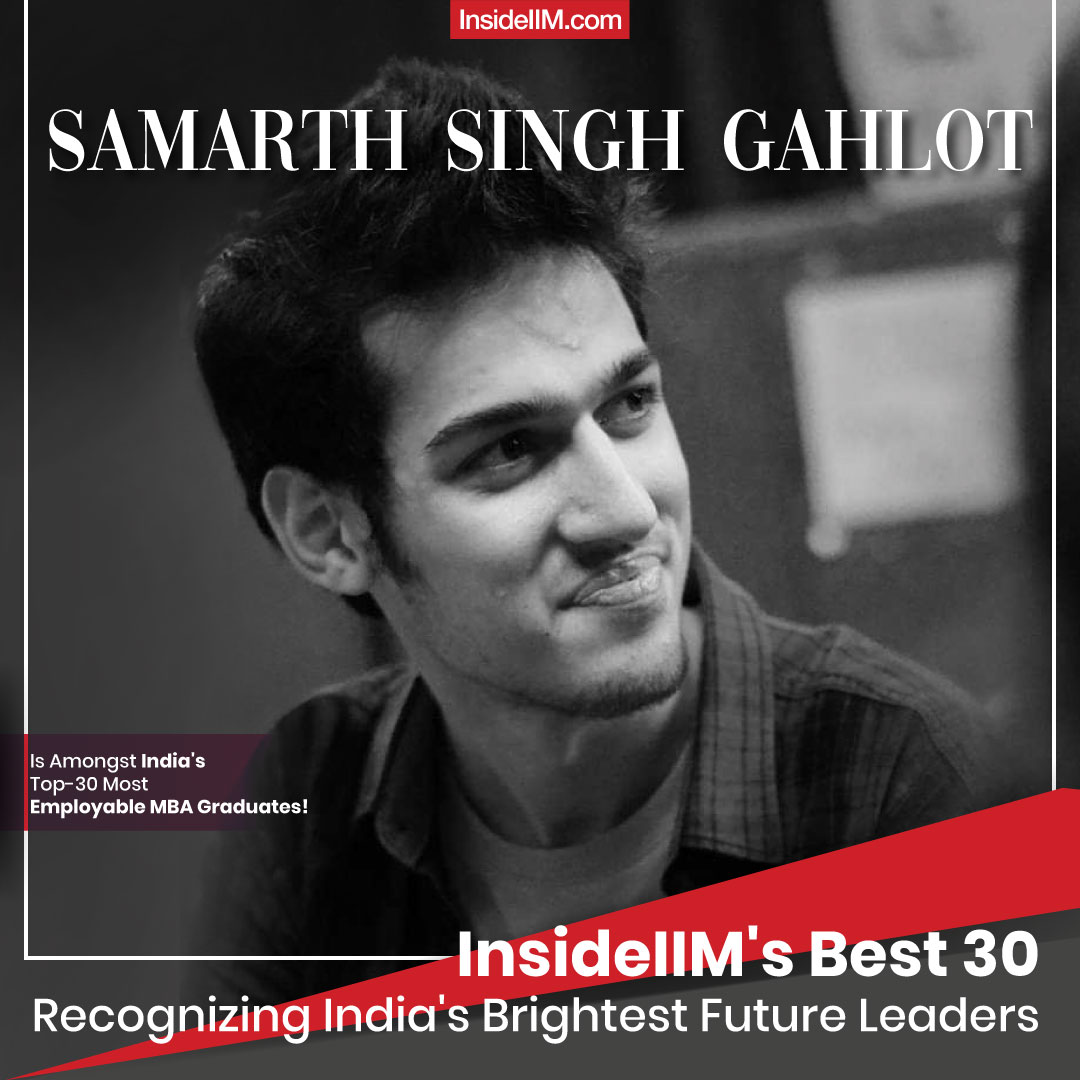 Post my B.Tech in ECE from VIT University, I joined ZS Associates where I was a part of a newly formed four-member team - a start-up like environment where we were setting up a new space in ZS – Automation COE with expertise in the area of RPA and with a target to automate existing end to end processes that are manual repetitive and rule based in nature.
I played a crucial role in the following three areas:
Creating the foundation and laying the models on which the project would work

Creating marketing collaterals, pitching the projects to leadership and clients, securing investments

Towards the end - lead a team of two people to manage and implement end-to-end automation solutions.
Presently, I am doing my MBA in Strategy and Marketing from MDI Gurgaon wherein I am also a Student's Council member. I did my summer internship at BCG and will join the firm next year in 2021.
I come from an Army background - I've changed over 7 different schools and have been blessed with the opportunity to travel across cities inside and outside India. I love traveling and exploring new places, cultures, restaurants and party spots. I believe I am a positive and an easily approachable person and I make friends easily. Sports have been an integral part of daily routine. I learnt various sports & skills each terrain offered - indulged in Air rifle firing, Swimming, Basketball, Table-Tennis, Chess and playing guitar."
Name an instance where you wanted something and went out of your comfort zone to achieve it OR Tell us the biggest risk you have taken so far in your life.
"I have always believed in pushing myself in challenging situations as it helps me stay productive and improve myself year on year, because of which I have many such instances to talk about, but let me cover my most recent feat.
Coming from an engineering background, I had developed an aversion towards topics and subjects around finance & economics - topics I never spent time understanding, neither could I ever grasp it properly. I further developed a distaste towards these areas after scoring poorly (bottom 10 of my class) in my management accounting, corporate finance and a few other subjects (usually taught in B. Schools during the first few terms). The three financial statements haunted me. Overall, though I was able to maintain a decent CGPA by scoring well in other subjects of my interest. Moreover, with my focus towards career in Strategy, there was further reduced interest towards finance.
I interned at Boston Consulting Group this summer. Given Covid-19, hopes were severely low around PPO conversion, degree of uncertainty and confusion were high, working in a remote setup was fairly alien to me.
Day 1 at the firm, I was given a project around creating a turnaround strategy for a sick FMCG business unit and guess what? I was handed over the 3 dreadful financial statements of the sick unit, and was asked by my consultant to create slides, with my 'valuable' insights from the same within 2 days.
Didn't sleep for 2 nights, but managed to get those insights. Since then, there has been no looking back. I never thought I could end up picking it up so fast. Throughout the internship, number crunching was super high and loads of finance jargons were used which I picked up fortunately and also finally got a PPO from the firm.
After my internship, with lesser avenues to spend money (due to lockdowns), I decided to start learning to manage personal finances and investing through NSE. Since then, my life has almost changed.
I have spent the last six months covering finance, monitoring the Indian market closely and following global economics carefully. I have had strong support from my CFA level 3 friend, Auditya S from college () and an ex- Escorts Ltd VP, Devraj Singh who have been helping me throughout this journey.
I have been able to increase my money (that I got from my internship stipend and joining bonuses) by 82% (super unrealistic - so is Nifty these days). Now, I confidently trade in the F & O market and plan to continue doing so for the rest of my life."
When was the last time someone relied on you? OR What did you do which was purely for someone else - a truly selfless act.
I don't believe that any act is truly selfless - that's how our genes work anyway :p
Answering your question - Watching me do an MBA, my father's driver (who has been with us for over 10 years now) approached me and asked me what he should do with his life's savings? Funnily, the simplest questions can sometimes be the most difficult to answer.
He was keen on purchasing a real estate property as he didn't own any at that point of time. So I took it up as a project and worked closely with him for over a year to utilize his hard earned money to set up his retirement plan. I looked at the real estate properties available within the area of his preference with a commercial license available online and we got lucky - A local business was wanting to sell out urgently and our driver gladly ended up acquiring their property at a discount (which is a big deal in real estate).
Since then, as planned, the top floor of the property has been converted into his retirement house, the first floor is being renovated for renting purposes and I plan to help him put it up on Oyo soon.
The ground floor has now been repurposed to open an ATM and a small shop has been set up there as well (I helped him post online ads through which he already has a tenant ready to step in next month.) This should help my driver with sustainable and manageable income for at least the next 25 years.
I learnt a lot of nuances of real estate through this project and my driver has agreed to let me chill at his house whenever I visit Darjeeling in the future. :p"
Tell us about a time when you disagreed with an opinion/idea/decision. What did you do about it?
"Post my B.Tech in ECE from VIT University, I joined ZS Associates, Gurgaon – which is a consulting firm specializing in pharma clients.
I was lucky to be a part of a newly formed four-member team which included 2 senior vice presidents, a manager and me. It was a start-up-like environment where we were setting up a new space in ZS – Automation COE with expertise in the area of RPA and with a target to automate existing end to end processes that are manual repetitive and rule based.
Working in a start-up like environment, there have been numerous such instances wherein there were disagreements around how the future of the team should look like. But with this, we were given many opportunities to take complete ownerships of the ideas we suggested to the management. One such issue was around creating an operating model where the mid level team was still focusing on answering granular and smaller questions while I believed that there were broader questions that needed addressing.
When we were starting out with the project, there was an immediate need of creating an operating model and its most essential aspect was deciding how we go about any automation project.
The following questions were to be answered:
What all phases will a typical automation project have?

What all deliverables are to be delivered at the end of each phase?

What will be the definition of done in each phase?

What will be the role of an Associate, Associate Consultant, Consultant, Manager and Associate Principal at each phase of the project?
I saw this gap and highlighted this to the leadership. I was able to pitch in my idea well and got a consent from the leadership to take charge and complete ownership of this aspect of the operating model as they were satisfied with my line of thinking. I reached out to senior business technology leaders to get their insights and at first developed the blueprint of RPA SDLC which included phase definition and deliverables outline. I then assembled a team of newly joined associates and distributed the work of creating the deliverable templates for each phase. We held meetings twice a day to keep the leadership informed and to get their insights on whether the track we were on was correct or not.
We were able to complete the deliverable templates, the blueprint was finalised and signed off and we were given final approval from the firm's Principal for the model.
I learned the following out of this stint:
I learned the power of teamwork and the fact that it can only be effectively be utilised when everyone knows exactly what is to be done – hence the relevance of business communication.

I learned how task distribution is to be done in pieces to ensure that the Associates could work independently and they could use their creativity so as to get their best side out. It is important to ensure that they stay occupied and they reach out to you less for efficient work completion.

I learned what I loved the most at work – creating models, project strategy and standardizing processes.
What is the one thing you can claim to have some level of expertise or depth of knowledge in - it could be anything - a subject, a sport, a hobby, a venture, an initiative which has led you to do deep work in that field?
"Professionally - Digital transformation (RPA, Enterprise Systems) and Strategy (Management strategy and consulting) are my two key areas of expertise. It is primarily due to my 2 years of work experience at ZS Associates, internship in a management consulting firm and past ventures (started a small business during my B.Tech days; booked profits and exited).
Personally - I follow European football, Indian stock market and the global technology space closely. Though every 1-2 years, I pick up new hobbies and develop expertise in different areas.
Despite this, I believe that to be successful in fields that are complex and unpredictable (like business), generalists, not specialists are primed to excel. I have always believed in gaining a breadth of experiences, taking detours, experimenting and juggling interests - "developing range" (as David Epstein calls out in his book, Range)."
If 10 Million Dollars (approximately INR 75 Crores) is given to you to use it any way you deem fit what would you do with this corpus?
Invest: 48 Cr (25% in GSecs, 50% as long term equity with consistent dividends/returns, 25% in the derivatives) - this will help me draw out a monthly salary of the same volume as I would working in the private sector in the long term.

Donate: 7 Cr (by joining as an executive board member for social initiatives like Teach for India and Make a Difference).

Open my first restaurant: Using 17 Cr I will open a restaurant in Gurgaon with the objective of turning it into a multi-chain franchise spread across the globe within the next 25 years.

I will spend the remaining 3 Cr on travel, family and friends.
---
You Might Also Like To Read: