The first year of MBA is for many B schoolers, a defining period in their academic life. It is here that they are exposed to a plethora of activities – academic, co-curricular and extra-curricular, and most students struggle to strike the right balance among the three. There is fierce competition, with at least 150-200 students actively working hard on academics.
Topping the MBA course and finishing the first year as Rank 1 takes a military level of determination, self-control and immense focus. You have to be consistent and stay motivated in each and every exam. No wonder toppers are revered by the batch for this one achievement – because everybody knows just how difficult it is to achieve it. Here we interview Aiswarya Ram, First-year topper at IIM Kozhikode (PGDM 2015-17) to garner words of wisdom: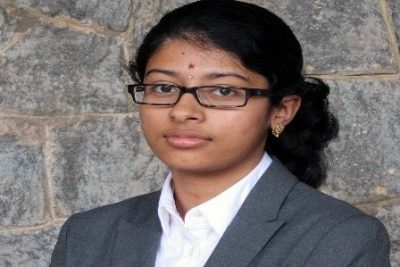 Tell us a little bit about your education and professional background before entering IIM Kozhikode. What brought you to an MBA?
I hold a degree in Electrical and Electronics Engineering. I had no work experience prior to joining MBA. I think the reason I opted to do an MBA was because I had a liking for an administrative oriented career over a technical one.
What were your thoughts and goals when you entered the IIM Kozhikode Campus? Did you expect to top the program in the first year?
I did not really know what to expect because it was a completely new experience to me. I just wanted to enjoy the course and of course the beautiful campus. No expectations, I was just looking ahead to the course.
For the benefit of our readers, tell us about some of the perks of topping the course in the first year.
Topping the course can give one access to prestigious scholarships like O.P. Jindal Engineering and Management Scholarships, college-based scholarships etc. One also gets a chance to give some interviews like these!
B-school life is always buzzing with all kinds of activities and distractions. What did you do to keep focus?
Focus is a very subjective and relative term. For me, it's my family that keeps me grounded.
Tell us about your summer internship.
I interned at J.P. Morgan Chase in a credit risk profile. Being inclined to finance, I think the role offered me a good exposure to finance.
What was your reaction upon knowing that you had topped the first year? How did you celebrate it?
I was very surprised, and at the same time was happy. I celebrated with my close set of friends and family.
If you could distill the necessary qualities for success into one, two or three unique attributes, what would those attributes be?
I think being self-aware and grounded.
What are your future career plans (it is okay if you don't want to be too specific)?
I am interested in pursuing a career in finance and administration.
What are your other interests?
I am passionate about Indian Carnatic Music. I have undergone some training and hope to pursue that interest.
Since the admission process for IIM's would be starting in a month or so? What will be your advice to the B-school aspirants?
The process may be quite tiresome, hence it is important to stay optimistic and true to one's roots.
As told to Aman Jindal