Summer Internship Experience at one of India's most loved channels! This was our winning entry in the 'Summer Saga' contest 2013!
The summer of 2013. One to remember.
If you think all internships are about sitting in front of an excel sheet or selling soaps in villages, let's just say you haven't met me yet. Few places sound as interesting as a media house, and even fewer when that place is about to run the IPL during the entire internship. Yes, I did my internship at Sony Entertainment Network (Multi Screen Media Pvt. Ltd).
I was supposed to report at 9.30 am in Mumbai on 1st April, which I did irrespective of the fact that I had two 3-hour exams on the 31st in Delhi (FMS) and had no place to stay in Mumbai. I was talked out of wearing a full suit on the first day by my friends, but I never expected to be the only person wearing a tie amongst the 23 interns. We were greeted with our work laptops sitting in front of our chairs in the conference room, and customized stationary sitting beside it. Amazing First Experience- √
A few days prior to this, we were asked about the field in which we wanted to do our project. They stayed true to it, and I was given a marketing project: Develop and implement an advertiser engagement model for SAB TV. It sounded interesting enough, and I'll get back to it in a moment. So post the allotment of our projects, we were asked to move for lunch-cum-interaction session with the senior management. We met business heads of different divisions, as well as the CEO, the COO and the Head HR. We asked all kinds of questions we could think of, as none of us had really much of an idea about this industry. The day ended with some formalities, some brief about the company and a couple of games. Interesting First Day- √
The next day (yup, I got rid of the tie) we were shown our desks and introduced to our mentors and buddies. My mentor was the Head of Marketing Division of SAB TV. When I met him, he was all packed up to leave for Goa to receive an award for the innovative board game (SABurbia) my department had created. Cool Mentor- √
So my project was to create an advertiser engagement model, which to put in simpler words was to market SAB TV to the marketers of all the big shot companies and media agencies. I had to make sure that they had a positive recall for SAB TV, so that the task of sales team becomes somewhat easier. I had to not only conceptualize everything from scratch, but also had to implement the entire thing. It took me a week to understand what they really meant an engagement model, but my buddy was very helpful to guide me through the process instead of spoon-feeding me the details. I had more than 25 ideas rejected by him over that period, but each time I went to him I could sense I was getting closer by the responses I got from him. On Monday I presented 4 ideas together and they were all accepted at the same time. Impress Mentor and Buddy- √
When there is IPL, how can the cheerleaders be far behind! So, on the launch day of the IPL, the cheerleading squad you watched on the Extraaa Innings set was called to the office for a performance. Yes, I mean inside the office. After the performance, they asked for volunteers to dance with the cheerleaders. You'd be surprised how few people actually take up on that offer. But I am not the kind of person to miss out on this opportunity. So there I was along another guy, dancing in front of the entire office with 5 very beautiful cheerleaders. And they gave me a bag of goodies for it! Cheerleaders- √
Coming back to the project, though I can't give the exact ideas I proposed, I can tell you it involved working with dozens of different agencies. The first call I made to an event planning agency was before my mentor had asked me to. I wanted to do it myself thinking that I'll be able to arrange everything quickly and easily. I thought that as we would be paying them to organize, I just needed to tell them about the event and they would work out the details. I was mistaken. The woman on the other end actually laughed at me. She told me to first finalize all the details and then come back to her. The realization that the project was not really the walk in the park I thought it would be came rushing to me. I made a list of all the things to be done and began with the work. The mentor and buddy guided me along the way, without actually doing things for me. What followed was an endless string of calls and emails to so many agencies that I have lost a count. Almost every day involved 3-4 dozen calls and emails to different agencies: creative, event, tourism, gifting, chocolates, venues, printers, sponsors, merchandize manufacturers and what not. Occasionally, I used to visit their offices which were spread across Mumbai. My project buddy taught me a wonderful lesson; know the task inside out before you delegate it to someone else, or they'll take you for a fool. I heard it, then I experienced it, and I then finally I learned it.
We had a peer review in the 3rd week so that we get to know about the projects of our fellow interns. It was a really nice session and we got to know about the working of other departments of the company. Projects ranged from Marketing to I.T. to HR to programming. The next week we had a knowledge session to learn about different aspects of the industry. We were addressed by senior people from technical, sales and programming, which helped us gain a lot of insights. Fifth week was for mid-reviews. Before the mid-review, my mentor took me to his boss, the Business Head for SAB TV, Mr. Anooj Kapoor. I was a bit nervous to present him my ideas, but my mentor was confident about what I had to present. After the presentation, Anooj sir was really happy with my work, and his support and appreciation boosted my confidence further. After that, the mid-review went smoothly, and I was back to my desk in no time to make the next dozen calls.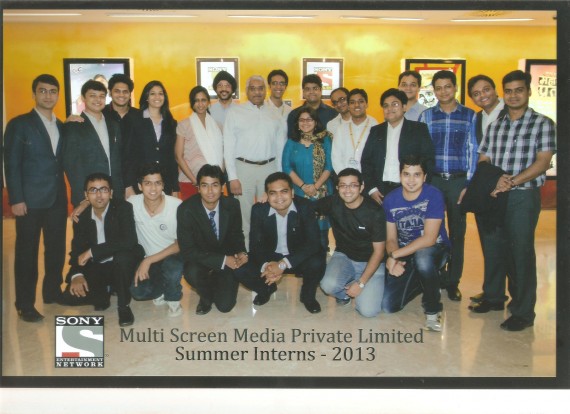 Even though my work didn't involve any excel sheets, it did include visits to the agency offices. One such visit involved going to an agency launch event as a representative of SAB TV. So there I was sitting in a film city studio, along with people from around the world, watching a dance show followed by one of the most amazing buffets, as part of my work. I also got to visit 4 different show sets, having tea with one of the biggest poets in the country, high-fiving a cricketer turned commentator in the office lobby, watching an IPL match (albeit only a few balls) with another cricketer turned commentator at the Extraaa Innings set and play catch with a young TV star in the office.
If you had called me 2 weeks before I completed my internship, you would have found my phone busy. I could not complete a meal without having to go out of the canteen thrice to answer a call. A trivial thing like a busy phone didn't deter people from calling me repeatedly. They would keep calling me till the time I picked up. And just because you are paying people to design a creative for you doesn't mean they will do it. You would have to call them 5 times a day, remind them and shout at them, plead to them, threaten to complain to their CEO, actually call their CEO up (or as mentor used to call it, "escalate the matter"), and when you finally receive it, suggest some changes and repeat the entire process to get the modified version. The in-house tasks weren't easy either. But by the end of it all, I had accomplished more than I thought I could in two months. My mentor and buddy were really happy. Their boss seemed happy as well. The final presentation felt more like a break from the hectic work schedule, as I was back to work after it was over. My presentation went smoothly for the entire 15 minutes it was scheduled for, and I continued my work well into the next and final day.
The farewell party had actually happened a day before the final presentations. It was organized at the Manchester United Bar and was an intimate session with the CEO and the COO. They shared their incredible journey over a few mugs of beer with us. Those stories merit a larger platform than this, and certainly a better author than I am.
The entire experience was like a dream come true for me. The kind of different experiences I got, the feelings of dejection and elation I felt alternately, and the opportunity to work with perhaps the best team I could have asked for. I learnt how conceptualization is a cake walk as compared to implementation, and that you cannot achieve much with only one of either patience or persistence. You have to be persistent with your patience, and be patient when you are persistently pursuing someone. And most of all, there is no feeling like accomplishing something for which you have worked really hard.
- Prateek Jain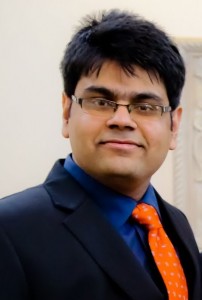 (The author is a cricket fanatic who loves to enjoy life. Before joining FMS Delhi for his MBA (FT) 2012-14, he did his Chemical Engineering as a student of the pioneer batch of RGIPT, Rae Bareli. Whenever he is not spending time with his friends, he likes to read and listen to music.)
Read Sampada's entry in HR for 3rd Place here
Read Biswarup's entry in Operations and Supply Chain for 2nd Place here