In the current era of globalisation, learning how to expand is very important for budding entrepreneurs. Though Internet is flooded with concepts of International Marketing and various books written on how to gauge an International location as best suitable one, when and how to enter, and how to market the product, gain and market share etc., it is also important to gain information from Industry veterans who implemented and has gone through all of them. Here is an interview of Mr Deepak Arora, Director General, Minda Veitnam Automotive Company Limited. He is one the key persons in setting-up a manufacturing plant of Minda Group in Vietnam. He shares how he started his job and grew as a General Director, various challenges faced during set-up, how culture management was practised, his aspirations in life and suggestions for MBA graduates and young entrepreneurs.
Tell us something about urself, your family and your academic qualifications
I was born and brought up in a small village at Uttarakhand. My family includes my wife who is a homemaker and two lovely daughters. I did my Technical Diploma in 1994 and Graduation in 2012, during this period.
If you can share the story of inception and how you grew as a Director General
I started my career in 1994 as a trainee and in short span became Area In charge by the year 2000 passing through various stages, levels and functions including Production / Process / Quality /Equipment Development and R&D in Electronics components manufacturing company.
In 2002, I decided to move out from Electronic industry to automotive industry and got an opportunity to head a department. I started learning new concepts in a new environment and implemented past experience to improve and develop the Productivity and Quality at the same time. I also took the initiative to setup the benchmark in the company in terms of various evaluations and was offered with additional responsibilities to develop and improve the same department in other Group companies too. I successfully & effectively achieved the goal and then was lucky enough to become the team member of a special task force. I kept on moving with new challenges and assignments and started setting up new plants for the Group.
As a person, I believe to set new boundaries for myself every time and to be my own competition, so I always take up new challenges and try on something more inspiring in each task assigned. I started myself involving in long-term strategies of the company and became the Operations Head for the New Plant setup by me.
In 2008, I joined Minda Group as Operations Head and setup Green field Project with Japanese joint venture. This project was most challenging and exciting project of my career till that time and competed successfully with initial hiccups. I was one of the key persons for making the long-term strategies for the company and devolved a competent team to handle and manage the future business needs. By the mid of 2012, I made myself completely free from daily routine jobs and started focusing only on long-term strategies as I was the one of the members from the inception of the team so one of my major role was to support all other functions and also to align with long-term vision and approach.
Spark Minda kept expanding in various regions and they came up with a new plant in Vietnam. I was entrusted to take the responsibility for setup of the new Plant, develop and expand the business.
What fascinates you about working in Spark Minda, Ashok Minda Group?
Empowerment, Faith in People & Respect in humanity
What role did you play in the inception of Minda group in Vietnam and if you can explain the entire process till the first launch?
The new plant in Vietnam was actually a technological separation and expansion of existing plant. I was posted in Dec 2012 the construction was running in full swing. I was supposed to complete the project in set time frame and to start the Mass production on time from new plant w.e.f. 1St April 2013. I was fully responsible to ensure mass production on time including arrangement of 4 M ( Man / Machine / Method & Material) well supported by one more Indian colleague and back end support from India and Indonesia plants. We had a target to complete the building and other machinery installing by the end of Feb-13 so that we can have trails testing in March.
We recruited an entire team, from the operators to staff level and managers, it was the most demanding and difficult task to find the appropriate staff and managers apart from the language barrier. This was our first year in Vietnam so we were not aware of some of the customs and practices of this country as they celebrate Chinese New Year which falls towards the end of Jan or beginning of Feb and in this year in 2013 it, happened to be in the beginning of the Feb.
Our building got delayed as local labour ran away 10 days before Chinese new year and came back after 10 days of official holidays which resulted in delay of building completion but our team was committed and dedicated to start production in any of the conditions and on time we managed the situation and started production on time and the first sale happened on 1st April -2013.
What challenges you had to face during the set-up and what gives you motivation daily to take up such big responsibility?
I can mention few challenges which I had to face like - Language barrier, pronunciation, working style. I had a tough time facing such issues but soon took command over things. The management faith in me coupled with empowerment and hands-on knowledge about automotive trade motivates me to take up things. I am a very flexible person and is open to any area or location for the new assignment. I'll be glad to accept new responsibility.
How the team culture varies across India and Vietnam?
Initially, a lot of hand holding was required for Vietnam team. The integration took some time and now as all systems and processes are in place, the outcome seems better. We have defined responsibility and targets which everybody is adhering. But yes I must say quality & efficiency of work is better here.
What sort of support do you get from various stakeholders in daily working of the company?
We have been empowered for taking day to day decisions by the policies and authority limits. Everyone is accessible 24 X 7 on phone.
How did Minda group grow across years in Vietnam and how do you see it in the next 5 years?
We started in 2013 with one category of Product which was our legacy product and we were supplying in other parts of the world to the customers. In addition to that, we launched a completely new product in ASEAN region in the very first year of operations of new plant and got very good response from all the customers. We are competing with all the big Japanese names. Our sale in 2016 is almost double as compared to 2013 and is expected to be three times in coming 5 years.
What are your aspirations in life and how would you describe a typical well-spent day of yours?
To be very honest I am a big time workaholic who believes in giving more than 100% with heart & soul. I always think for the bright future plans for company & Employee. I dream of making a benchmark company and an Ideal capable Team.
Every stone should have some motivating story.
What are your suggestions for the graduates in MBA colleges across India?
Always do your best, Think as an Entrepreneur act as an Engineer and behave like human treat others same as you want to be treated. Never Give Up. Enjoy the moment as they will never come back.
· Have patience and confidence in yourself also must have short term and long term goals and find the gaps to achieve the Goal.
What are your suggestions for young entrepreneurs who want to set-up a company in Vietnam?
Vietnam has a very conducive environment to run the industry. It is a country with highly supportive people and government. It is surrounded by many automotive OEM's within 300 kms diameter. The state is the fast growing industrial area and is considered as one of the best and safe locations for industries.
Yes for new entrants, I'll recommend to gain prior experience to run the company offshore.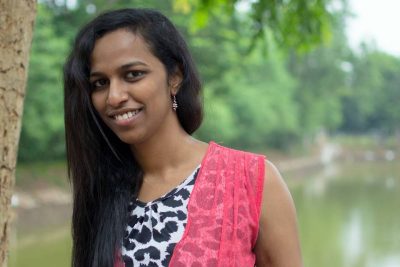 Deepika Mallyk is currently doing her MBA from IIM Bangalore. At IIMB, her major interests lie in Marketing and Strategy. Prior to this, she graduated from IIT Kharagpur. She is a passionate dancer. Besides this, she loves oil painting and likes to take a shot at writing in her free time.