As a part of the annual InsideIIM Recruitment Survey, we ask MBA students at India's top management institutes the kind of in-hand salaries they expect immediately after graduating from b-school. In this extension of the report covering monthly salaries expected by students at the IIMs and other management institutes, we explore what kind of salaries the average woman MBA student expects to earn after graduation. We also compare how salary expectations differ for men and women, and look for any hidden trends that might contribute to an explanation of India's massive gender pay gap.
The results of the InsideIIM Recruitment Survey revealed that over 60 percent of MBA students at India's leading business schools expected a monthly in-hand salary in the INR 1.10 lakhs to INR 2.00 lakhs range, which when translated into annual figures indicates that students expect to draw at least INR 13 lakhs per annum after their MBA.
Take Your Career To The Next Level. Ask Our Experts Anything. We Will Respond Within 48 Hours.
So what kind of salaries does the average woman MBA student expect to be paid after graduation? Do salary expectations differ in the minds of men and women studying at India's top business schools? To find out, we created a gender-wise split of the data collected through the responses of over three thousand MBA students at the IIMs and other top management institutes.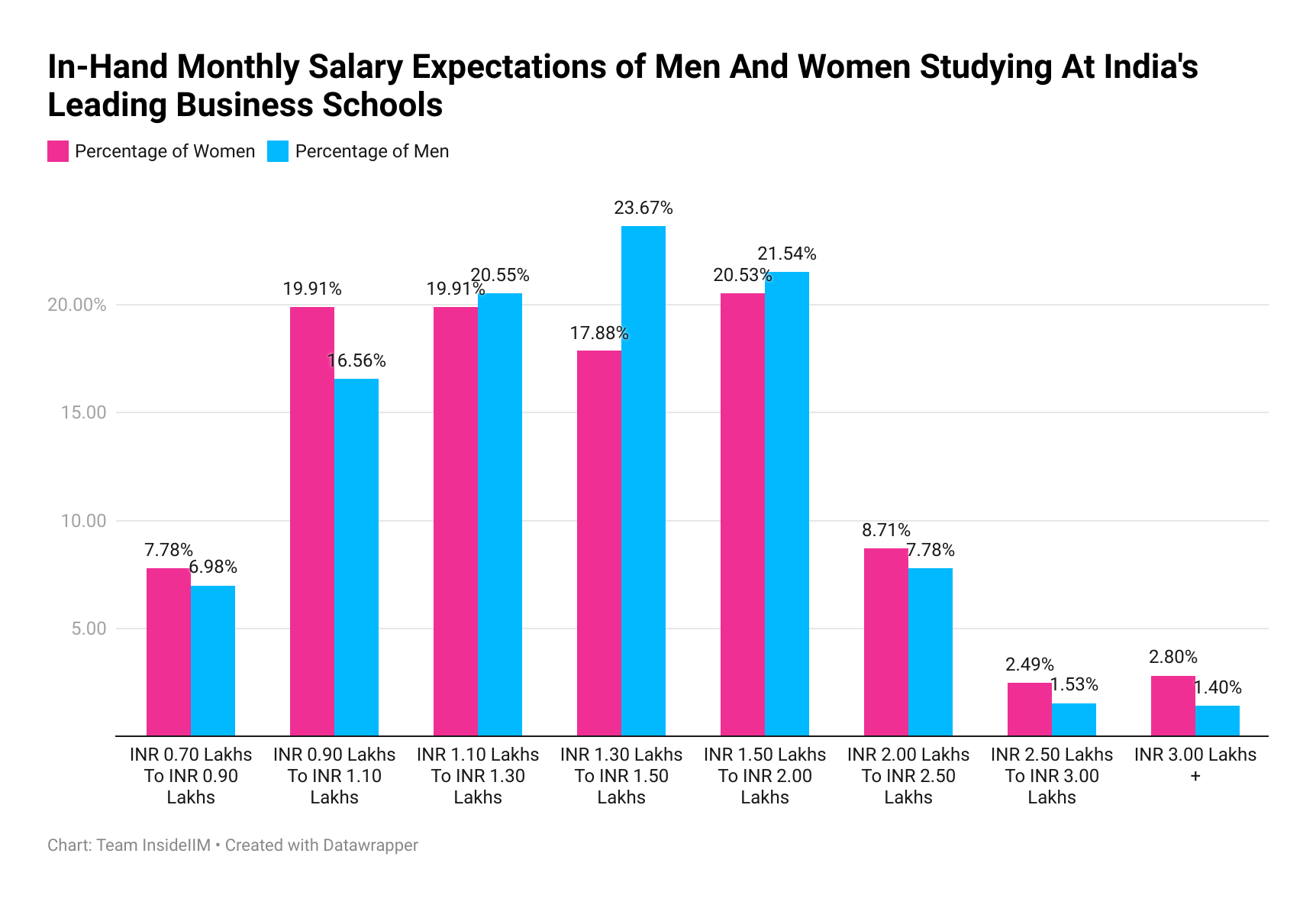 Of all the female respondents to the recruitment survey, nearly 60 percent expect a monthly in-hand salary in the INR 1.10 lakhs to INR 2.00 lakhs range. To compare, closer to 67 percent of male respondents expect salaries in the same range, which is a marginal difference of 7 percentage points.
When compared with men, a greater percentage of women expect salaries on both ends of salary brackets. Women are more slightly more likely than men to expect salaries either less than INR 1.10 lakhs per month or greater than INR 2.00 lakhs per month. Both men and women find the expectation of earning more than INR 2.50 lakhs per month immediately after graduation unrealistic.
Based on the data collected and represented in the graph above, it would be reasonable to conclude that the salary expectations of men and women pursuing an MBA at India's top b-schools are similar. Unfortunately, despite expectations being similar, women in corporate India still experience pay disparity. As of 2019, India ranks 149th in economic participation and opportunity and 117th in wage equality for similar work. It is estimated that it will take nearly 100 years to close this gender gap across politics, economic, health and education.