Which Are The Most Preferred General Management Campus Recruiters? – InsideIIM Recruitment Survey 2016 – Part 7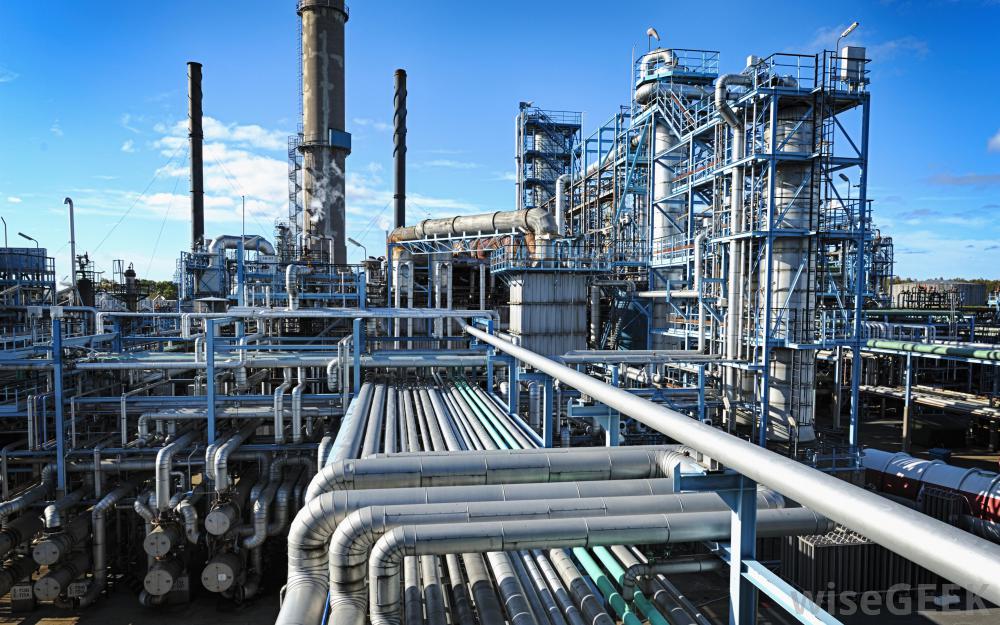 Will TAS and Aditya Birla Group continue to dominate the mind space of management graduates and hence our  General Management rankings? Who are the new entrants in this space?
In part 7 of the Recruitment Survey results we check which general management recruiters are the most sought after among 3 respondent categories : 1) Aspirants & 1st Year MBA Students on Campus 2) The 2nd Year or Graduating Students 3) Alumni
It's time to reveal our findings. This is year 5 of our Recruitment Survey and Recruiter Rankings.  The only platform that provides insight into what students and management professionals think. We look at their aspirations and motivations. We also come out with lists of the most desired recruiters across top business school campuses in India. These findings are based on surveying over 1200 students who answered over 25 questions in our questionnaire.
(View Part 1 – Cost of a MBA, Part 2 – Salary expectations, Part 3 – Job Satisfaction, View Part 4 – Most Preferred Career Domain, View Part 5 – How can campus recruiters improve hiring, View Part 6 – Summer Internship Insights)
General Management companies are among the most sought after companies for a variety of reasons but the chief one being the diversity of profiles and domains one has the chance to build a career in and also in case of conglomerates like ABG, TAS, Reliance, GE – the variety of companies and sectors one can potentially work in.  Most companies create leadership programmes for MBA hires and they are very popular among students. Do note that companies that hire in very small numbers from just a couple of campuses are likely to suffer in our rankings as the awareness will be relatively low.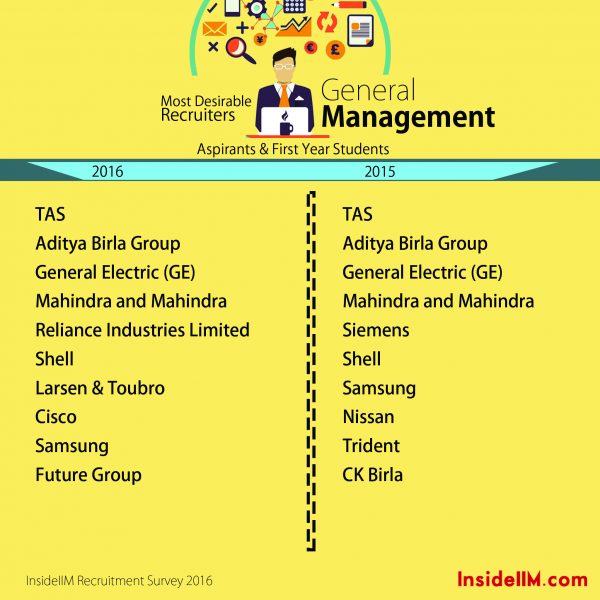 The top 4 remain the exact same as last year. Reliance Industries is the new entrant in the top 10 directly at No.5 this year among the 1st year students and MBA aspirants as compared to last year. Future Group and Cisco are other new top 10 entrants. Aditya Birla Group is closing in on TAS over the last couple of years and we could see a shift at the top if the current trend continues.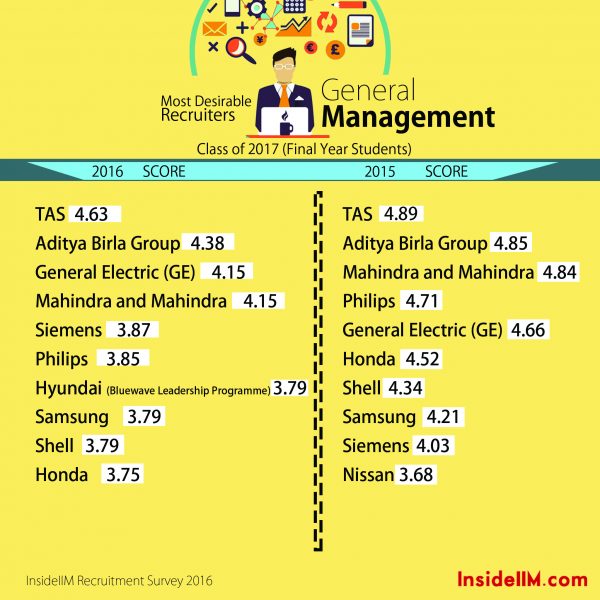 Among the graduating batch of Class of 2017, General Electric has gained in rankings in the last 1 year. TAS and ABG maintain their ranks yet again. Philips has lost ground marginally this year.  Given the kind of campus engagement the likes of ABG, GE and Mahindra do every year they will remain the most preferred recruiters for some time to come. Brand recall is high. The effort yields results and our surveys show it year after year. TAS has a legacy of the last many decades of hiring at top schools and also has the most diverse group companies.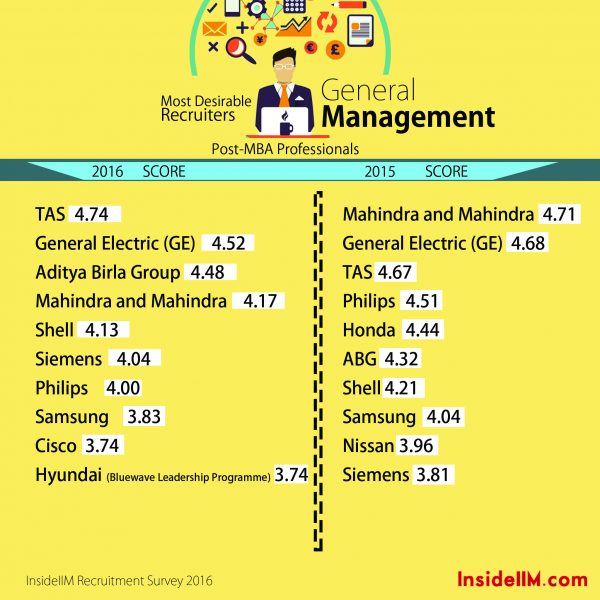 It is interesting that companies like TAS and ABG maintain such high regard even among Alumni despite the fact that they will never be able to become part of the campus leadership programme if they move laterally. However, this talks about the perception of the quality of the programme and also the perception gathered from lateral hires about working in group companies of these conglomerates. This also indicates the feedback from alumni who are currently in the specific leadership programmes and also what they have shared with their batch mates.
One other interesting thing to note is that unlike all other recruiter categories, this is one category where Indian recruiters are far more dominant than foreign names. In all other categories 4 out of the top 5 names will be global companies with headquarters in other parts of the world. We will see results for other categories in the coming days on InsideIIM.com. Keep watching this space.
To read all stories in this series please click here. For previous years' data click here