Meet Manishi Sanwal! At one point in his career, this IIM Ahmedabad alum was one of the top 3 personalities in the world of luxury marketing, having worked with the likes of Shahrukh Khan for over a decade. He has a tremendous amount of experience in the world of marketing and has recently launched his own Data Analytics company. Check out his exciting career journey in this video!
Take Your Career To The Next Level. Ask Our Experts Anything. We Will Respond Within 48 Hours.
Manishi starts off his video by talking about how he got into LVMH Group, TAG Heuer. From starting off in a company that managed to sell only 4 watches in the first month, to making it the luxury giant that it is today, Manishi's involvement with TAG Heuer truly is fascinating. He recalls some very interesting instances from his days working in China, as well as his time working with Shahrukh Khan.
Finally, he talks of why he chose to leave all that behind and start his entrepreneurial journey with Voiceback Analytics. He delves deep into the importance of Data, and how today Data is available in abundance. He explains how a tech fresher can understand the data better but might lack a business context. Even in his mid-40s, Manishi is still upskilling himself to stay relevant in this ever-growing industry. Watch his inspirational career journey in this video!
This is part 1 of Manishi's full interview. Stay tuned for part 2, where he discusses his IIM Ahmedabad days and early life experiences!
What's this?
This is a series of talks that we are doing amidst the coronavirus pandemic. Despite the lockdowns and the curfews, we are making all the efforts to ensure that you keep getting insightful and relevant content. So sit back and make the most of your social distancing with this episode of 'Konversations in Quarantine'!
Key Takeaways:
Logic is a dependable proxy for a lack of context.
Don't let customer marketing influence your choice of employer.
You will learn the basic customs of your world over time. Don't feel conscious about being unaware.
FMCG Marketing is more fast-paced and has a larger team involved as compared to luxury marketing.
The value of a luxury product partly comes from the way it is perceived.
It's never too late to upskill yourself and get certifications.
***
When Are Marketing Analytics 101 Live Sessions Going To Be Held?
Here's the schedule, starting on 31st August!

---
Take a look at all the live programs under the InsideIIM Marketing Festival 2020!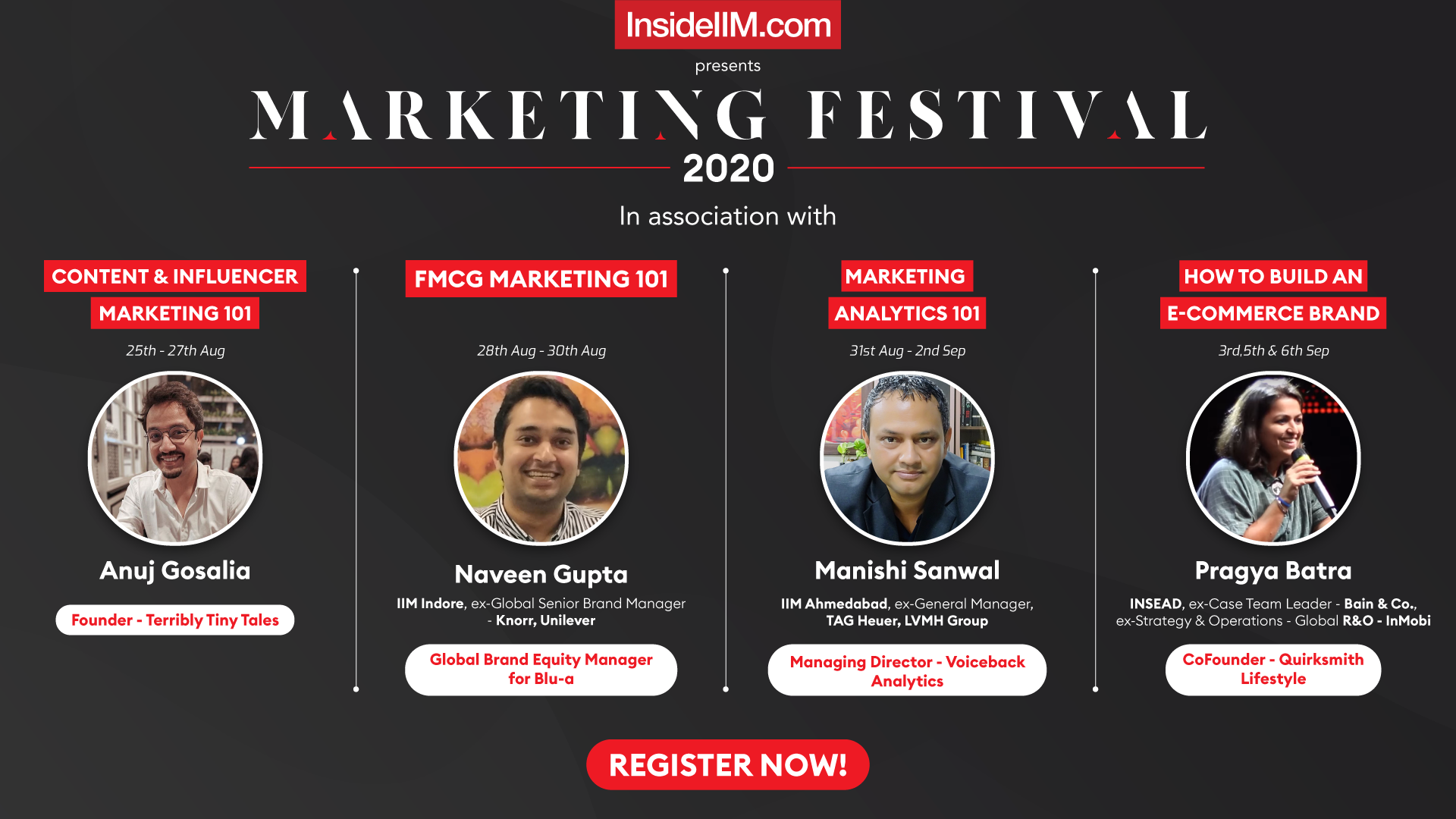 Here's the schedule of the Marketing Festival 2020!

Program Outline Of Content & Influencer Marketing 101

Program Outline Of FMCG Marketing 101

Program Outline Of How To Build An E-Commerce Brand

Here's what we recommend to you: