Prologue
When a friend of mine asked me what would be that one thing that would make me truly joyous, I replied, "To explore and learn about the unknown India which I have never seen". I started biking to different parts of South India in an eagerness to see the bigger world out there. However, my lifestyle and commitments pulled me back to the undistinguished world which I live in. It was at the right time when my senior, at IIM Trichy introduced me to a unique train journey called "Jagriti Yatra", organised by Jagriti Seva Sansthan.
About Jagriti Yatra and me
Take Your Career To The Next Level. Ask Our Experts Anything. We Will Respond Within 48 Hours.
Jagriti Yatra is an Entrepreneurship-focused 15-day train journey which takes you through the length and breadth of the country. Comprising of 480 participants, 70 facilitators and 50 organisers, the wheels move on a single agenda of Nation building by nurturing an entrepreneurial spirit. Moreover, it forms a movement towards reaching out to the purest form of India.
I'm Hari Kishan Sudheer, currently a 2nd year PGDM student at IIM Trichy, and it is not surprising that I do not get enough time to take a week off to travel, given the academic rigour at the B-School. For doing a 15-day Yatra, I had to worry about all aspects such as, grades, attendance and placements. But my passion for exploring propelled me to take this giant leap of faith. I applied for Jagriti Yatra and got selected from a pool of 10000+ applicants.
The Jagriti Yatra 2016 was flagged-off on 24th December, 2016 at Tata Institute of Social Sciences, Mumbai. I was awe-struck by seeing the vibrant young participants who came from different parts of the World. While one guy came from Andaman, the other came all the way from Brazil, thanks to the International participation from 25 countries. With 40% gender diversity, each of the 480 participants represented almost every hill station, every valley, and every cosmopolitan city of India. If you ask me what the meaning of diversity is, then Jagriti Yatra is the example – call it diversity in language, region, profession, education and even ideology. A top-class architect, a Chartered Accountant who has his own Private Equity firm, a young lady who explored the World, or an entrepreneur who fought his way forward from being an underprivileged child – Jagriti Yatra is the perfect recipe with the rarest of the rare ingredients.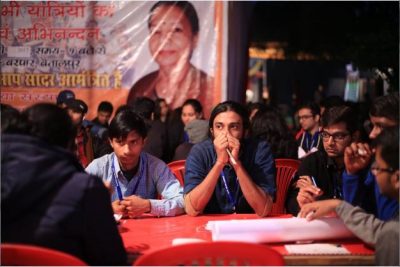 Knowledge at Jagriti Yatra
Typically, we spent the days in the role model visits such as Kalkeri Sangeet Vidyalaya in Dharwad, Aravind Eye Care in Madurai, Akshaya Patra in Visakhapatnam, Gram Vikas in Behrampur, Barefoot College in Tilonia – each role model visit is focussed on a specific area in Entrepreneurship, for example, Arvind Eye Care gave us exposure towards Healthcare segment, while Gram Vikas enlightened us about Water & Sanitation. After the day-long role model visit, we boarded the Jagriti Express to evaluate and discuss the day's activity. We made presentations after brainstorming about the role model and analysed if the Business Model can be replicated elsewhere in India. We assessed the challenges and opportunities of the Business Model and finally, we implement the knowledge gained through the day's activity. In a village called Deoria in Uttar Pradesh, we stayed for a night where all the teams were to present their business plans in the vertical of their choice (be it Education, Healthcare, Manufacturing, Water & Sanitation, Skill Development, etc.) in front of the panellists and the villagers. The group dynamics of each team worked fantastically. For example, our team consisted of a Data Scientist, an Architect, two Chartered Accountants, an entrepreneur, and a student prodigy in Information Technology, all of us facilitated by a cool-headed Industry expert. The brainstorming sessions helped us gain new perspectives which we collectively put to test: an architect's view about building an eco-village or what an IT expert says about developing technology in rural India, and how it differs from what a Finance expert says about building a fund towards Social Entrepreneurship.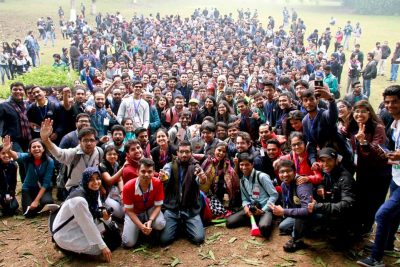 OB & HR area at Jagriti Yatra
'Life in a Train' – one line to describe the way we lived and thrived together for 15 days. With over 100 staff that include the departments of House-Keeping, Catering, Security, etc., Jagriti Yatra has got immense manpower to make the yatra a successful one, without any hiccups. I have keenly observed the way theories of OB & HR area are applied here – Role and designations to each staff member, building the organisational culture through the theme song "Yaaro Chalo", managing the diversity, managing the decision making hierarchy, and controlling the manpower. The accuracy in serving hot soups in the chilli evenings, maintaining the washrooms with top-notch hygiene and guarding the entire train with RPF personnel among other things, is no small task by any stretch of imagination.
Logistics & Event Management at Jagriti Yatra
Jagriti Yatra is a lot like a large-scale mega event for 15 days which involves meticulous planning. From the perspective of event management, Jagriti Yatra's Logistics Management wins many laurels. Running a single-train for 15 days, with all necessary approvals is no joke. The punctuality team at the Yatra ensured that the train always runs on time. There was an instance when most of the regular trains ran with an 8-12 hours delay (thanks to heavy fog in Northern India), the punctuality team worked through the whole night to ensure we reached our Role Model destination on time. The Crowd Management Team called "Disha" played a crucial role by guiding all the Yatris towards the designated entry and exit points, by ensuring all the yatris board and de-board the designated buses and most importantly ensuring the head count is taken with accuracy. The food supplies management, water management for showers on train, control team for making important announcements across the train, etc. deserves accolades for their continued effort throughout.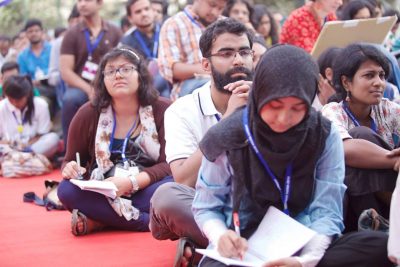 Jagriti Yatra is the perfect package to revise all the theories, cases and applications which I have learnt during the course of my MBA. From an event management perspective to logistics to building an organisational culture, the yatra has given me the perfect platform to learn various new things, as well as gaining clarity towards the things I know. More importantly, Jagriti Yatra gave the opportunity to get a reality check on how rural India is working, and to think about the ways in which the key aspects can be improved. As my co-yatri has rightly pointed out, "It is not Rural India which is disconnected with Urban India, but it is the Urban which is disconnected from the Rural". By visiting 12 different states in 15 days, I should term it as a 'Life Time Opportunity' as it gave me the delight of having my vision and passion come together.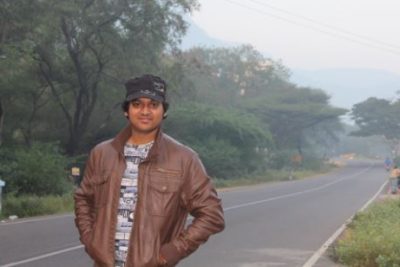 Hari Kishan Sudheer, an Ex-Infoscion, is a 2nd year PGDM student at IIM Trichy. He is the Sponsorship Head of IIM Trichy's flagship event "Dhruva", and also the core member of Entrepreneurship Cell. An avid traveller and a biker, he rode 18000 KMs covering most of the parts of South India with his Royal Enfield for company.