Never having lived away from my home state of Jharkhand, going to Mumbai, the so-called "City of Dreams" and interning at an organisation like Johnson & Johnson which has a rich past, I was looking forward to my first ever corporate experience. I was looking forward to living my dream.
When I landed on the Mumbai airport, the crowd and the rush was truly overwhelming. Self-doubts started creeping in. Am I going to fit in this city? Am I going to fit in the organisation? What if I am not good enough? With all of these anticipations, when I stepped into the twelve floored office of J&J at Jogeshwari, somehow the excitement of my first day blew away all my apprehensions.
After the ice-breaking sessions where I interacted with other B-School students for the first time, we had quite a few sessions taken up by the leaders of the organisation and that day I learnt my first important lessons of the corporate life. First, J&J's emphasis on its Credo which gives directions to be followed when facing any kind of dilemma taught me that being a business person doesn't always have to be self-serving. In fact, what makes any business successful is its concern for the customers it serves, the employees it hires, the environment it impacts and lastly the stakeholders, all in that order.
The second lesson that I learnt that day was the importance of networking. I had a hands-on experience on this as, throughout my two months at J&J, I noticed that employees were constantly in meetings, having discussions over a call or just catching up in between tea breaks. Also, while working on my project, I interacted with multiple people from different age groups and social backgrounds and gained invaluable insights. I realized that networking helps us to exchange fresh ideas and gives new perspectives which we might overlook. It also gives us opportunities to express our own opinions and get constructive feedback for the same.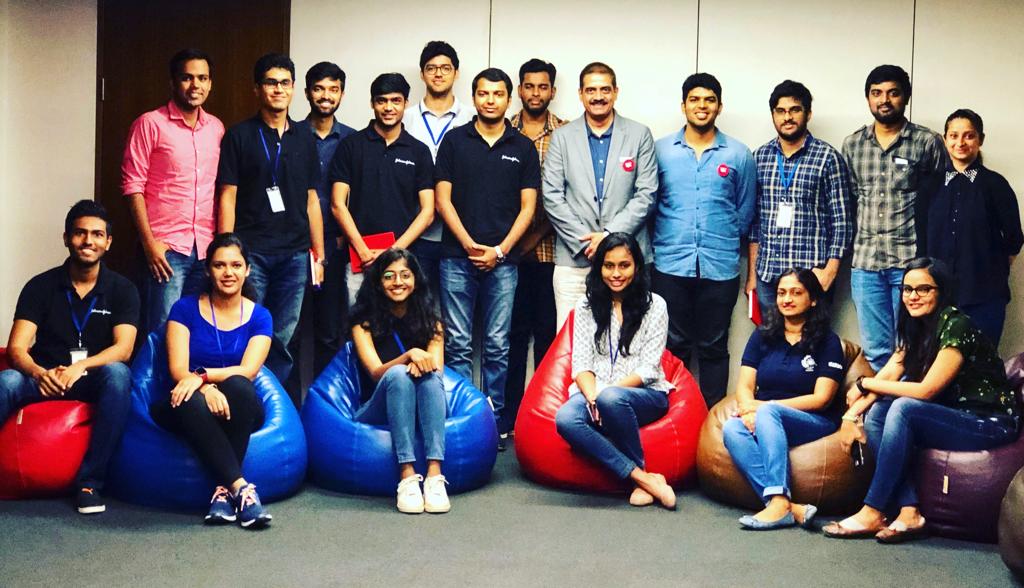 The two months that I spent at J&J were no less than a tempestuous roller coaster ride. Being the only HR intern, I always felt I was under the limelight, at least amongst my fellow interns. It was daunting and exciting at the same time. The first few weeks I was constantly bumped with questions like "Srijoni, how do I redeem my expenses?", "Srijoni, how do I set up my Workspace?", "Srijoni, can you please check if a certain HR spoc is on your floor?". A key takeaway from these daily conversations was that HR as a domain plays a significant role in every employee's work life. It is upon the HR to ensure that an employee has everything he/she needs to be efficient and productive while at the same time has a comfortable work environment.
Another key learning that I had and which I consider one of the most important learnings at J&J is the need to think independently. Unlike my fellow interns, I was by myself in the HR department, which can be quite daunting for somebody who has no relevant work experience in the field. But this extraordinary situation turned out to be a blessing in disguise. While the other interns asked me or their respective HR spocs when faced with any kind of hitches, I, on the other hand, figured out myself by asking around and approaching multiple people. This was a very big step for me personally as I am a naturally shy and introverted person and asking for help has always been a big challenge.
One of the instances that come to my mind is a conversation I had with my guide over breakfast, where she asked me how my friends would describe me. I mentioned that they would probably say that I don't speak a lot. Now she was a person with a completely contrasting personality. She got along with everyone, smiled and had something sweet to say to everybody. Throughout my internship, she pushed me to have conversations with some top leaders and connected me with them. My third key learning was from shadowing her. Apart from some great life lessons, she also taught me how important it is to push oneself out of one's comfort zone. We worked together on the field of gender diversity and the insights I gathered from her on Diversity in all of its essence were unparalleled and are bound to stay with me forever.
As I am already into my second year of MBA, I recall the months preceding the Summer Placements and the contemplation that we all went through. To every other MBA aspirant or first-year MBA students who dream of joining Johnson and Johnson, here are my two cents about the placement process:
J&J had a very unique GD which is refreshing as well as engaging at the same time. It was a puzzle which we had to solve as a group within a stipulated time. The key here is they are not looking for the right answer, rather how you work in a group and how clearly you are able to communicate what you know.
Since I am a fresher, my interview was mostly on behavioural questions. I was asked questions about my interests and hobbies. A few pointers here are before the interview, read about the company, its products and any recent appearances in the news.
Personally speaking, my two months at J&J was astounding, to say the least. Mumbai did live up to its fame.