There are very few teachers who have such a vast experience in academia as well as industry. From holding positions in SP Jain, NMIMS to being the founding dean of NISM to now working for the Ministry of Finance, Mr. Sunder Ram Korivi (or more popularly known as SRK by students) has come a long way. Awards like Best Academician in India instituted by Amity University, 2008; Best Teacher, Best Department (Finance) Awards, NMIMS, 2007 and Outstanding Teacher in Finance, Higher Education Forum, 2013 are a testament to how much students admire and look up to him! Let's find out what tips sir has given to those who wish to make a career in finance.
1. Can you please tell us about your journey?
I became a Cost and Management Accountant in 1989. Simultaneously, I became a Chartered Accountant also in 1989. My first job was with Business India Magazine as an analyst. I wanted to work with a company that analyses other companies. That was the time when the job of an analyst was almost non-existent because most of the deals in the stock market were thanks to insider trading. However, now we find that every mutual fund/ brokerage has plenty of analysts!
So being an analyst gave me a great start to my career. After that, I joined Tata Industrial Finance, which used to help SMEs to get a loan. Then after that for about 4-5 years, I was a merchant banker on my own, helping SMEs to raise loans.
In 1998, I started my full-fledged career in academics. I started as a visiting faculty but then I started liking it. In 1998, I joined SP Jain institute and in 1999, I joined NMIMS as an associate professor. Now in 2018, it has been exactly 20 years as a teacher.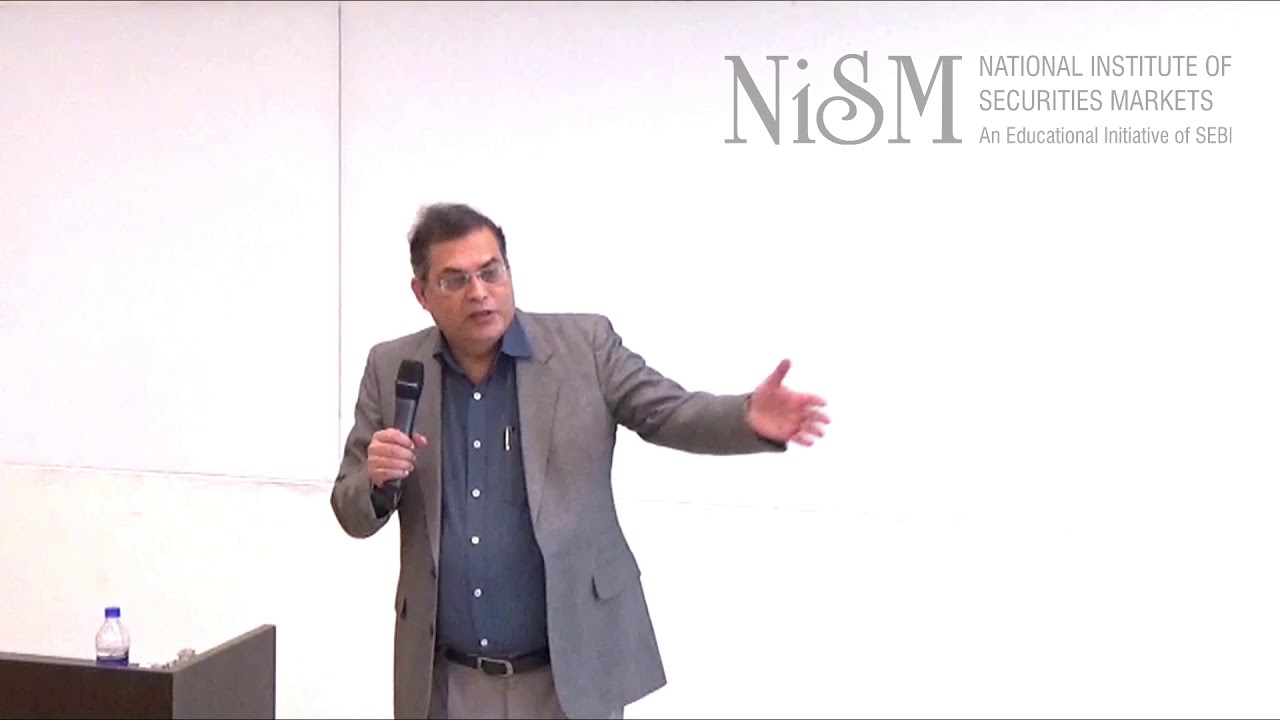 2. Why did you decide to become a teacher?
What I realized in my career in merchant banking, when interacting with SMEs is that companies make mistakes. Many small companies cannot afford finance professionals, therefore making mistakes. Being very much interested in the theories of finance, I actually saw with my very own eyes, the mistakes which banks made. So this all made me go back to academics and teach students at a young age, what is finance.
A total 30 years work experience – 20 in academics and 10 in industry.
Academically also, when I decided to become a teacher, I went back to Mumbai University, I did my MA in Economics and also my PhD. That helped me to get an overall perspective.
3. What are your views on the kind of finance jobs being offered to IIM graduates? Would you recommend students to take up back-end jobs?
If one wants to come into the financial sector, then one can start at any point in the sector. It is just a matter of application and luck. Every MBA has some aspiration or target as far as career is concerned. Some MBAs get their dream jobs on the first campus placement attempt itself. Some do not get. According to me, it is not that big a deal because everyone has a long career of 20-25 years ahead of that. If one gets a job which is not the best, and he has to work for 3 years within the industry, it is ok. As long as you get in the industry, it is fine. Once you get known in the industry, you have the chance to move laterally. Because ultimately if you are good and sincere, you will definitely get the dream job.
4. What are your views on external certificates like CFA FRM, etc?
My view is that if a student is doing MBA, then since the student is already committed to 2 years full-time, perhaps one can look at certain career-oriented certifications. CFA is a wonderful course. Besides the design and content of the CFA curriculum, it is a very well networked course. Virtually every mutual fund or every organization working in the financial market, there is a CFA at the top. CFA is a very rigorous program. If one makes the necessary adjustments, it is one of the best top-ups.
5. Most of the IIM grads want to get into finance, but only 20-25% of a batch manages to get in. What will be your advice to those who want to get in, but could not?
Everybody is welcome to the field of finance provided they have the willingness to learn and some analytical abilities; the willingness to learn being the most important. If not now, one can get into finance later on also. The first job does not define your career.
6. How important is investing in equity markets for people who are doing MBA?
Very important! One myth which people have is that they think lacs of rupees are needed to invest in stock markets. To some extent, I would say that these broking firms also give wrong advice. I would urge students to follows good companies for ex. Nifty and Sensex companies to start with. Even if one can buy 1 L&T or 1 Asian Paints - more like a stamp collection, over a period of time, you will learn. You will not learn about the stock market unless you really invest. Take the annual report, read the resolutions, attend annual general meetings, make a file containing all articles about your company – that is the way a person can become an investor at a young age. I think equity investing is done wrongly. They think they need to buy 500 shares. I think equity investing is the only place where you can invest at our own pace and own time and wait for the returns.
7. What are the common mistakes students make?
The first thing is one should not make basic conceptual mistakes in an interview. The recruiter is not looking at the exact answer of the questions. What he may be looking at is how you will defend your point of view. What I would like potential candidates to do is –
As soon as a person starts doing MBA, he should use his campus time very effectively. One has to use that time fully and keep learning. By learning, I don't mean only listening to the faculty. You can learn by attending conferences, observing people, self-study, watching good programs on TV.
Every MBA should also maintain his person dairy. Most importantly. A learning dairy, summarizing what he has learnt during the term.
MBA has its own syllabus. But students should also make their own syllabus, based on his specific career path.
The main mistake students make is that they have a career path but they do not work towards it. Maybe relying on luck or waiting for others to make it happen. But what I am trying to say is that maintain a learning diary and make a list of topics you want to study. So if you want to know about credit, make a list of books or a list of related topics and read. As and when you learn those topics, it gets cancelled from the list. 6 months later some new topics are added. Based on that, in 1 year, you have tremendous learning.
Another thing is that when students join any job after MBA, the first 5-10 years are tremendous learning experiences. Some jobs may not pay that well but if you get a boss who takes an interest in you, it shapes your entire personality. And then once you cross the age of 30 or 32, your career path goes up on your own effort. You don't need outside help.
8. As you are a CA, how does an MBA add value to us?
Definitely helps. For a CA, there are 2 paths available. CA can set up a practice. Its hard work – if one is willing to give 7-8 years, he can do it. If CA wants to enter the industry, then an MBA is a very good way out because his skills are valued. It is a great top-up. One should go for it if given a chance. If one can support himself for 2 years, I think he should go for it.
Hope this helps those who wish to pursue a career in finance.
A special thank you to SRK sir for taking time out of his busy schedule to guide young minds!