---
Reasons Why Product Managers Make Great CEOs?
The parallels between a good product manager and a CEO are many. Let's say in a typical corporate or software company of 500 people, there might be 20 product managers. So even if one is responsible for "all of the product management," he needs 480 out of 500 employees, none of whom "works for him," to execute your strategy and vision.
That is precisely why it is said that product management is a great training ground for becoming a CEO. The very nature of the PM role requires building the skills one needs to be a successful executive, namely:
#Reason 1: Create A Compelling Vision For The Teams And Company
The number one responsibility of any CEO is to align the company around a vision and help every employee "see the future" so they can successfully make that future reality.
The more clearly he can paint that vision, the more effectively he can harness the intellectual and creative horsepower of the organization to achieve it -- rather than being "the boss" and having to micromanage every detail of an operational plan. Product managers constantly communicate strategic vision with their design and engineering counterparts, and great PMs can bring the vision to life without prescribing how to achieve it.
That is the foremost responsibility and quality of becoming a CEO.
#Reason 2: Making Data-driven Decisions
A great Product Manager understands the importance and power of data. As guardians of products, product management professionals gather data from clients, analyze it, and effectively communicate them to respective teams and leaders. Similarly, CEOs understand the importance of data in making consistent, objective decisions. Many CEOs strive to build a data-driven culture within their organizations because analytics provides a framework that makes it easy to measure, compare and evaluate trends, progress, targets, and achievements.
As Peter Drucker (the inventor of modern business management) said: "If you cannot measure it, you cannot improve it." Data skills will ease the journey of a product manager to a CXO post.
#Reason 3: Wearing Many Hats At A Time
A product manager is a jack of all trades. They are involved throughout the product life cycle, which enables them to understand various aspects of a business.
From business development to marketing to technological expertise, they don different hats during the product development stage. Product managers gain many skills at every step - communication, interpersonal, leadership, problem-solving, sales, marketing, and more. All these make them the perfect fit for top jobs.
#Reason 4: Customer-centric Approach
As stated above, product managers represent the end-user in the development process. Like CEOs, product managers focus on customer needs, revenue, and the development team. With data and feedback, they find a big picture of the end user's life and the potential significance of their product in customers' daily life.
The growing influence of design thinking principles in product development underlines the importance of the customer-centric approach and its role in business growth. With hands-on experience in this approach, a product manager can prosper in an executive leadership position.
Furthermore, the product manager role has a perfect combination of hard and soft skills that prepare one to emerge as an industry leader. When Product Manager reaches the executive level, they understand the day-to-day problems of everyone underneath them…because they have lived them! Experiencing challenges for yourself is the best way to understand them.
---
Career Path: From Product Manager to CEO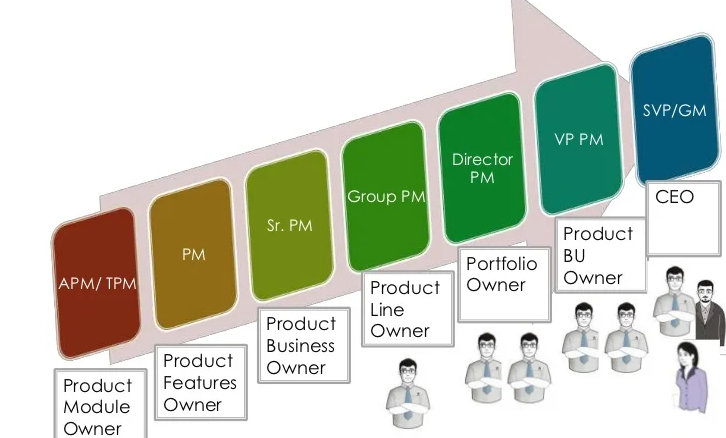 "Product managers make great CEOs, GMs, and COOs because they are used to working across the entire company to move projects forward." With the right skills and a passion for solving a customer's pain points, the following could be a career path for any product manager.
The above career path is not the only, but a definite career path any person confronts in general in his/her product management career. However, let us have a look at a few distinct career paths followed by famous CEOs who were Product Managers at one point or the other, such as:
Satya Nadella -> Engineer at Sun -> engineering product management and executive roles at Microsoft -> CEO
Shantanu Narayen -> Apple -> Director of products at Silicon Graphics -> sold his startup to Adobe -> CEO
Marissa Mayer -> Engineer at Google -> senior product management roles at Google -> CEO at Yahoo.
---
---
5 Famous Product Managers Who Became CEOs—and How!
As a Product Manager, one has very little authority. While the buck stops with him regarding product decision-making, the company's overall health does not rest on his shoulders. A Product Manager might be the internal face of a product. However, they are unlikely to make significant public statements about the company or answer directly to investors or a board of directors.
Saying that…many Product Managers have gone on to become great CEOs. So if you are a small Product Manager (or aspiring) with big dreams, look no further! Here we will look at some rising stars who started their journeys as Product Managers and, with all the required skills, became great CEOs!
Sundar Pichai | CEO, Google, and Alphabet
From PM to CEO- Sundar Pichai's background in product paved the way for becoming CEO at Google. It has been nearly six years since Sundar Pichai took the reins as CEO of Google. How did this relatively unknown product manager in his early 40s rocket through the ranks to take control of one of the largest and most powerful tech companies of all time?
The short answer: Realizing that a decidedly unsexy yet strategically critical aspect of Google's search business was vulnerable, turning it into the key driver behind some of the tech giant's most influential products.
Pichai's experiences as a product manager created an excellent foundation for his career trajectory and have prepared him well for a role as CEO. He has had to worry about product strategy and execution, build teams, work with other internal groups and outside companies, fight for recognition, and deal with short-term issues and long-range goals. There are very few roles at a company where one gets to do all of those things, and there are not many other jobs to better prepare someone for taking the wheel and leading an entire company.
Business Insider India points out one of Pichai's most vital strengths, which made him a serious contender for the CEO position. He knows when to admit that he does not know the answer. A valuable lesson for any good Product Manager!
Susan Wojcicki | CEO, YouTube
Wojcicki, now known for being the YouTube CEO, started her career as Google's first Marketing Manager, where she launched the now beloved Google Doodle. She moved to product when she took over AdSense as its first Product Manager, for which she was awarded the Google Founders' Award. She later became the Vice President of Product Management at Google before she helped to negotiate the acquisition of YouTube.As CEO of YouTube, she has been described as 'the most powerful woman on the internet, and in 2015 she was recognized as one of the time's 100 most influential people.
Ivan Zhao | Founder, Notion
Notion is the all-in-one workspace and collaboration tool which has taken over Silicon Valley! Ivan Zhao founded Notion in 2012 after spending time on the product team at Inkling, an online learning solution in San Francisco.
Being heavily invested in good product design, Zhao works with a strong team of talented UX and product designers. Their goal is to bring back the romantic tech of the 90s when people were using computers as a new medium and building their tools.
Stewart Butterfield | CEO, Slack
Slack CEO Butterfield started with a Bachelor's and Master's degree in philosophy. He first broke into the product world as a Software and Internet Product Design Consultant. He then became the CEO and Co-founder of Flickr and then back to the product as a Senior Director of Product Management at Yahoo. He credits his time as a Director of Product Management at Yahoo as an extensive learning experience to prepare him for running his own company. Slack was "born out of the style of communication that developed '' while Butterfield worked on a game called Glitch with Tiny Speck.
Indra Nooyi | CEO, PEPSICO
Indra Nooyi, a business leader and strategic thinker, is widely considered one of the top CEOs in the world for her leadership of the global behemoth PepsiCo for 12 years. She was the first woman of color and immigrant to head a Fortune 50 company. She earned a spot at the prestigious Indian Institute of Management Calcutta, where she received her MBA in 1976.
After graduation, Nooyi began her career as a business strategist. Her first job was at a British textile firm. She then moved to a product manager role at Johnson & Johnson in Mumbai. In 1994, at age 38, Nooyi began working at Pepsi, the company for which she would become famous for leading and got increasing responsibilities at Pepsi before becoming CEO.
Moreover, with that kind of experience, it is not surprising that many product managers eventually make great candidates to take on the executive role. So if you want to be a CEO, do not think that becoming a product manager makes you the CEO. However, do not be surprised when you get to an executive role after being a great product manager at some point in the future.
---
Conclusion
"Today's product managers are tomorrow's leaders."
The product management mindset and skills provide an excellent foundation for transitioning into a CEO role. You don't have to be a product manager before becoming a CEO, but it certainly helps. The ability to build and communicate a clear vision and associated actionable goals, prioritize effectively using data-driven decisions, and lead through negotiation and influencing, are all core skills for both a successful Product Manager and a CEO.
In sum, product managers play a crucial role in product development and acquire the right skills to help them flourish in their careers and ascend to the CEO post. Though the experience and skills vary from industry to industry, the core competencies remain the same. A dynamic talent in product management will have a quick career progression in any industry. If you are passionate about the customer, love data, and have a gift for empathy, then pursuing a career in product management may take you to the top.
Furthermore, in the end, the best leaders are the ones who understand and empathize with the problems of their team. That means they have worked closely with different cross-functional teams and have at least a broad understanding of each stage of product development. That goes for both CEOs and Product Managers.