Can you see the lady with purple dupatta in the centre of the above picture? Meet Babita Ji, a 52-years old woman, secretary and treasurer of a Self Help Group (SHG) in Poothi, a remote village in Hapur District of Uttar Pradesh.
I still remember, when we met Babita Ji for the first time, she was conducting a meeting with her SHG members. We, a group of six students of IMT Ghaziabad (IMTG)- Parish Goyal, Abhijeet Harne, Priya Sinha, Jaspreet Singh Bhatia, Kapil Juneja and myself – were on our first field visit as part of a newly launched course - Sustainability and Social Responsibility (SSR) under the aegis of the I'M The Change Initiative of IMTG. Through this compulsory, experiential learning course, we, the first year PGDM students of IMTG, got this wonderful opportunity of working for the underprivileged communities and our project, undertaken in association with a renowned NGO called SADRAG, took us to Poothi. Our task there was to identify the loopholes in current functioning of the SHG, implement changes and to come up with a sustainable business model.
Babita Ji leads an SHG of 19 women, where each of them contributes Rs 100 per month and avail loans when needed at a monthly interest rate of 2%. While interacting with the SHG women we observed that all the transaction logs, be it of lending, repaying or depositing, were being maintained on a rough register. Pooled money was not deposited to any bank but was kept at the personal disposal of the SHG head. Actually, the SHG did not even have a bank account! We decided to target these issues one-by-one.
However, the first hurdle we had to cross was how to convince the women to let go of their age-old practices of accounting! Hence, we started by sensitising and educating the women about financial literacy and how this could help them. Leveraging our learnings of Financial Reporting and Analysis at IMTG, we understood their accounts books, identified the loopholes and suggested best practices.
Our next task was to convince the women to open a bank account. Due to lack of awareness, trust and reach to a bank, women were reluctant to deposit their money there. We conducted a video seminar, explained them benefits of banking and demerits of their current practices. Coordinating with the Canara bank and the SHG over weeks, we were finally able to register the SHG.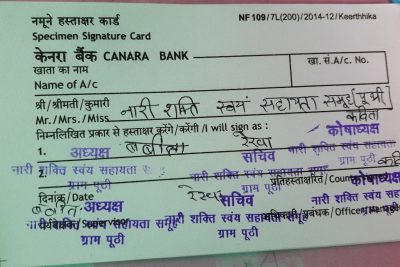 The next big question was how to find a sustainable business model for this SHG? To search for answers, we scanned the markets of Pilakua and Galand village to identify suitable business opportunities. We zeroed in on incense sticks and paper plates as feasible options, studied the production processes, and identified their target markets. Since we already linked the SHG with the bank, they were eligible for availing loan to purchase the production machine. The entire business model was pitched to the SHG and we were able to convince them to kick-start the business, just by dedicating about 2-4 hours of their idle time daily. If implemented correctly, the business ventures could go a long way in making the women self-reliant! At the end, we bid adieu to Babita Ji and other women of SHG with a smile and feeling content.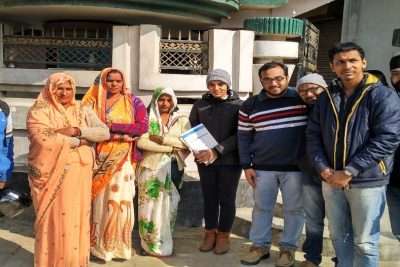 In the last five months, we not only experienced changes in others, but in ourselves as well. We got to see the ground realities of our country, which made us realise that there is a part that we, the privileged lot, need to play! We understood the rural culture, regained our tradition, learnt the ways through which we could contribute and developed a positive thinking attitude.
This story is about us. Around 70 similar stories were taking shape as well in other parts of Ghaziabad and elsewhere in Delhi-NCR. SSR turned out to be a brilliant initiative and we are thankful to IMTG for giving us this opportunity to experience the joy of contribution!
_____________________
About the Author:
Sumit Agarwal is a student of PGDM 2016-18 batch of IMT Ghaziabad. He is an avid reader and quiz-enthusiast. He diligently follows marketing strategy and initiatives taken by corporates. He has earlier worked with Tata Consultancy Service Limited as a Service Designer.