Team InsideIIM caught up with Mr Rajiv Dabhadkar, an expert in the field of inward and outward immigration. In our first interaction, we ask him to share his views on H1B and L1 Visa Scenario in the United States.
Does a rise in the H1B Visa applications mean that there is a lack of skilled talent in the US?
No, An H1b work visa is employer dependant. In other words, an employer is required to petition for a work authorization for a citizen from abroad. Here the term employer is ambiguous as staffing agencies can sponsor for work visas, and have equal sanctions as a employer. Rise in H1B applications at a time when the visa fees have increased is not only because of lack of skills available locally, rather large number of body shops petitioning for work visas.
What are body shops? How do they play a role in misleading potential job seekers in the US Tech Industry?
American staffing agencies fill a critical gap in the process of staff augmentation. These agencies, often appointed as vendors of companies bring flexibility towards labor recruitment allowing their client companies to focus on R&D. client companies outsource staffing and recruitment services to local vendors to bring flexibility to their labor recruitment process.
But these staffing agencies can also file a work visa petition in behalf of their clients, and as a result spawned a staffing grey market wherein staffing firms petition for citizens from abroad and in turn source them to out place them at client sites locally. Because the staffing firms charge a commission for every hour worked by their work visa sponsored employee, foreign workers often work at lower wages as compared to their American colleagues.
Often body shops poach Indian work visa seekers by advertising for jobs on Indian career portals. Job ads are often placed with the promise of a green card. Job ads are placed a year in advance to solicit applicants. Visa filing fees plus attorney fees required to file a work visa petition are often solicited from the job seeker in India. This is illegal, as the employer must pay for the visa fees. Often, body shops take the visa fees but do not file for the visa and abscond, leaving the job seeker in the lurch.
Are Indian workers a threat to the American job seekers?
Indian workers, unlike American workers are largely involved in "dual employment". viz - their work visa is owned by one company, and they work at another company.The company that petitions the work visa earns a brokerage fee of every hour worked by their employee. Thus working at lower wages as compared to American workers.The h1b work visa policies are designed to keep the market competitive by pitting one class of worker against the other. Hence, guest workers are seen as a threat by American workers and are accused of driving down the wages.
Diverting from the topic, it is also seen that these fraudulent cases also happen with students looking forward to study abroad. How does one actually differentiate between real and faux universities abroad?
If you are determined to pursue a degree abroad, always to a thorough research of the study abroad counsellor that you plan to visit. A prospective student should equip himself/herself with the knowledge that the best universities may not be the one that suits their profile, but only gives a good markup to the counsellor.
Also, be prudent while applying for "On-The-Spot" admissions, it is only a marketing tactic with a disclaimer. It is unfortunate that prospects do not realise that celebrated and prominent universities would never rely on lavish seminars and similar schemes, which eventually add up as a cost to the applicant.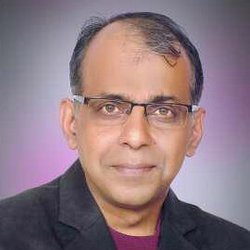 Mr Rajiv Dabhadkar is the founder of National Organization for Software and Technology Professionals (nostops.org), which began in April of 2004 and has been involved in a knowledge (tech) worker advocacy organisation with a focus on wage discrimination and worker rights issues.
He has been lobbying for reforms to the foreign guest worker issues and have been interacting with domain experts, key stakeholders and final policymakers on the H1B program on Capitol Hill in the United States. Rajiv is also a Karamveer Chakra Awardee 2014. He also started another venture PROVE- Professional Registry of Verified Employees. PROVE is an Open Registry Of Verified Employees.
'This is a Promoted Feature.'