UltraTech, in association with InsideIIM, has come up with the UltraTech India Next Campus Edition 2019 for MBA students across India's campuses. We want India's best minds to solve some of India's biggest infrastructure problems. Over the course of the competition, students will have to come up with an idea, a strategy, an execution plan for urban India that will not get confined to the folder of an HR professional at UltraTech. The winning ideas will be taken to the industry stalwarts for presentation! Find out more about the competition in this article.
India's GDP is expected to reach approximately $6 trillion by 2030, supported by consumption and investment growth. The key contributors to this story will be grabbing new opportunities, thinking out of the box and coming up with transformational ideas.
Like home is an identity of a person, infrastructure is an identity of a Nation.
There is constant need to provide World-class infrastructure and sustainability of resources in Nation Building. We also need to identify the mega-challenges that the next generations will face as partners of the nation's ecosystem and give solutions that create impact.
Hence, UltraTech in association with InsideIIM has come up with the India Next Campus Edition 2019 for MBA students across India's campuses. We want India's best minds to solve some of India's biggest infrastructure problems.
Here's your chance to partner in India's growth and be a part of this nationwide developmental change. It's your opportunity to be a part of the IndiaNext journey.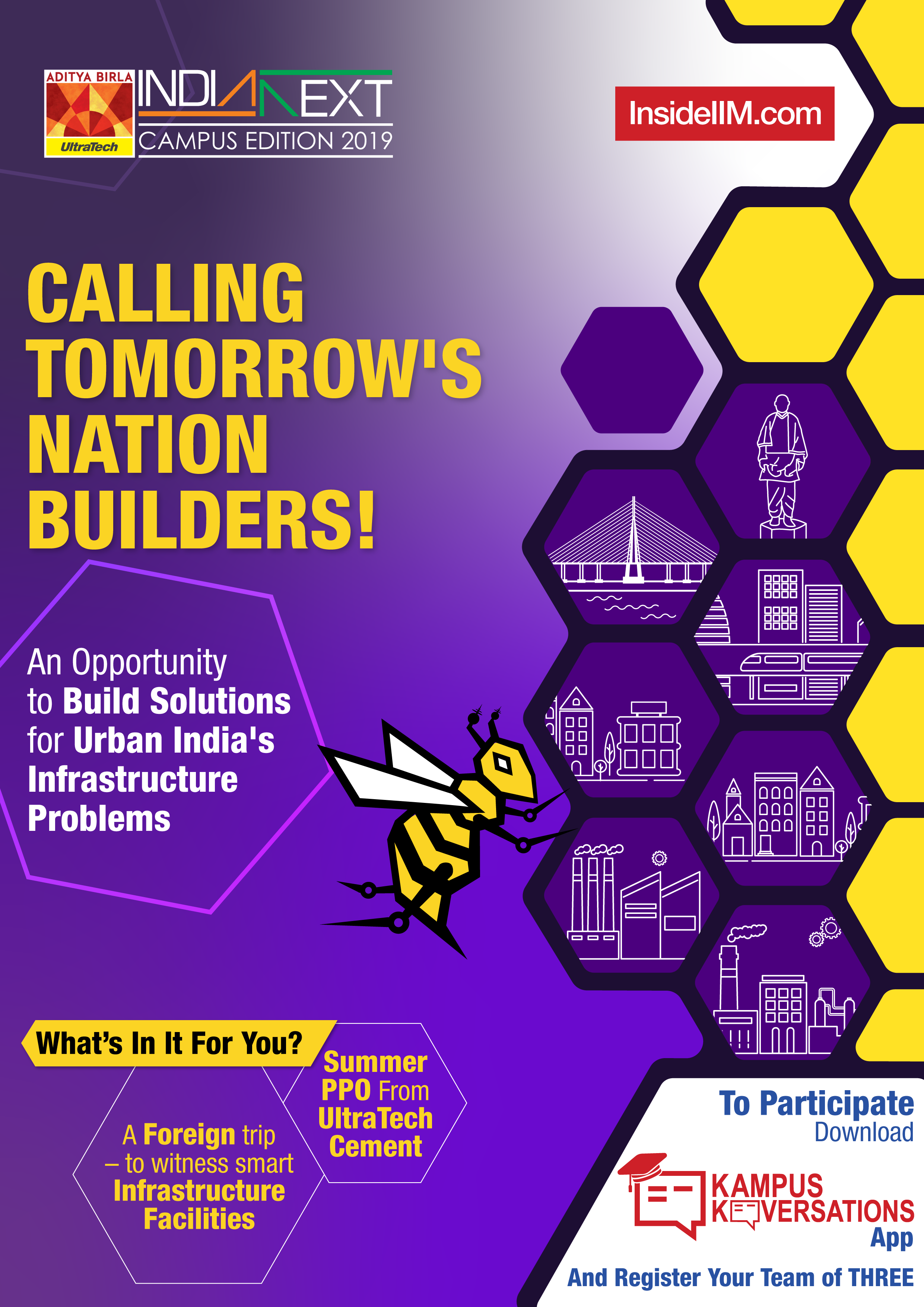 As India undergoes a major transformation, some of the following aspects will create a significant impact on India's economy and thus requires a focus on:
Urbanization
Affordable Housing
Open spaces, parks, sports facilities
Solid Waste Management
Public Transportation
Drinking-Water Supply
Digitization
Any other
What The Competition Is All About
Pick any city of your interest. Pick your hometown, the city you studied in, the city your B-school is in or just any city you know well enough.

Then pick an infrastructure challenge that the city is facing. It can be as per the transformations given above or anything keeping future transformation of India in mind.

You have to come up with an idea/solution that creates impact and is sustainable in terms of your current plan and future plan of action on that.

Once you pick the idea/challenge, come up with a solution.
Eligibility For The Competition
India Next Campus Edition 2019 is open to first-year students currently pursuing a two-year flagship PGP/MBA program in the following business schools:
IIM Vishakapatnam
XIM Bhubaneshwar
IIM Trichy
IMT Ghaziabad
JBIMS Mumbai
IIM Shillong
SCMHRD Pune
IIM Rohtak
IIM Kashipur
IIM Raipur
IIM Ranchi
NITIE Mumbai
IIM Nagpur
NMIMS Mumbai
Only students from the above-mentioned business schools are eligible to take part in the India Next Campus Edition 2019. Violation of the eligibility criteria will automatically disqualify a participant/team and bar him/her/them from moving ahead in the competition.
1. Round-1: Present in not more than 3 Slides/Pages (PPT/PDF), what is your idea and briefly its impact on society. You can use images/infographics/charts or anything that explains your idea the best.
2. Round-2: Shoot a video and prepare a pitch to generate funding from both Govt. /Community and Private organizations. The video can be shot on your mobile phones. One or more members from each team could present their ideas on video, explaining the merit of the same in the limited time frame. Participants would then have to upload their files on YouTube (unlisted) and share the link of the same on Kampus Konversations app.
Teams can also send in their round 2 entries in PPT/PDF in not more than 5 slides/pages explaining the following:
Why you selected the idea?
Business model options/ ideas for addressing shortlisted opportunities,
The extent of scale & profitability that can be driven along with the shortlisted opportunities
Promotion, Marketing, Awareness and Execution Strategy
Impact on Society
3. Round-3 (National Finals): A chance for teams to present their ideas in front of the industry stalwarts in Mumbai!
How many participants per team?
3 participants will be allowed per team across verticals (Marketing, Human Resources, Finance & Operations, etc.)
What's In It For You?
Present your idea to stalwarts of the Corporate/Govt. agencies.

A Summer's PPO from UltraTech Cement and a chance to work on India's iconic projects like Bullet Train.

An international trip to countries where you can witness some of the World's finest infrastructure facilities.
How Can You Take Part?
1. Download the Kampus Konversations App here: (Also, if you have already downloaded the app, we would ask you to update it to the latest version.)
2. Visit the competition section on the app.
3. Register yourself on the app (Registrations begin on 9th August 2019).
4. Once you register, click on the 'Dashboard' button and fill up your application details to complete your registration.