In 2020, a record number of women took over as CEO of a Fortune 500 company in the US. In the first quarter of 2021, a total of 40 women CEOs will be leading Fortune 500 companies, which is a 10% increase over the previous year. In fact, over the past twenty years, there has been a steady increase in the number of women CEOs, with significant acceleration 2017 onward. So, who are these women at the helm of America's largest companies in 2021? Below is a list of ten women CEOs at the 100 largest American companies.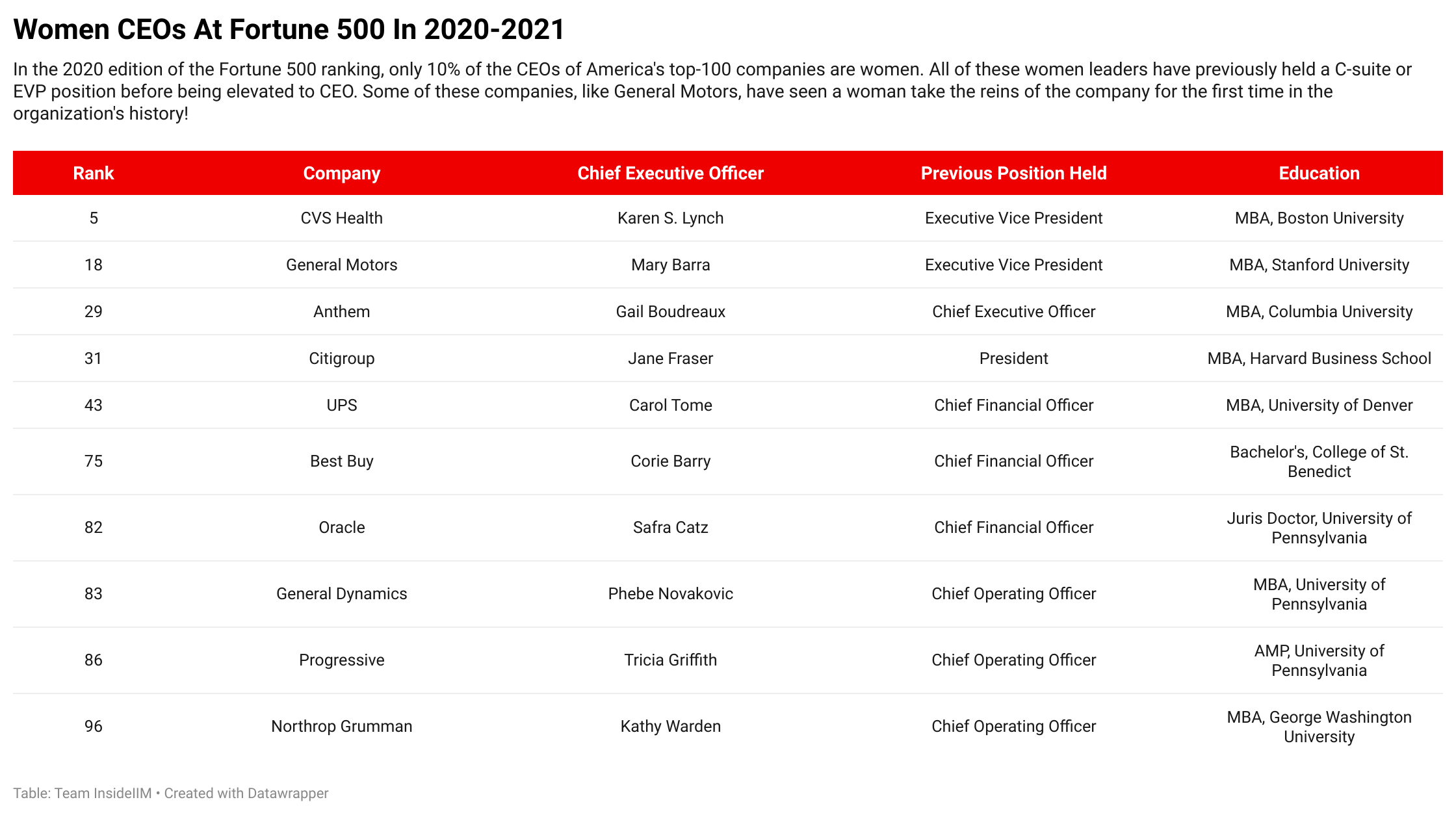 Interestingly, at least two of the ten women leaders listed here are the first women CEOs of their respective organizations. Citigroup's Jane Fraser, who took over from Michael Corbat, became the first female CEO of a top-tier investment bank in the US. General Motors' Mary Barra became the first female CEO in the company's history.
Despite such low representation of women at the CEO level, the general representation of women in corporate America is heading in the right direction, as per a report by McKinsey. Between January 2015 and January 2020, representation of women in SVP positions grew from 23% to 28%, and representation in the C-suite grew from 17% to 21%. However, women in America continue to face challenges that are collectively referred to as the "broken rung" problem: for the sixth year in a row, women continued to lose ground at the first step up to manager. For every 100 men promoted to manager, only 85 women were promoted, not because they don't ask for it but because they're disliked for it when they do.
---
Only One Woman CEO In Nifty50 Companies, Five Women CEOs In India's Fortune 100
While 10% of the CEOs of Fortune 50 companies in the United States are women, only one Indian company (HDFC Life Insurance) amongst the Nifty50 companies has a female CEO. In the Fortune India 50 rankings as well, only one organization (SAIL) has a female at the helm, as of 2020. In 2019, just 29 (6%) Indian Fortune 500 companies had women leaders with executive powers. So, who are these women at the helm of India's largest companies in 2021? Below is a list of five women CEOs at the 100 largest Indian companies.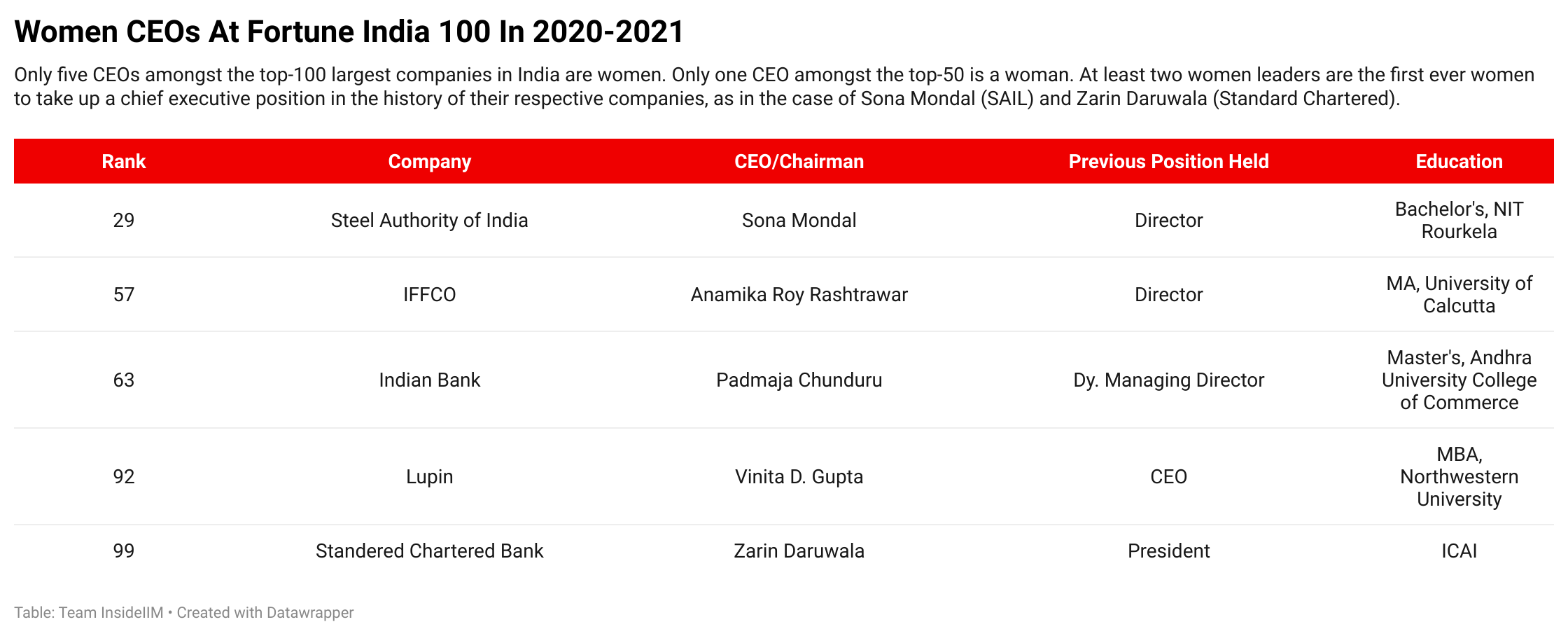 As per a report by Catalyst, only 3.7% of CEOs and Managing Directors of NSE-listed companies were women in 2019, a number that has increased just slightly from 3.2% in 2014. As per the same report, women account for only 13.8% of board directors from listed companies in India.
According to a 2020 study by 20-First, there are 175 executive team members in the top 20 companies in India. Of these, 94% (164) are men, and only 6% (11) are women, with 65% of these companies having no women on their executive teams at all. According to Avivah Wittenberg-Cox, CEO of 20-First, "Indian companies aren't yet putting gender balance on their strategic agendas, despite the mounting pile of research showing its bottom line benefits – to companies and to the country as a whole."
---
Companies With Women CEOs or CFOs Outperform Companies With Men At Similar Positions
So, what difference does it make if a woman leads a company at a C-suite position? Data suggests that it makes a lot of difference.
A study from S&P Global Market Intelligence found that public companies with women CEOs or CFOs often were more profitable and produced better stock price performance than many of the companies that had appointed men to those roles. Companies with women CFOs were also perceived as less risky bets by investors and were more profitable. A report by McKinsey also says that companies in the top quartile for gender diversity on executive teams were 25% more likely to have above-average profitability than companies in the fourth quartile.

According to a 2012 analysis by the Harvard Business Review, women scored at a statistically significantly higher level than men on the vast majority of leadership competencies. As per a 2020 report by McKinsey, companies with more than 30% women executives were more likely to outperform companies where this percentage ranged from 10% to 30%, and in turn these companies were more likely to outperform those with even fewer women executives, or none at all.
For further reading: Women Business Leaders Across The World: What Are The Global Statistics?
---
At InsideIIM, we believe that one day isn't enough to celebrate women which is why we present #SheInspiresMe Women's Month — an entire month dedicated to women! With Kounsel, a unique, 1-on-1 career mentorship program, we are taking up a simple initiative to let women from any corner of the world feel comfortable to speak about their career issues with successful women managers and mentors like you who can guide them in the right direction. For more details, click here!