At InsideIIM, we believe that one day isn't enough to celebrate women which is why we present #SheInspiresMe Women's Month — an entire month dedicated to women.
International Women's Day, every year on 8th March, is dedicated to honoring the achievements of women throughout history and all across the globe and to encourage more such pillars of change. We, at InsideIIM, are committed to bringing a common and inclusive learning platform for all.
With Kounsel, a unique, 1-on-1 career mentorship program, we are taking up a simple initiative to let women from any corner of the world feel comfortable to speak about their career issues with successful women managers and mentors like you who can guide them in the right direction.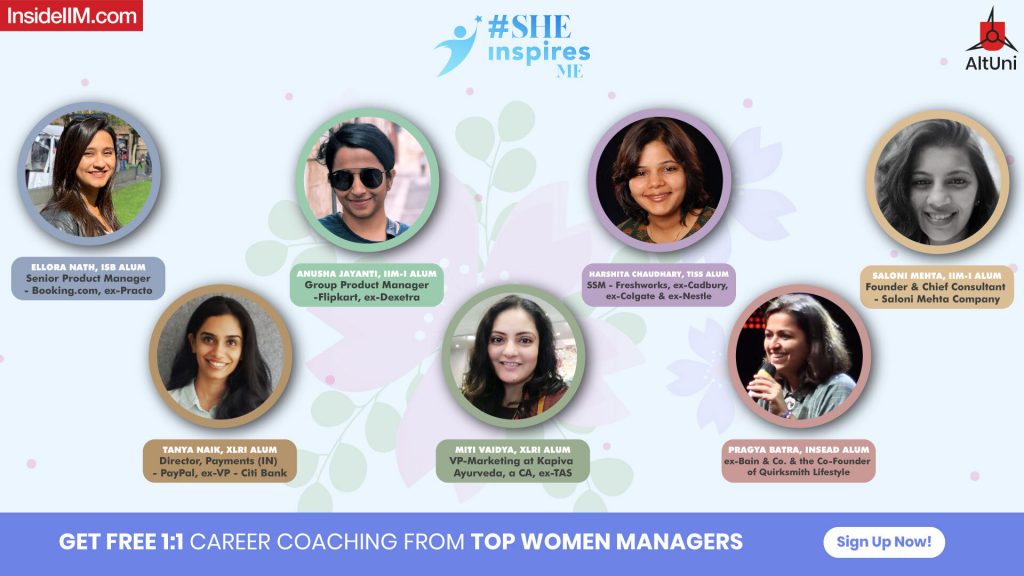 Why Should You Sign Up?
15-min personalised time with an industry expert
Get 1-on-1 career coaching and expert guidance
Learn from their experiences and real-life stories
Understand & learn to tackle the corporate world
Get your profile evaluated from an industry professional
Get #inspired & excel in your career with tips
What Can You Ask?
Why is your profile not getting shortlisted? How can you break into your desired domain? How can I secure my promotion for sure? Why is a career appealing to you? Will everything fall into place once you get an MBA degree? Or can I just go for a Certificate Program?
Maybe you have it all figured out...or maybe you don't!
We can help you answer these questions and explore the possibilities of your future.
Fill The Form Here For A Free Session
With A Women Mentor From A Top B-School!