IIFT 2021 Exam - Pattern - Syllabus - Eligibility Criteria
IIFT NTA Exam 2023: Check the latest Notification, exam dates, Registration, Eligibility, Fees, Score. Know everything about the counselling process and make informed decisions.
Last Updated: May 9, 2023
Register
and stay updated with
iift
preparation.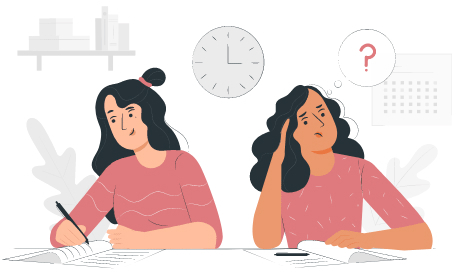 The IIFT MBA entrance exam is a national-level competitive aptitude test conducted by the Indian Institute of Foreign Trade. The IIFT exam is for aspirants who wish to get admission into IIFT's flagship programme, MBA in International Business (IB). The date for IIFT 2021 exam is 24th January 2021.
IIFT exam is a popular entrance exam and is conducted across various cities across India. The candidates who meet the cut-offs are eligible for admission into IIFT's Delhi or Kolkata campus.
Why IIFT Exam 2021?
The Indian Institute of Foreign Trade is considered to be a premier B-School of the country. It has been highly ranked in the MHRD-NIRF Rankings and is known for its 2-year flagship programme, MBA (IB).
IIFT is a direct gateway to gain admission into a premier management institute of India, where the faculty have decades of industry experience and peers belong to the cream of management students. Top organisations hire from IIFT, giving you an opportunity to work with some of the best companies in some of the best offices across the country and the world.
A mastery of international business also brings opportunities to work abroad, along with an escalation in the paycheck.
Who Can Give The IIFT Exam? (IIFT Eligibility Criteria)
Recognized Bachelor's degree of minimum 3 years' duration in any discipline.
Candidates appearing for a qualifying examination can also apply for IIFT exam, subject to submission of proof of requisite qualification by beginning of October of the year of start of the course.
No age limit.
Why Should I Join IIFT?
Just like wine, IIFT gets better with age. Brand IIFT has slowly but surely evolved over half a century to carve a niche for itself as a luminary in the field of International Business. While students are put through an incredible amount of rigour, they are shaped and molded to be the leaders of tomorrow as well as outstanding individuals.
What Is The IIFT Exam Pattern/Syllabus?
The IIFT paper pattern is as follows:
The exam is for a duration of 2 hours and consists of 6 sections.
The 6 sections include - Data Interpretation, Logical Reasoning, Verbal Ability, Reading Comprehension, General Awareness, Quantitative Aptitude.
There is a system of negative marking, which varies from section to section. The marks per correct response also vary from section to section.
Candidates can move between sections as per their discretion.
Which Institutes Will Consider IIFT Scores?
IIFT score is considered by approximately 7-8 B-Schools in India. IIFT New Delhi and IIFT Kolkata are the premier institutes which consider the IIFT score for shortlisting and final selection.
How Many People Give IIFT?
45,000 to 50,000 aspirants appear for the IIFT exam conducted annually.
IIFT FAQs
How difficult is IIFT as compared to CAT and XAT?
IIFT is considered to be easier than CAT and XAT, but this is not entirely true. IIFT follows a pattern similar to that of XAT, but the questions need to be solved in a shorter duration of time. This calls for greater accuracy and more speed while answering questions. Therefore, a comparison with other competitive MBA exams is a futile exercise.
How do I prepare for General Awareness Section of IIFT?
For the GK Section of IIFT, an aspirant can focus on daily current affairs in newspapers, as well as surfing the internet for opinion pieces on current affairs. Books such as Manorama are used by UPSC aspirants to prepare for GK, and this can be used for IIFT.
An aspirant should focus on global and domestic trade practices as well, as this topic frequently appears in the IIFT General Awareness section.
Is a calculator allowed in IIFT exam?
No. A candidate cannot take his/her calculator or any other device in the examination hall.
Do I have to solve the paper in a specific order?
No. A candidate need not follow a specific order for answering questions. However, it is recommended that you prepare a strategy and allocate an appropriate amount of time to each section in a balanced way. For instance, the GK section is likely to take the least amount of time, while the Reading Comprehension section may be time-consuming.
Does the belief of "not answering DI questions to score well" have any substance in the IIFT exams?
Not in the least. Although the DI section may be very time consuming, the DI sets in IIFT 2017 were doable. Therefore, those who followed the mentioned strategy may have lost out on easy marks. It is recommended that you devote a balanced and appropriate amount of time to each section of the exam and attempt as many questions correctly as possible.
Testimonials
Shubham Jha
Hello Inside IIM team! All thanks to your blogs, videos related to CAT and XAT, which helped me a lot. Especially scoring around 80 percentile in VARC in CAT (although overall being 99+), I wasn't happy that much about my VARC scores. And then this 1 month gap, i followed your blogs which constantly motivated me throughout this journey. And thus led to this! Thanks a lot ❤️. And thus led to 99 percentile around in VARC with overall of 99.3. Thanks a lot to inside IIM team.
Kanthan Narayanan
Hi team! Kanthan this side. I have seen a lot of your youtube videos when I was preparing for CAT and some of them have really motivated me in my prep journey. I have gotten a decent score of 99.45 percentile (99.66/98.5/94) in CAT 21 and believe some of the credits should go to you guys. Thanks a lot! If you need any help from my side, please feel free to ping me up.
Shorya Singhal
Now, some of the comments would look like Insideiim bik gya But guys if we see the positive side, Out of 2.5 lac only around 40-50k student get into top 50 b school so what about others, they also have a right to join a decent b school, so this series of insideiim help them a lot Thank you insideiim
Anonymous
If we look back at the time when the websites were only limited to CAT Percentile cutoff, intake capacity, fees, and placement reports of the top Bschool, InsideIIM has lived up to its name. This is the first website to talk about what goes inside a Bschool. This platform has given us a lot of insights around types of careers, placement processes, and also beyond Bschool. Also, InsideIIM reinforces the person's purpose of 'Why MBA?'. Also, it prepares us beforehand for the beginning of Bschool.