All about NMAT 2022: Exam Date, Registration Process, Exam Pattern, Syllabus, Colleges
NMAT exam 2022 will be conducted from 10th October 2022 to 19th December 2022. Candidates can schedule a test date according to their convenience during this 70-day window. NMAT registrations' last date is 10th October 2022, starting from 1st August 2022.
Last Updated: Aug 17, 2022
Register
and stay updated with
nmat
preparation.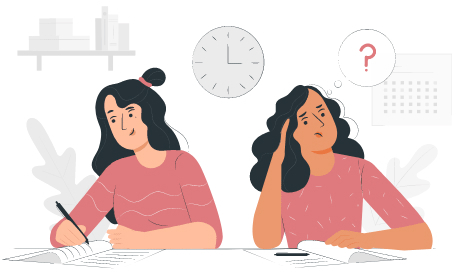 NMAT is one of the top MBA entrance exams of the country, the scores of which are accepted by some major MBA colleges in India and abroad. The NMAT is conducted as an entrance exam to grant admissions to management programmes of the various known institutes across the country like NMIMS, SPJIMR, TAPMI, K J Somaiya and more. It is a national level test conducted by the Graduate Management Admission Council (GMAC).
The 2-hour examination is an online exam, held once a year in a long testing window of 75 days. A candidate can make 3 attempts at taking the exam within the 75-day exam period. The exam does not have negative markings.
Key Points to Remember :
The two-hour computer-based test is conducted in a 75-day long window commencing from October 10 to December 19 for the year 2022.
The total number of attempts allowed for the NMAT is three. This includes no-shows.
NMAT account needs to be created on mba.com/nmat. The official website for NMAT is also mba.com/nmat.
Please note that exam slots are on first-come-first-served basis only. The earlier you register, the better. The exam will be available at 76 Exam Centres in 73 Cities. Exam slots in Online Proctored Exam at Home will be available on certain dates with limited capacity within the testing period.
What is NMAT?
NMAT full form is NMIMS Management Aptitude Test. It was initially conducted by NMIMS but now has been taken over by GMAC. NMAT by GMAC is a national-level entrance exam conducted for admission in some top MBA colleges including NMIMS Mumbai, XIM Bhubhaneshwar, KJ Somaiya, TAPMI Manipal and other campuses of SVKM's NMIMS University.
Basically an aptitude test, NMAT scores are used for screening candidates before they go for further rounds in the admission process. Each college has a separate cutoff and separate process for further rounds.
Being conducted by GMAC, the format of the NMAT 2022 exam is adaptive, that is, the difficulty level goes up with each right answer. The score is expected to be released 48 hours after the exam. The test can be taken either in test centres across 73 cities or at home in online proctored mode in NMAT exam window from 10th October to 19th December 2022.
NMAT 2022 Highlights
Particulars
Details
Name of Exam

NMAT 2022 | NMAT by GMAC

Conducting Body

Graduate Management Admission Council(GMAC)

NMAT Official Website

nmat.org

Frequency of NMAT Exam

75 day test window (maximum 3 attempts allowed)

NMAT Application Fees

Rs. 2800 + applicable taxes

Exam duration

120 minutes

Number of Questions

108 questions

Exam Mode

Online in test centres OR online at home proctored

Number of Sections

3 Sections:

Language Skills

Quantitative Skills

Logical Reasoning

Test Cities

73

Course offered

MBA/PGDM

Admission

NMIMS(all campuses), KJ Somaiya, XIM Bhubhaneshwar, TAPMI Manipal, etc.

Language

English

NMAT Helpdesk

0120 4397855
Important Dates
| | |
| --- | --- |
| Events | Dates |
| NMAT 2022 Registration Window | 1st August to 10th October 2022 |
| NMAT Exam Scheduling Dates | 1st August to 13th October 2022 |
| NMAT 2022 Rescheduling | 1st August to 16th December 2022 |
| NMAT 2022 Exam Dates | 10th October to 19th December 2022 |
| Registration for Retake of NMAT 2022 | 11th October to 16th December 2022 |
| NMAT Retake Exam Scheduling | 11th October to 16th December 2022 |
| NMAT Scores Release | 48 hours After Taking the Test |
| NMAT Final scorecard | To Be Announced |
NMAT 2022 Eligibility
No upper age limit criteria

Candidates with 2-3 years of experience would be favoured throughout the selection process, however, freshers are also eligible to apply

Candidates must hold a graduation degree with a minimum of 50% marks. Students in the final year of graduation are also eligible to apply
NMAT 2022 Exam Pattern
NMAT by GMAC has 3 sections- Quantitative Skills, Logical Reasoning and Language Skills.
The sections have individual time limits and each section has to be solved within the allotted time for that particular section.
The test would be in a computer adaptive mode, which basically means that the difficulty level would be adjusted basis the attempts of the candidate.
There is no negative marking in NMAT.
| | | | |
| --- | --- | --- | --- |
| Sections | Total Questions | Sectional Time Limit | Range of Marks |
| Quantitative Skills | 36 | 52 | 12-120 |
| Logical Reasoning | 36 | 40 | 12-120 |
| Language Skills | 36 | 28 | 12-120 |
| Total | 108 | 120 | 36-360 |
NMAT 2022 Syllabus
The syllabus for NMAT 2022 by GMAC is as follows:
Language skills would include:
Reading Comprehension

Paragraph formation

Error identification

Analogies

Prepositions

Sentence completion

Parts of Speech

Synonyms

Antonyms

Idioms

Phrasal Verbs

Tenses

Odd One Out
Logical reasoning in NMAT would include:
Critical reasoning

Puzzles

Linear and circular arrangements

Blood Relations

Matrix

Syllogism

Coding- Decoding

Statement- Inference based

Decision Making

Statement and Assumption etc.
Syllabus for quantitative skills in NMAT would be:
Numbers

Arithmetic

Algebra

Probability

DI Caselets and Tables

DI Graphs and Charts

Data Sufficiency

Geometry

Mensuration
The above is not an exhaustive list and other questions around general aptitude can appear in the exam. The questions asked are generally of an easy to moderate difficulty level.
NMAT 2022 Registration Process
Visit the NMAT Official Website: nmat.org

Click on 'Register Now' under quick links.

Register filling the data asked, like name, a valid email id, and phone number, and pick a password. Subsequent to submitting the details, you will get an email with respect to the login details.

Sign in to get to the NMAT by GMAC 2022 Registration form and complete the application structure with the right details.

Pick the NMAT affiliated college names you wish to apply for under the "Schools Preference" segment. You can decide up to 5 programs or schools. You can pay an extra fee for adding more schools.

Upload the checked photo and digital signature. The size shouldn't surpass 1 MB.

Click on "Submit", and a unique NMAT Exam Registration Number will be shown.

Pay the NMAT Fee to finish the process.
Once the payment is done, your schedule exam option will be activated in your dashboard, so that you can schedule your exam. Any other slot can be booked after a gap of 24 hours from the time of booking.
NMAT Exam Scheduling
GMAC conducts NMAT inside a predefined window. Subsequent to presenting the application form, applicants can schedule the test date and time. Utilizing the test booking window, candidates need to indicate a date and test city to appear for the NMAT exam. Only the aspirants who schedule plan the NMAT test will be permitted to take the test. The test scheduling is accessible on the NMAT login dashboard.
NMAT Application Fees
Below is the application fee for the various components of registration and rescheduling. The fee remains the same for candidates across all categories.
| | |
| --- | --- |
| Particulars | NMAT Fee |
| General/EWS/NC-OBC candidate | INR 2300 |
| NMAT Fees (with late fine) | INR 2800 |
| NMAT Rescheduling Fees | INR 1200 |
NMAT 2022 Admission Process
The second phase of the NMAT admission cycle is the Group Discussion and Personal Interview (GD and PI) round which is organized by the partaking institutes. Each institute might have their individual selection criteria for final admissions.
Once the NMAT scores are out, candidates would receive calls from the different B-schools based on their individual cutoff scores. Most institutes including NMIMS Mumbai and other campuses of NMIMS have an overall cutoff and an individual sectional cutoff.
Once shortlisted, the candidates would go through the second stage of the admission process. Each college can choose their own components for this stage. While Personal Interview is common in most, individual colleges can take a call whether they want to include Group Discussion(GD), Extempore and/or Written Ability Test to assess the candidates' written and spoken ability and personality.
How to Prepare for NMAT Exam
The first step to ace any aptitude test would be conceptual clarity. Go through certain books or YouTube channels to gain clarity on the concepts and then solve practice questions to solidify those concepts.
Another important aspect to ace the exam would be taking mock tests. Taking mock tests has multiple benefits. Apart from the much needed practice, it also helps you get used to the exam interface so that you don't waste any time navigating the exam pattern during the actual exam. Taking mock tests also helps you set targets and analyse your strength and weakness areas, on which you should work to maximise your score.
You should definitely check out our Youtube channel Testprep by InsideIIM for exam tips from toppers of various MBA entrance exams.
NMAT Previous Year Paper Analysis
The difficulty level of NMAT exam papers in the previous year was not high. The paper was easy to moderate, however, the length of the question paper could have been a challenge. The NMAT 2021 question paper had three segments Language Skills, Quantitative Skills and Logical Reasoning.
Each segment had 36 questions making it a total of 108 to be tackled in the limited time of 120 minutes. NMAT was held in two testing modes - Computer-based tests at test centres and Online Proctored Exam from Home.
Candidates can choose from either of the modes as they like, taking the exam at the nearest NMAT exam centre or at home in the online proctored mode.
NMAT Cutoff
The cutoffs for the top colleges accepting NMAT scores are in the below table. These are just for reference and the cutoff for NMAT 2022 would be based on the difficulty level as well as overall competition for the exam.
| | |
| --- | --- |
| Colleges That Accept NMAT | NMAT Cut-Off Score |
| NMIMS, Mumbai | 235+ NMAT Score |
| NMIMS, Bangalore | 220+ NMAT Score |
| NMIMS, Hyderabad | 220+ NMAT Score |
| ISB, Hyderabad | 140+ NMAT Score |
| XIM, Bhubaneswar | 90+ NMAT Percentile |
| SDA Bocconi Asia Centre, Mumbai | 200+ NMAT Score |
| SRM University | 180+ NMAT Score |
NMAT 2022 Exam Centers
NMAT 2022 will be held across 73 cities in India. Candidates will have a choice whether to appear from these exam centers or from home in an online proctored mode. Below is a list of all the cities which would have an NMAT test center.
| | |
| --- | --- |
| Zone | Cities |
| South | Bengaluru, Chennai, Kochi, Coimbatore, Manipal, Madurai, Mangalore, Mysore, Vijayawada, Tiruchirapalli, Thiruvananthapuram, Vizag |
| North | Agra, Alwar, Amritsar, Allahabad, Bikaner, Bareilly, Chandigarh, Dehradun, Delhi, Faridabad, Gurugram, Noida, Jammu, Kanpur, Lucknow, Noida, Patiala, Varanasi, Ludhiana, Panipat, Jhansi, Gorakhpur, Ghaziabad |
| West | Ajmer, Aurangabad, Rajkot, Ahmedabad, Jaipur, Jodhpur, Kota, Mumbai, Nagpur, Nasik, Pune, Pilani, Surat, Vadodara, Jalgaon, Kolhapur |
| Central | Bhilai, Gwalior, Ujjain, Bilaspur, Bhopal, Indore, Jabalpur, Raipur |
| East | Bhubaneswar, Durgapur, Dhanbad, Guwahati, Jamshedpur, Kolkata, Patna, Ranchi, Shillong, Rourkela, Siliguri |
Colleges Accepting NMAT score
The top colleges accepting NMAT scores are:
NMIMS Mumbai

KJ Somaiya, Mumbai

TAPMI Manipal

XIM University, Bhubaneswar

NMIMS Bangalore
Other lower-tier colleges which also accept the NMAT scores are:
NMIMS Hyderabad

NMIMS Navi Mumbai

SDA Bocconi Asia Center

ICFAI Business School

SOIL Institute of Management
FAQs
Q. What is the full form of NMAT?
Ans: The full form of NMAT is NMIMS Management Aptitude Test as it was conducted initially by NMIMS before GMAC took over.
Q. Is there any age limit for NMAT?
Ans: No. There is no age limit to appear for NMAT. Anyone with a graduation degree with 50% marks minimum can apply.
Q. What is NMAT 2022 registration last date?
Ans: NMAT 2022 registration last date is on 10th October 2022.
Q. How many times can we give the NMAT exam?
Ans: You can appear for NMAT 2022 for a maximum of 3 times. You need to pay separately for each attempt.
Q. Is NMAT exam tough?
Ans: The difficulty level of NMAT can be considered moderate and easier than exams like CAT and XAT. However it would also depend upon individual's aptitude and preparedness.
Q. How many questions are there in NMAT 2022?
Ans: There would be 108 questions to be solved in 120 minutes in NMAT 2022.
Q. How to reschedule NMAT 2022 exam?
Ans: The exam can be rescheduled 72 hours prior to the scheduled time. However the new, date and time can be fixed subject to availability of slots. The extra fee needs to be paid through credit card.
Q. Can the answers be reviewed in NMAT exam?
Ans: Yes, the answers can be reviewed in NMAT exam in the sectional time limit given for each section.
Q. Is coaching necessary for NMAT?
Ans: Coaching is not necessary for NMAT. However, if you think you need guidance, taking coaching is always an option.
Q. What is NMAT cutoff for NMIMS Mumbai?
Ans: The NMAT 2021 cutoff for NMIMS Mumbai was 235. However it changes every year on the basis of difficulty level and competition for that particular year.
Q. How is NMAT different from other MBA entrance exams?
Ans: NMAT is an adaptive computerized exam and can be scheduled according to the candidate's preference and convenience. Also the difficulty level is easier than exams like CAT and XAT and it is more of a speed based exam which can be mastered with good practice.
Testimonials
Shubham Jha
Hello Inside IIM team! All thanks to your blogs, videos related to CAT and XAT, which helped me a lot. Especially scoring around 80 percentile in VARC in CAT (although overall being 99+), I wasn't happy that much about my VARC scores. And then this 1 month gap, i followed your blogs which constantly motivated me throughout this journey. And thus led to this! Thanks a lot ❤️. And thus led to 99 percentile around in VARC with overall of 99.3. Thanks a lot to inside IIM team.
Kanthan Narayanan
Hi team! Kanthan this side. I have seen a lot of your youtube videos when I was preparing for CAT and some of them have really motivated me in my prep journey. I have gotten a decent score of 99.45 percentile (99.66/98.5/94) in CAT 21 and believe some of the credits should go to you guys. Thanks a lot! If you need any help from my side, please feel free to ping me up.
Shorya Singhal
Now, some of the comments would look like Insideiim bik gya But guys if we see the positive side, Out of 2.5 lac only around 40-50k student get into top 50 b school so what about others, they also have a right to join a decent b school, so this series of insideiim help them a lot Thank you insideiim
Anonymous
If we look back at the time when the websites were only limited to CAT Percentile cutoff, intake capacity, fees, and placement reports of the top Bschool, InsideIIM has lived up to its name. This is the first website to talk about what goes inside a Bschool. This platform has given us a lot of insights around types of careers, placement processes, and also beyond Bschool. Also, InsideIIM reinforces the person's purpose of 'Why MBA?'. Also, it prepares us beforehand for the beginning of Bschool.