SNAP
Get ready for SNAP 2023! Know the exam date, registration process, pattern, syllabus, and eligibility criteria to prepare effectively.
Last Updated: Jul 28, 2023
Register
and stay updated with
snap
preparation.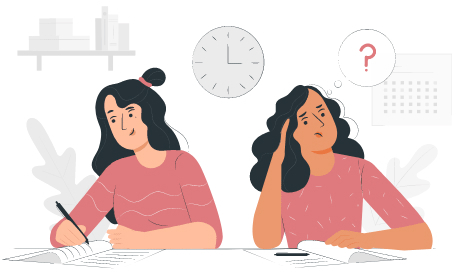 The SNAP 2023 (Symbiosis National Aptitude Test) is one of the online competitive MBA entrance exams in India, which is conducted by Symbiosis International University. The exam will be conducted on 3 different days and a candidate can appear for the SNAP exam, a max. of 2 times, on any 2 of the 3 given dates of his/her choice.
The dates for the SNAP exam are the 2nd, 3rd, and 4th week of December 2023. The exam will be conducted in 94 cities in PAN India, and the result for the same will be announced in the 2nd week of January 2024.
A candidate who is applying to SNAP 2023, is eligible to apply to 26 programmes among 15 institutes that are part of Symbiosis International University.
Important Dates
Particular
Date
Registration Commences on

1st Week of August 2023

Registration Closes on

4th Week of November 2023

Payment Closes on

4th Week of November 2023

Admit Card Live on
December 05, 2023 (Monday) for SNAP Test 01,
December 10, 2023 (Saturday) for SNAP Test 02 and
December 15, 2023 (Friday) for SNAP Test 03
SNAP Online Test 2023
SNAP Test 01 - 2nd Week of December
SNAP Test 02 - 3rd Week of December


SNAP Test 03 - 4th Week of December

Announcement of Result

2nd Week of January 2024
SNAP 2024 Exam Highlights
Particulars
Details
Name of Exam

Symbiosis National Aptitude Test

(SNAP)

SNAP Conducting Body

Symbiosis International University (SIU), Pune

SNAP Official Website
http://www.snaptest.org/
Frequency of SNAP exam
Once every year
SNAP Application Process
Online
SNAP Application Fees
Rs. 1950/-
Minimum Marks Eligibility
50% and 45% in Graduation for GN & Reserved category respectively
Duration of SNAP Exam
60 minutes

SNAP Exam Syllabus & Test Pattern

3 sections in MCQ format:

General English
Analytical and Logical Reasoning
Quantitative-Data Interpretation & Data Sufficiency

Number of Questions
60 approximately
Medium of Exam
English (Exam is conducted in CBT mode)
Admission
15 Symbiosis MBA colleges
Courses Offered
MBA
SNAP Helpdesk
18001231454
Who Can Give SNAP 2019? | SNAP Eligibility Criteria 2019
Graduate from any recognized / statutory University with a minimum of 50% marks (45% for SC/ST). Programmes which require specific discipline/ subject specialisation need to be checked for eligibility as given by the respective Institute.
Final year students can also apply.
A candidate who has completed a qualifying degree from any Foreign University must obtain an equivalence certificate from the Association of Indian Universities (AIU). All foreign degrees/ qualifications need to be verified from AIU by the candidate before seeking admission to any programme of SIU.
What Is The SNAP 2019 Exam Pattern|Syllabus?
The SNAP exam/paper pattern is as follows -
The test consists of 3 sections, namely -
a) Analytical and Logical Reasoning,
b) Quantitative Ability and Data Interpretation,
c) Reading Comprehension, Verbal Ability & Reasoning
There are a total of 60 Multiple Choice Questions , which must be answered in a duration of 60 minutes. Each correct answer fetches 1 mark whereas every incorrect response deducts 1/4th of a mark (0.25).
Which Institutes Consider The SNAP Exam Scores?
Apart form other management institutes, a total of 16 management institutes under Symbiosis International University accepts SNAP 2020 score namely SIBM Pune, SIBM Bengaluru, SCMHRD, SIMS, SICSR, SIOM etc.
When Is The Next SNAP Exam?
The SNAP 2020 exam will be conducted on 3 different days - 20th December 2020, 6th January 2021 and 9th January 2021. A candidate can appear for the exam a max. of 2 times on any 2 of the 3 given dates.
The registration fee for SNAP exam 2020 is Rs. 1750/- per test. A candidate can either pay the exam fee online or via demand draft.
How Many People Appear For SNAP?
Approximately 60,000-70,000 aspirants take the SNAP test. (Unverified)
SNAP Exam FAQs
What is the SNAP difficulty as compared to other competitive MBA exams? SNAP is considered to be a relatively tough MBA exam but is considered to be easier than exams such as IIFT, CAT, and XAT. However, SNAP is a test of speed and accuracy, as a candidate has only 120 minutes to attempt a large number of questions. Therefore, SNAP is difficult in its own way.
Are calculators allowed in SNAP? Unless specified otherwise by Symbiosis, SNAP does not allow a candidate to use a physical or on-screen calculator. Only CAT allows for such a provision.
Testimonials
Shubham Jha
Hello Inside IIM team! All thanks to your blogs, videos related to CAT and XAT, which helped me a lot. Especially scoring around 80 percentile in VARC in CAT (although overall being 99+), I wasn't happy that much about my VARC scores. And then this 1 month gap, i followed your blogs which constantly motivated me throughout this journey. And thus led to this! Thanks a lot ❤️. And thus led to 99 percentile around in VARC with overall of 99.3. Thanks a lot to inside IIM team.
Kanthan Narayanan
Hi team! Kanthan this side. I have seen a lot of your youtube videos when I was preparing for CAT and some of them have really motivated me in my prep journey. I have gotten a decent score of 99.45 percentile (99.66/98.5/94) in CAT 21 and believe some of the credits should go to you guys. Thanks a lot! If you need any help from my side, please feel free to ping me up.
Shorya Singhal
Now, some of the comments would look like Insideiim bik gya But guys if we see the positive side, Out of 2.5 lac only around 40-50k student get into top 50 b school so what about others, they also have a right to join a decent b school, so this series of insideiim help them a lot Thank you insideiim
Anonymous
If we look back at the time when the websites were only limited to CAT Percentile cutoff, intake capacity, fees, and placement reports of the top Bschool, InsideIIM has lived up to its name. This is the first website to talk about what goes inside a Bschool. This platform has given us a lot of insights around types of careers, placement processes, and also beyond Bschool. Also, InsideIIM reinforces the person's purpose of 'Why MBA?'. Also, it prepares us beforehand for the beginning of Bschool.