CAT is just a couple of weeks away and you will soon be facing one of the country's most competitive b-school exams. You must be sleeping and waking up with anxiety every day. And the stress seems to be two-fold for people who are appearing it for the first time. But instead of letting the anxiety and nervousness eat you up, a channel that energy to good use - like strategizing, compartmentalising, proactive thinking, time management, etc. There are many ways to handle your stress. You just need to pick up your pace and prepare for the last end of the battle. If you are a CAT first-timer looking for ways to keep calm and stay focused during the final of CAT prep, then look no further! This article brings you 6 different stress-free ways that will help you find success in CAT on the first attempt. Keep reading to know more…
Here are 6 ways which will teach you how to reduce stress and remain focused on the CAT exam
First and foremost, you need to understand one thing. CAT is one of the "toughest" exams only if you make it that way. CAT is not rocket science. CAT is based on concepts and fundamentals that you have already studied back in school. You are finding it a tad difficult because college, work and life happened between you and school. You just need to retouch your old concepts and train your logical thinking, reasoning and analytical skills to "Bell The Cat". While you are doing this, try to be confident and have positive vibes around you. Speak to experts, alums, MBA students and fellow aspirants about their experience of writing, and attempting CAT. Try not to stay cooped-up near your study table 24x7. Try to go out, every once in a while. This will help you relieve some stress/fear of writing CAT, and make it much more achievable.
"Beginner's Mind" is an English translation of a word often used in Zen Buddhism called Shoshin. It is a practice where people are expected to have an attitude of openness and eagerness. There has to be a total absence of preconceptions when studying a subject, even when studying at an advanced level, just as a beginner would. As a CAT first-timer, with or without an engineering background, there will be a lot of new concepts or old ones (with new twists and turns) thrown at you. Instead of getting caught up in stuff like, "I have maths phobia", "My English is not that good", or "I am terrible at logical reasoning" and "I think I will tank my CAT", take a minute. Erase all those preconceptions and try to approach your studies, prep and mocks with a beginner's mind. The practice of Shoshin will not only make your mind open to new concepts but also stimulate your mind and help you absorb positivity around you.
Make Time Your New Best Friend:
In order to finish your syllabus at the time and have enough revision before the actual exam, you have to learn the art of time management. CAT syllabus includes the following:
Divided your prep time into 3 slots:
SWEET TIME
When you are 6 months away from the actual exam.

Study the basics of each topic and then go for their higher difficulty levels.

Work on your vocabulary and reasoning abilities.

Make sure you finish your syllabus months before and spend this time for revision, and solving CAT papers and taking mock CAT exams.
PEAK TIME
When you are 3 months away from the actual exam.

Disciplined routine along with self-study.

Know your best and worst areas by taking chapter-wise tests.

Solve one reading comprehension daily and analyze where you went wrong.
HUSTLE TIME
When you are 1 month away from the actual exam.

Take this time for self-analysis before taking the last few sprints of sample tests.

Focus on your weak areas, but also spend time in revisioning your strong areas in the last few weeks.
DIY Your Prep:
Pick a concept → Pick a time → Make a study schedule → Give sectional tests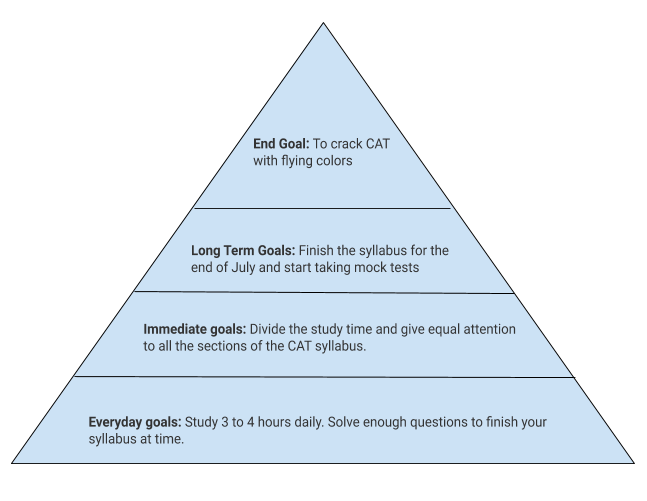 Too Many Cooks Spoil The Broth
The old idiom holds true for CAT 2019 preparation. There are 'n' number of books on CAT that are available in the market, which claim to be the ultimate guide. But, if you go on preparing books which take different approaches to different concepts, you can create a huge space for confusion, especially for MBA aspirants newbies. CAT toppers, therefore, suggest that one should refer only two or three good books for each subject or topic for CAT exam preparation. These reference books should give you all the necessary knowledge about the topic in question.
With only a few weeks left for the D-day, there will be a surge in your feelings and might be constantly thinking if you can pull it off or not. Don't worry too much, practice as much as you can, keep doing your mocks and analyse them. Believe in yourself, you can do it. All the best!