In India, 85% of working women claim to have missed out on a promotion or hike because of their gender.

Our society, deeply ingrained in patriarchy, already makes it difficult for women to reach positions of leadership, and even when they do, they find themselves struggling for acceptance.

Working women are more often than not pulled in multiple directions - fulfilling responsibilities of being a wife, mother, and an executive.

These women battle all odds to establish themselves as professionals capable of leadership.
Their stories are incredible and their journeys, inspirational.
This International Women's Day, don't just wish the women.
Accept women in the professional space.
Acknowledge their leadership.
Appreciate their skillset.
Take Your Career To The Next Level. Ask Our Experts Anything. We Will Respond Within 48 Hours.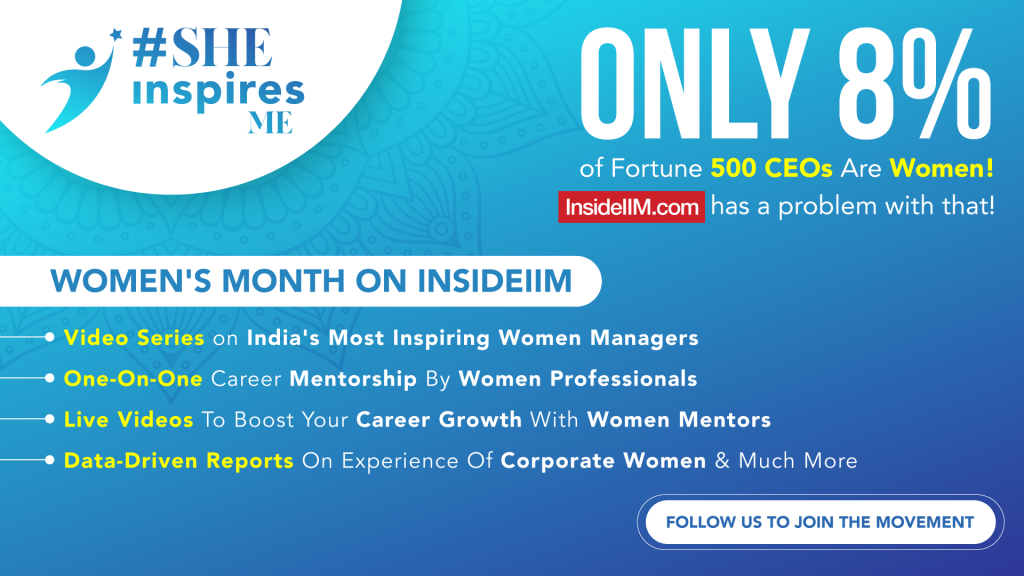 To equip women with the knowledge, information, and skills they may need to take their career to the next level, InsideIIM is happy to offer the following services as part of our Women's Month initiative.
We at InsideIIM are committed to gender parity, and therefore, we have set ourselves as an organization an 18 month roadmap to achieve a rare milestone in corporate India: 50 percent of our team at InsideIIM will constitute women by October 2022!
"By making this commitment, we wish to further strengthen our history of women managers occupying key positions across all departments in our organization!" - Ankit Doshi, Founder and CEO at InsideIIM.com.
We encourage women professionals to apply for positions currently open at InsideIIM! Send in your resumes to careers@insideiim.com and apply today!