Dream Companies – Final Part – InsideIIM Recruitment Survey 2014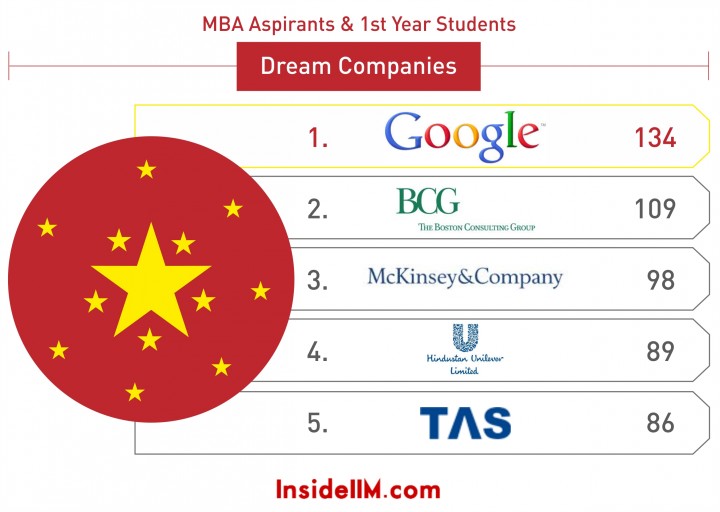 The final part of our Survey focuses on Dream Companies. This is always one of the most awaited sections of our report, because these are companies that each one of us aspires to or has aspired to work for at some point in their careers. Their appeal transcends the barriers of domains and silos that dominate MBA students' thinking. Many a student who would have spent months building up a profile in finance, crafting a totally finance oriented resume would happily change their resume at a night's notice to apply to a dream company in general management. For many, even getting a shortlist / an interview call from one of these companies is a big achievement. People agonize over crafting the perfect resume to get a shortlist from these firms. People treat the interviews as make or break moments for their career. A final selection into one of these companies is accompanied by a feeling of great elation, and a sense of satisfaction, or "I've cracked it", and contrastingly, failure is accompanied by a sense of extreme dejection.
There are many genuine reasons for this. Dream companies have consistently maintained their top ratings at B school campuses over the years. Their top performance cannot be attributed to chance. It appears that they know the pulse of the B school crowd.  It is interesting to note how the Dream Companies among campus students continue to mantain their status as dream companies for post campus students.
Methodology
Open ended question – Tell us your 5 Dream companies
A simple aggregate of responses was done.
Dream Companies
Class of 2015
Top 5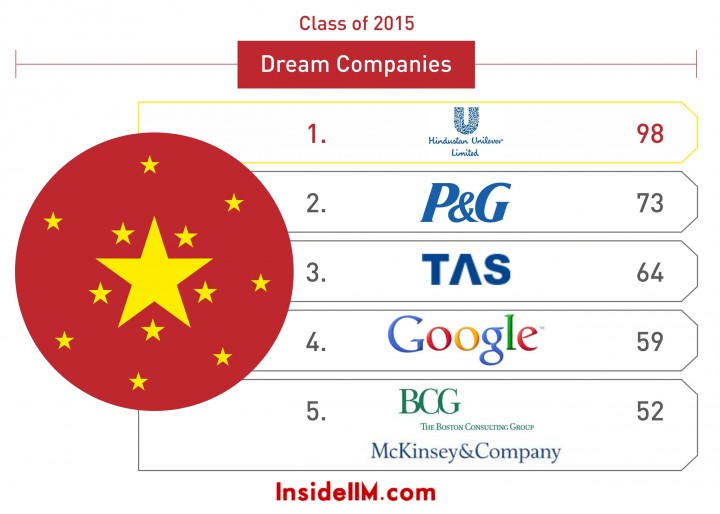 Top 10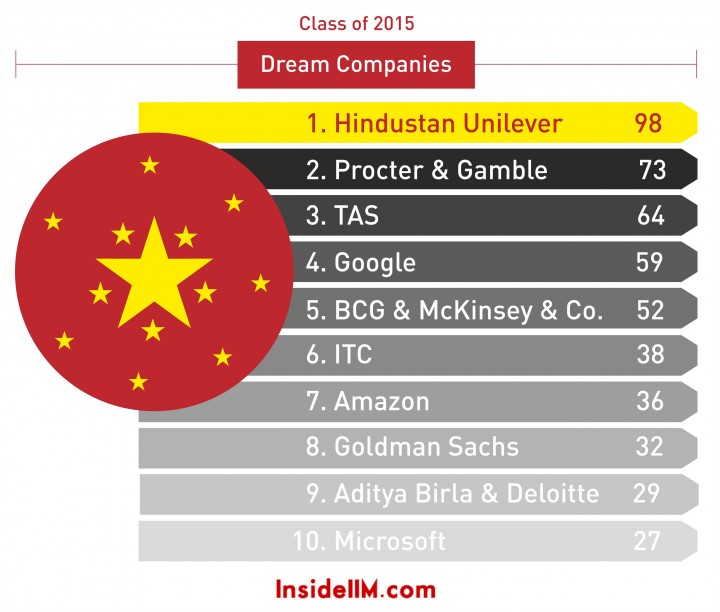 Analysis – TAS breaks into the top three.
TAS has moved up two spots and broken into the top three this year. Amazon has risen by three spots to 7th place, and ITC has risen by a couple of spots to 6th place. Mahindra is not in this year's list, while Microsoft is a new entrant into the top ten list this year. The Dream companies for 2012 were HUL, P&G, BCG, McKinsey and TAS, in that order. As you can see, there are no major changes in Dream Companies over the last three years. The consistency is remarkable.
Like last year, there is only one company from banking and finance in this list – Goldman Sachs at number 8. The rest of the list is a nicely balanced mixture of FMCG, Consulting and General Management Profiles. We suspect that people's rating of companies as Dream Companies depends on their perceived chances of making it into these companies.
Post MBA Industry Professionals
Top 5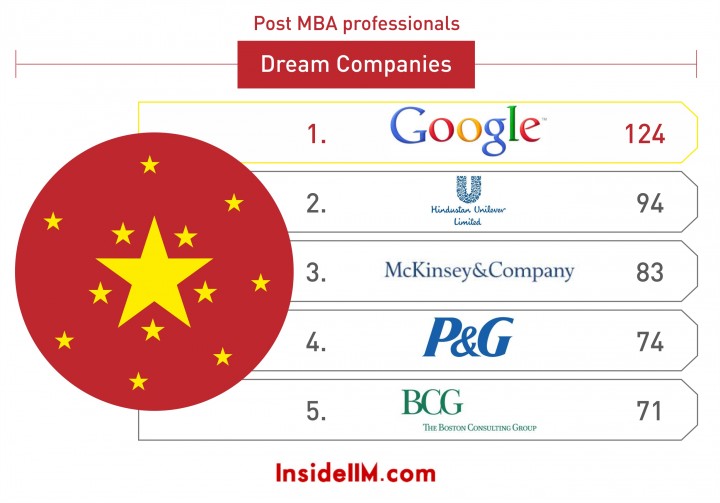 Top 10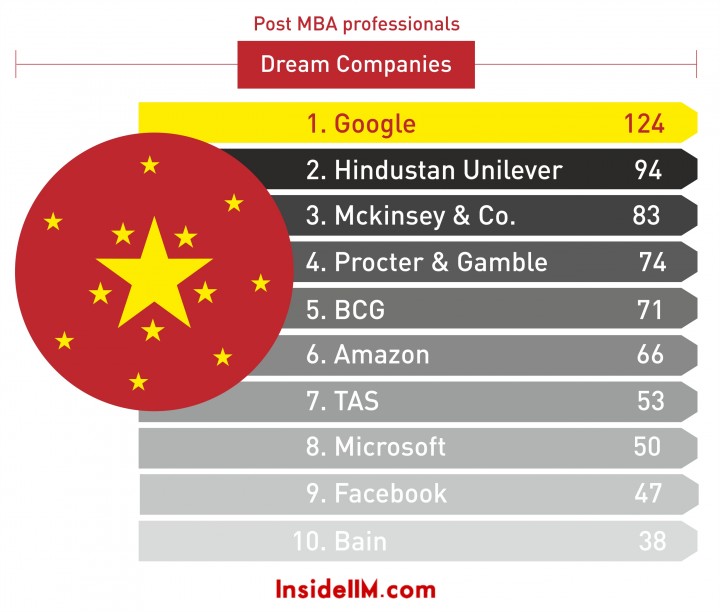 Analysis – McKinsey replaces P&G at third place
Apart from a few minor swaps here and there, this list looks remarkably similar to last year's list. Google is again the favourite for post MBA industry professionals, and the only major change is McKinsey rising to third place, swapping positions with P&G. Bain is pushed back to 10th place by Microsoft and Facebook. There isn't a single banking and finance recruiter in this list.
The similarity between this year and last year's results indicates that these companies are continuing to be at the top of their game as far as attracting and keeping the best talent is concerned.
Class of 2016 and MBA aspirants
Top 5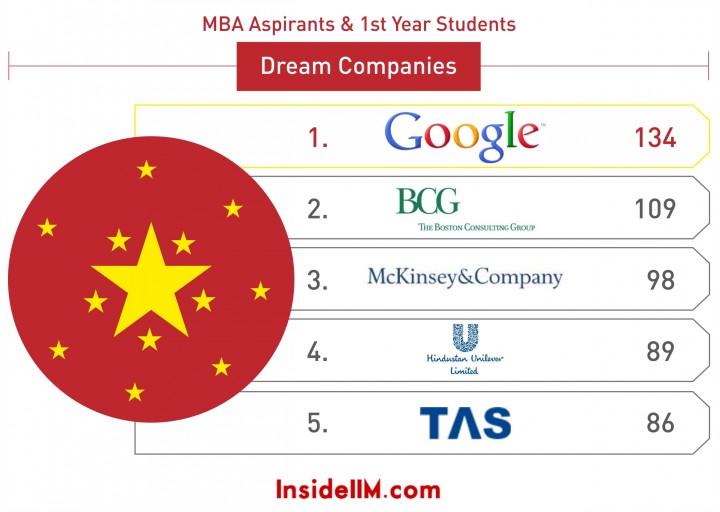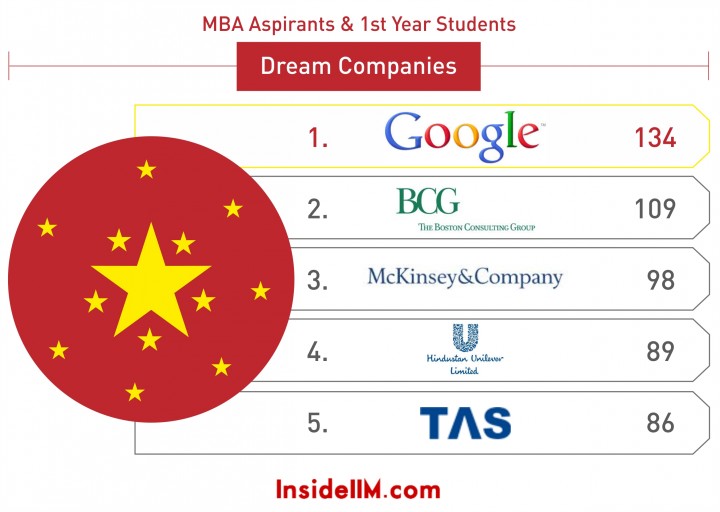 Top 10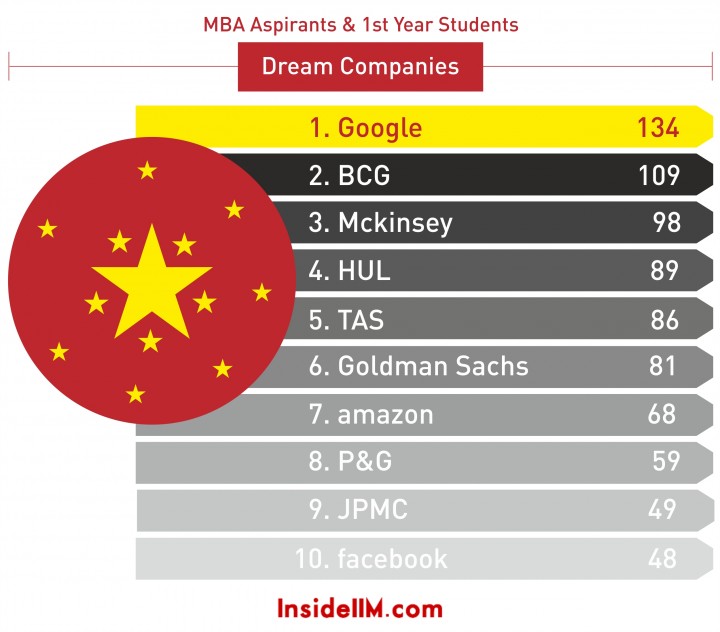 Analysis – Google rises to top spot among aspirants and 1st year students
We had stated in the earlier sections of the survey, that the responses of MBA aspirants and first year students are heavily based on perception. This is true for this part of the survey as well. Google has risen to the top of the list – a stupendous achievement considering that it was not in the top five last year. The rest of this list (as compared to the other two segments of respondents) has evidence of a desperate yearning for investment banking and consulting roles. The other difference is that P&G has slipped by 3 positions, and moved out of the top five.
Summary
The consistency of Dream companies over the last two three years really stands out. Names like HUL, P&G, Google, McKinsey, BCG and TAS have done brilliantly over the last two-three years, and they will be dream companies for nearly everyone on campus this year. It shows that they are doing something right. These companies need not necessarily be the highest paying companies, although they do pay handsomely. Google's performance is remarkable. It is now the number one Dream Company for post-MBA professionals, MBA aspirants and 1st year students.
Read the earlier parts of the InsideIIM Recruitment Survey 2014 here below:
Part I – Most preferred work cities, loan statistics, costs of a MBA and more
Part II – Minimum Salary Expectations, Best Pre-Placement Talk, Job Satisfaction and more
Part III – Most Preferred Companies in Banking and Finance
Part IV – Most Preferred Companies in Consulting and General Management
Part V – Most Preferred Companies in Sales & Marketing and Technology
You can read the results of the Recruitment Survey 2013 here