Business Model
Zara employs over 300+ designers who can churn out 12,000+ designs in a year! These 12,000 designs are made in thousands of numbers taking the annual stock to millions. If you can't process this with the big picture, then imagine this for comparison; Zara's competitors change designs every 3-4 months as compared to every 2 weeks and these competitors make just around approximately 3,000 designs in a year; which is just about 25% of what Zara designs. So, you must be wondering what does Zara do differently? At the heart of this and its supply chain is a huge, distribution hub called "The Cube". We'll talk more about this and Zara's Supply Chain in the article later on.
There are multiple stakeholders involved in this entire process, so let's briefly touch upon who does what. Zara's core target market is men and women (primarily women) in the age bracket of 22-35 years.
Trendspotters

- These are people who have decent fashion knowledge; they hang out at spots where they will find people from the target market in high density. When they see an inspiring design, they immediately share sketches with designers.

Designers

- Once they receive sketches, they churn out the design, sample piece, its specs, and requirements within a few days.

Planners -

Design approvals are quick and once they're out of the way, based on the trend and the finalized design, demand planners estimate the number of finished pieces required.

Sourcing

- These guys place the material requirement orders with their pre-approved vendors across the world based on demand planning for the year.

Manufacturers

- Once the raw materials are received, the product is manufactured at multiple locations across the world, closer to their end target markets and stores.

Movers

- One of the most important legs of the supply chains, they ensure timely delivery of finished products to the distribution centers and then subsequently to the stores through local transport.
Read Related Article: Everything You Need To Know About Supply Chain Management
Now, this entire process is done every 2-3 weeks. One might wonder if Zara is able to sell out all the products on the shelves in this short time and if not, what happens to it? These stocks, if reusable are reused otherwise, they're discarded, creating massive sustainability issues. But these shorter production runs in the supply chain and frequently refreshing inventory help in multiple ways -
helps create scarcity and a sense of urgency amongst buyers

helps Zara maintain low stocks of the products and hence, lower discounts & lower capital

helps make accurate forecasts for shorter periods of time.
For the record, Zara sells 85% of its inventory at MRP compared to the industry avg. of only 60%. Despite that, Zara is usually left with just 10% unsold annual inventory as compared to >20% for other brands.
If you wish to work with global MNCs like Decathlon in Supply Chain roles, check out AltUni's Certificate Program in Supply Chain Management with SPJIMR and Decathlon.
Why Should You Sign Up?
Stand a

chance to interview with the French MNC, Decathlon

for a full-time job opportunity

Get

65+ hours of live and recorded learning sessions with SPJIMR faculty & industry experts

Work on a

Live Industry Project with Decathlon

to get invaluable industry exposure

Learn from

live simulations, assignments, Harvard Business School case studies

, etc.

Get a chance to earn

SPJIMR Executive Alumni status

and get access to a host of benefits

Get certified by

SPJIMR, Decathlon and AltUni
Opt for AltUni International Business Immersion in Singapore
Get

free access to Klub AltUni
This is one of our

top-rated

programs with a cumulative program rating of

4.68 out of 5

.
This program also helps you learn how to master interviews for roles in the Supply Chain Management function,
Benefit from the access to

AltUni Career Services

like 1-on-1 live sessions for CV editing, mock interview, and career coaching

Get

job search assistance as an AltUni alumnus

with access to exclusive job opportunities
What Moves The Company?
In this entire Supply Chain case study, Zara has a lot of control over the manufacturing process and supply chains because it does most of the design, cutting, and dyeing in-house. Zara only purchases a few types of fabrics but in large quantities for the whole year, which it then modifies with its different in-house processes and hence, enabling quicker deliveries of bulk fabric to their production centers.
The center point of Zara's all supply chains in Europe is 'The Cube'; a 5 million sq. ft. distribution center that is connected to 10+ Zara-owned factories within a 15 km. radius. It's the hub between all factories, suppliers, designers, and stores. Here's how it looks.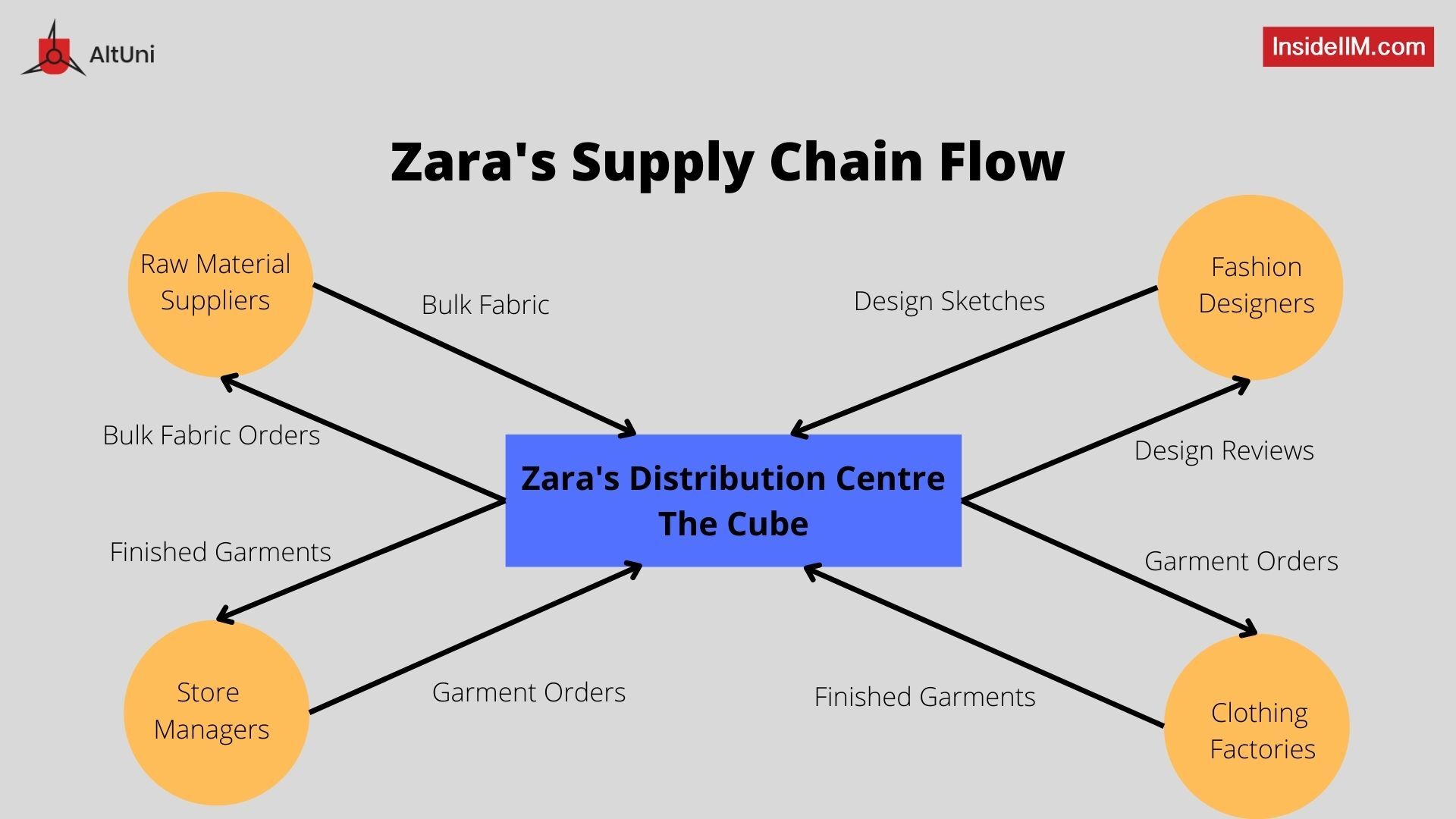 An Agile Supply Chain
Here are some points which highlight how Zara's supply chain is different from other fashion retailers:
Shorter Turnaround

- Fashion trends are replicated & can be seen in stores at lightning-fast speeds.

Inventory Strategy

- Instead of unsold stock lying around in stores and warehouses, Zara plans its demand perfectly and turnover of the stock is fast, thereby improving the bottomline.

Smart Forecasting

- Data and AI usage to predict how soon will a trend fade and remain

Responsive

- Due to its very small inventory and swift internal processes, Zara ensures a responsive Supply Chain that can change/iterate/follow trends very quickly.

Agility

- Zara also manages to just manufacture only 50-60% of their manufacturing in advance due to their capability of ramping up and decreasing the speed of production, allowing them to bet on new trends is proven!
Possible Case Interview Questions
How will you run this supply chain for 15 days if you have to keep inventory and operating costs at the lowest level?

How will you expand this supply chain to support newly opened stores while ensuring that operational costs remain under control?

What are the changes that you will make to this supply chain to make it more resilient to supply chain disruptions?
With AltUni's Certificate Program in Supply Chain Management with SPJIMR and Decathlon, you can get a chance to interview with Decathlon for a Supply Chain Management role!
Have a look at what some of the alumni loved about the program!
"This program is the most comprehensive SCM course! Concepts taught by professors have high applicability in daily business operations" - Y V Sai Kiran, Senior Manager (Planning) - Flipkart
"The program provided ample guidance, content material & support. The practical workshops & sessions were the highlights. Got to know the real-world strategies", Aditya Raj Dash, M.Sc. (SCM)- Queen Mary University of London
"The sessions were engaging & interesting... makes you go back to work & implement certain topics... Thanks for sharing all the knowledge & best practices", Roshan Tamhankar, Head (Supply Chain & Logistics) - Parekh Integrated Services Ltd.
"The course was quite exhaustive in terms of content and case studies; provided a clear picture of where the Supply Chain world is standing right now", Aakash Sachdeva Data Science Trainee - Ecom Express