"Venus at par with, or even better than Mars" – Women Leadership Confluence 2014 @ IIM Raipur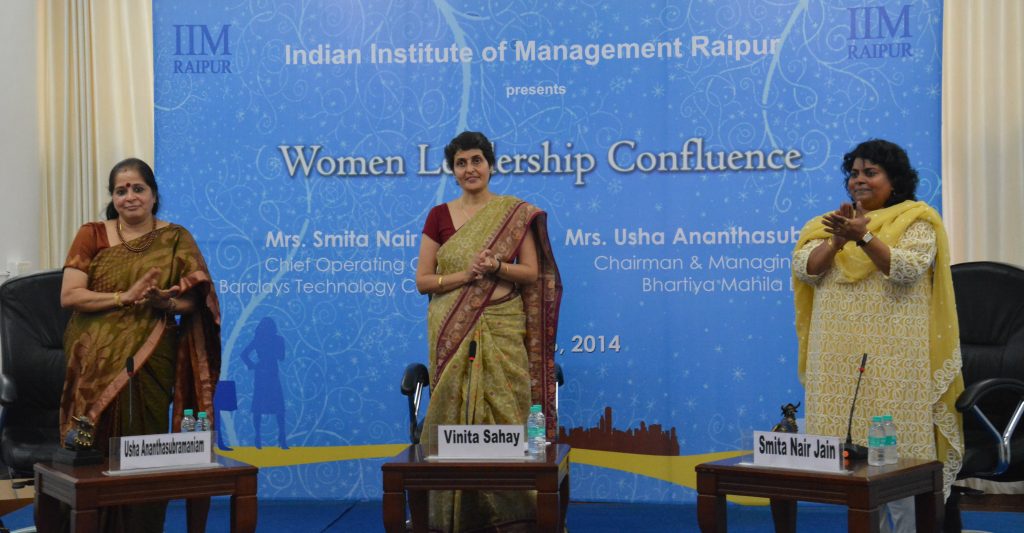 History has witnessed the Green Revolution, the Industrial Revolution and the likes, but there is a new surge, a surge of Women's Revolution. The Feminine gender is taking over many incumbent positions. The status quo is witnessing a wave of Indian women entering the corporate world as leaders. Their voice, which was heard only to them and faded away within them, is today being heard and acknowledged by the mass. The stench of bias and the strongholds of male chauvinism are fading away and will hopefully be soon smothered to nullity.
With the nation going gung-ho on Women Empowerment, IIM Raipur took this opportunity to give a pat on the back of this new surge by exhibiting a platform where two corporate-women supremos- Mrs. Smita Nair Jain, COO, Barclays Technology Centre and Mrs. Usha Ananthasubramanian, CMD, Bhartiya Mahila Bank, shared their views on the tangible presence of women in the corporate world and their experiences and insights on how they climbed the ladder of success defying all odds and understatements.
Although there were only two women present in the confluence, they represented all those other women who are out there in the corporate world, striving hard, leaving no stone unturned to be at par with their male counterparts or even better. Women are now no longer just confined to the kitchen, but their ambits have extended till where their dreams can take them. They have evolved, blossomed, paved a way through and found their niche in the corporate world. They not only beautify themselves but also have a flair of beautifying the management and leadership roles in the corporate. Women's thoughts or values may seem to be idealistic in nature, but their approach towards problems is nonetheless pragmatic.
Mrs. Smita Nair, who is gender agnostic, spoke about the "Power of Yin" and how a woman can be of great potency and as good as her male counterpart. She also stated that, "Women are treated the way they want to be treated. Men will respect you if you respect yourself." Having said that, she also mentioned that she had come across many women who misuse their power in the corporate world. "If a woman expects a man to pull a chair for her, then she should not consider the notion of equality", said Mrs. Smita. This statement might be a turnoff for a guy who wants to impress his lady with the gentle gesture on a well-planned romantic date or for that matter a turn-off for the lady as well who might be anticipating the gentle gesture that arouses a feeling of being pampered, but Mrs. Smita stated the statement with an intention to strengthen the women gender and to eliminate the feeling of being inferior or dependent. She encouraged the men to not give a preferential treatment to the women in the workplace and give them a space for competition. She encouraged women to be proud of what they are and reminded them of their extraordinary ability to wear many hats.
Indeed, a woman can juggle between an apron in the kitchen and a business suit at her office, stirring the curry in the kitchen and formulating business plans in her cabin, nurse her child who is sick and handle the grievances of the employees when they are discontent- a few facets exhibiting how gracefully nature has equipped the feminine gender. When asked whether she agrees to the glass ceiling effect, she stated that she acknowledges its existence but disagrees to the fact that it is confined only to the feminine gender.
After a great boost of words from Mrs. Smita Nair Jain, the IIM Raipur fraternity was then privileged to hear the enlightening words from Mrs. Usha Ananthasubramanian, who stated that "Women Empowerment is the key to Women Leadership". "Men dominate and women orchestrate," she said, a line that advocates the leadership style of women to engage other people in the team for an efficient output rather than being a one-man army and losing the battle. She noticed a lot of women finding their niche in the financial sector, but a weakness that women have been facing is in the area of networking and negotiating. With regards to her observation, she stated that it was more important for the women to develop "negotiating" skills rather than "financing" skills. She encouraged the women to bear the "can do" attitude and concluded with the story of Wilma Rudolph. Wilma Rudolph became the first American woman to win three gold medals at a single Olympic Game and was considered the fastest woman in the world in the 1960s, despite being prematurely born and suffering from physical disability till the age of 12. Mrs. Usha innervated the listeners by the statement of Wilma Rudolph: "My doctors told me I would never walk again. My mother told me I would. I believed my mother."
Thus, concluded the event with a vista of learning and a vision of what India is going to witness – Women not merely playing the role of Home Managers, but Corporate Managers as well. For those women who feel that their progress is crippled and hopes assaulted, it's time for you to rise!
This article is written by Prateek Suting, of PGP 2014-16. He can be contacted at pgp14092.prateek@iimraipur.ac.in