The NMAT exam is one of the few MBA entrance exams in the country that allows multiple, well-spaced-out attempts. This means your test scores no longer depend on your luck on the exam day. You can attempt the exam multiple times to achieve and submit your target scores.
However, your NMAT attempts must not be scheduled on an ad-hoc basis and must be based on some degree of planning. You must consider various factors that can influence (or disrupt) your NMAT exam scheduling strategy.
Take Your Career To The Next Level. Ask Our Experts Anything. We Will Respond Within 48 Hours.
Here's what you need to account for before scheduling your NMAT attempt.
What to consider before scheduling your NMAT attempts:
Beyond actual slot-availability, there are four major things to keep in mind before scheduling your NMAT attempt: preparation level, other exams you'll be attempting, your target business schools, and your testing preference.
The point of multiple NMAT attempts is to maximise your chances of achieving your target score. This purpose is defeated if you do not sufficiently space-out your NMAT attempts to work on your weaknesses and improve your test-taking strategy.
Though there is a minimum 15-day gap that needs to exist between two NMAT attempts, candidates must carefully and realistically evaluate the time they'll need to prepare to their fullest and put their best foot forward.
The best way to assess your preparation level before scheduling your NMAT attempt is by attempting official NMAT mock tests. These tests by GMAC are designed to simulate the actual exam and help you practice with NMAT-grade questions from past exams.
The average of your scores on official NMAT mock tests can be a good benchmark for your preparation level and how you'll fare on the actual exam.
The NMAT exam is one of India's most candidate-friendly exams that wants test-takers to win. Even so, many NMAT test-takers also attempt other entrance exams to increase admission probability. This makes sense, but it also throws a spanner in the works.
Preparing for multiple entrance exams can be chaotic, if not properly planned. The test patterns and scoring systems differ from one exam to another, which demands distinct attempt strategies. Further, your NMAT mock test calendar can be disrupted by mixed priorities.
As a workaround, candidates who are sufficiently prepared and are achieving their target scores on official NMAT mock tests can schedule their attempt now, take the exam early, and focus their energies elsewhere.
Candidates yet to achieve their target scores on official mock tests must prioritise exams from an ROI standpoint, chart out a roadmap accordingly, and strengthen their preparation.
3. Target business schools
Scheduling an NMAT attempt also comes down to target business schools.
One example is ISB's AMPBA program, for which the institute offers admissions on a rolling basis to fill a limited number of seats. This means your NMAT attempts must be scheduled in a manner that enables you to submit your best application in your preferred admission cycle.
Therefore, before scheduling their NMAT attempt(s), candidates must create a priority list of target business schools, gather all the facts, and then plan their attempts.
4. At home or test-centre
NMAT is one of the few entrance exams that can be attempted either at test-centres or in an online proctored format. This means that test-takers that don't find their preferred test-centre slots or don't prefer in-person testing have the flexibility to take their exams online instead.
However, once a testing format has been scheduled, it cannot be changed until the next attempt. This is why test-takers must be very careful while choosing how they want to attempt their NMAT exam.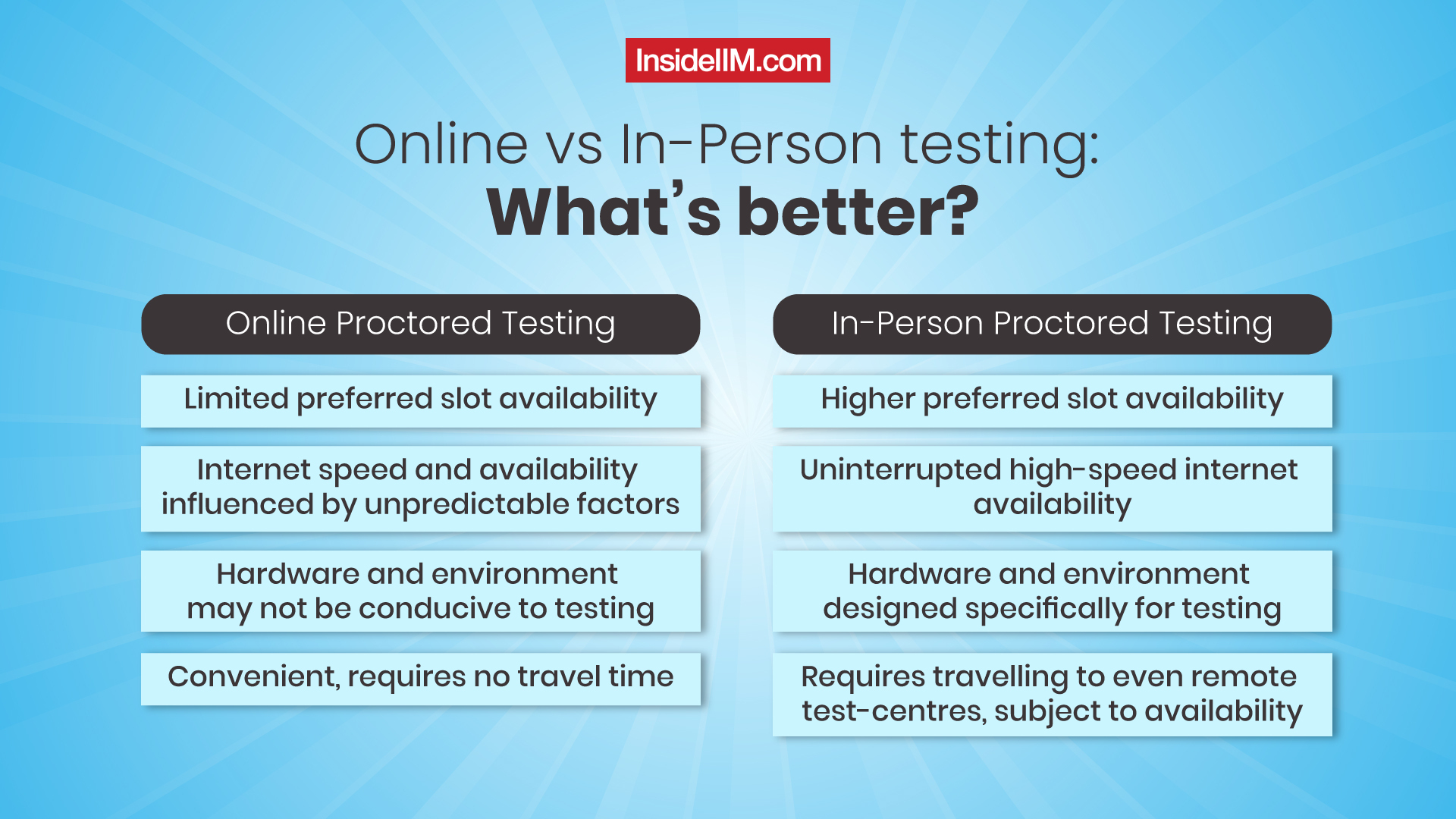 Before scheduling your NMAT attempt, determine if you'd like to take the test from home or at the test-centre. Here, consider any upcoming travel itinerary, high-speed internet availability, hardware availability, availability of a quiet environment for test-taking, etc.

Maximise your NMAT scores with careful planning
Three NMAT attempts are a boon. But multiple chances to take the exam mean very little if you do not improve between the attempts. Planning can help you make the most out of all three NMAT attempts and achieve a score that reflects your true calibre.