What is the NMAT exam?
The NMAT exam is a national MBA entrance exam conducted by the Graduate Management Admission Council (GMAC) and attempted by tens of thousands of test-takers every year.
NMAT scores are accepted by leading business schools
The NMAT exam is a gateway to 60+ business schools in India, as well as institutes in South Africa, the Philippines, Nigeria, and Morocco. Leading management institutes such as the School of Business Management (SBM) at NMIMS Mumbai, the Indian School of Business, SPJIMR, KJ Somaiya Institute of Management (KJSIMSR), Master's Union, TAPMI and many others accept NMAT scores for their management programs. NMAT is exclusively accepted by NMIMS and AIM, Philippines.
Here's a closer look at what the exam is all about.
Test-Structure:
The NMAT exam has a total of 108 questions, split across three sections: Language Skills, Quantitative Skills, and Logical Reasoning. These sections are individually timed.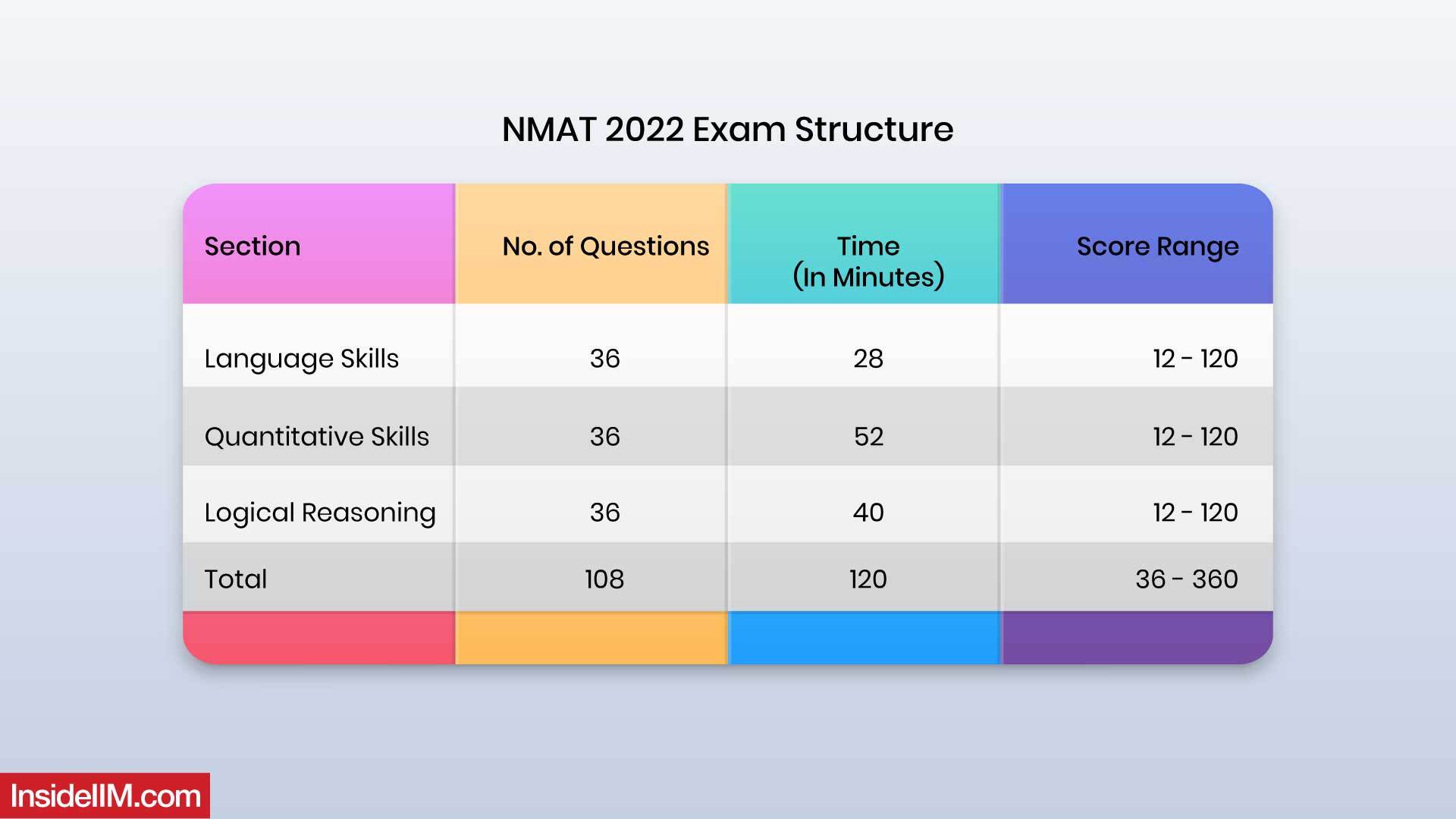 The NMAT exam is adaptive. This means that the questions test-takers receive aren't consistent in difficulty level but algorithmically adapt to the test-taker's ability. For instance, if you score high in consecutive questions, you will face progressively higher-difficulty questions.
Scoring Mechanism:
Given that NMAT is a computerised adaptive test, the scoring system cannot be linear for every test-taker. Therefore, the exam follows a probabilistic model approach of modern exam theory, estimating the final score based on the candidate's ability and then converting the score into a scaled score in the range of 36-360. This evens the playing ground for all test-takers.
Topic Coverage:
The topic coverage for the NMAT exam is quite straightforward and the following topics are covered under each of the three NMAT sections.
Language Skills:

Reading Comprehension, Para Forming, Error Identification Prepositions, Sentence Completion, Analogies

Quantitative Skills:

Critical Reasoning, Analytical Puzzles, Deductions, Other Reasoning

Logical Reasoning:

Number Properties, Arithmetic, Algebra and Probability, DI Caselets and Tables, DI Graphs and Charts, Data Sufficiency
Interested in taking the NMAT exam? Registrations are now open for NMAT 2022!
Why should you take the NMAT exam?
In India, you can choose from a plethora of entrance exams to make it to your dream business school. So, why choose NMAT?
Apart from the fact that many premier institutes exclusively accept NMAT scores for admission to their MBA programs, there are many benefits to taking the test itself.
The NMAT exam is built for test-takers to do their best.
What sets the NMAT exam apart is its candidate-friendliness. NMAT by GMAC equips test-takers with all the necessary tools to optimise their exam performance and make it to their dream business school. Here's how.
1. The adaptive test reflects candidates' true abilities
Standard competitive exams have a blanket difficulty level of questions for all test-takers. This means that a test that may be difficult for someone else may be a breeze for another. This brings in an element of luck—not what you want for a career-deciding entrance exam.
NMAT—a computerised adaptive test—removes this element of luck by presenting questions that are best suited to a test-taker's ability. Therefore, high-scorers receive more challenging questions than relatively low-scorers, which evens the playing ground for all candidates.
2. Test-takers can play to their strengths
There aren't many competitive entrance exams that allow candidates to choose their preferred order of sections. On the NMAT, candidates can choose their ideal sequence and attempt the exam optimally.
NMAT also doesn't have negative marking. This means that candidates can optimise their attempts across sections without the sword of score deduction hanging over their heads.
Further, GMAC offers vital official test-preparation material for candidates to become familiar with and practice for the actual exam.
3. Seize three opportunities to put your best foot forward
Part of what makes Indian competitive entrance exams challenging is that most of them are conducted just once a year. Essentially, what this means is that you either do well in your only attempt or wait one whole year to re-attempt the exam. This brings additional pressure and can be distracting on exam day.
NMAT reduces this pressure by empowering candidates to attempt the test not once but thrice in a testing year. Only the best score is sent to your target business school(s), optimizing the chances of selection. (The NMAT by GMAC™ exam registration and the School Application process are two separate steps. We encourage you to keep checking for any changes in the program eligibility criteria and admission process of the NMAT by GMAC score accepting programs on the University/B School Website.)
Further, NMAT allows candidates to preview their scores instantly, and also releases test-scores within 48 hours of the attempt. This means test-takers can either plan their next attempt well in advance, or focus on their interview preparation if they are satisfied with their scores. No guesswork. No stress.
4. Take the test from the comfort of your home
NMAT is one of the few Indian competitive exams that allows test-takers to attempt the exam from home or anywhere else in the world. These tests are online proctored and can be self-scheduled as per the test-takers' convenience. There are limited slots for online at-home NMAT this year, available on a first come first served basis.
Schedule your first NMAT attempt today!
Candidates can select their best scores and send them to institutes across the world. Registered candidates can send scores to five schools/programs without paying any additional fee.
Leverage NMAT to Maximize Your Chances for a Top B-School Admit
In all likelihood, the NMAT exam will be one of the many entrance exams you'll be attempting this year. But with the exceptional candidate-friendliness of the test, your chances of performing well and making it to a leading business school are arguably the highest with NMAT.
Register now for the NMAT exam and maximize your chances of making it to a premier business school this admissions season!