The 6 IIMs Alumni Report – Banking & Finance – Part 3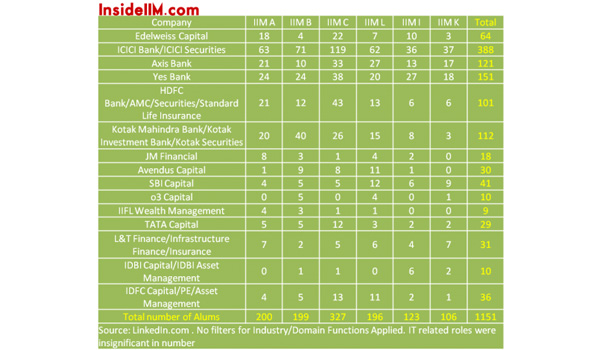 There is always a big number of aspirants who say they want to become an 'i-banker' without even understanding what it entails. In order to paint a pretty picture about their own business schools, there is always a race among the placement committees of hordes of business schools in India to get every possible job available in an i-bank. It is based on this basic insight that when someone reads the brown coloured newspaper pages no one understands the difference between a front-end job and a technology job and a middle office excel number crunching job.
Our 3rd part covers, Banking & Finance – Multinational/Foreign Banks and Financial Institutions  and Indian Banks and Financial Institutions.
Points to note before you look at the data below:
1) This data has no Time filter unlike Part 1. It shows number of professionals on LinkedIn currently working at the below mentioned companies.
2)We got a lot of queries around the IT roles data depicting a skewed picture and hence wherever significant, we have filtered out IT related and HR/admin roles as much as possible. In spite of this, there will still be some amount of IT related roles hidden in the Foreign Banks and FI data below. But the numbers are good to make a trend. Beyond this, no domain/function filtering has been done. For Indian Banks and Financial Institutions no filtering was done as the numbers were too insignificant to distort a trend.
3)Please remember the data below is based on user generated data. Hence, it cannot be 100% accurate
4)It includes professionals who may have attended other programmes at these institutions. Not everyone in the sample has attended the 2 yr flagship PGP programme. For e.g. it may even include someone who has done a 3 day certificate programme at any IIM.
5)It includes current PGP students who are undergoing summer internships and have updated their profile with the name of the organization they are interning in.
6) Before running down an institution, please be aware of the context. 13 batches of IIM Indore, 14 batches of IIM Kozhikode, over 25 of IIM Lucknow, over 35 of IIM Bangalore and over 45 of IIM Ahmedabad and IIM Calcutta have graduated since Independence. Also note that most of the LinkedIn users we found in our sample are alumni who have graduated between 1990-2012.
7)And finally, please note that the list below is NOT EXHAUSTIVE. Not everyone is on LinkedIn. This report just serves as a trend spotter at best. Team InsideIIM is not responsible for any career decisions taken solely on the basis of this report.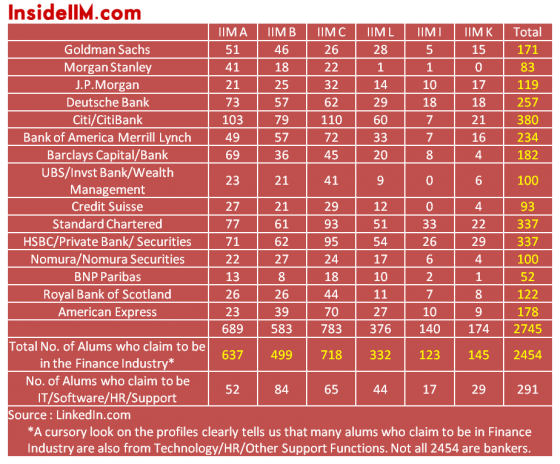 The Gap is much narrower between the 6 IIMs when we look at Indian Banks and Financial Institutions. You are more likely to get a role based on merit than because you are from a particular business school. While it is not guaranteed but students from IIM LIK,FMS,XLRI,SPJIMR,JBIMS etc. are less likely to be discriminated against in an Indian Bank or Financial Institution.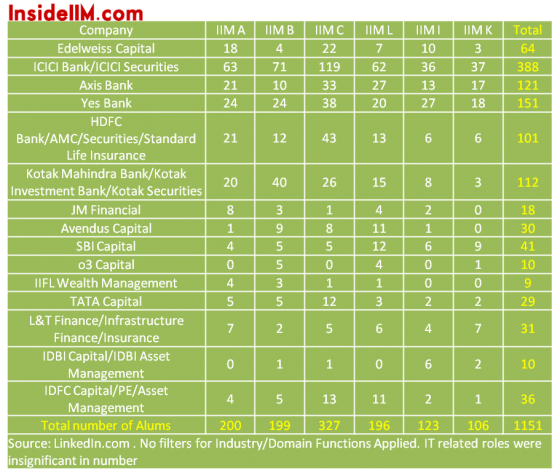 Please bear in mind that above data does not distinguish between front-end, middle office and support roles. It simply looks at the number of alumni working in a company from a particular institution. Not very tough to see  the alumni effect here either.
Please note that having an alum in a particular organisation does not mean the company visits the campus of that Institution  for fresh recruitment. There is always a lot of movement because of job hopping. A lot of IIM LIK alumni have moved to good positions laterally.
You may also like to read :
The 6 IIMs Alumni Report – Consulting & FMCG – Part 2
The 6 IIMs Alumni Report – Locations & Companies – Part 1
The Most definitive Student Exchange Programme Report – 2011 (One of its kind report for top business schools in India)
New ! – Industry Series : Interview with Rishiraj Singh Pruthi – Head, Customer Marketing at Abbot Nutrition
Read our Final Placement Reports for the Class of 2012 :
Final Placements :IIM Lucknow – Class of 2012
Final Placements: IIM Bangalore – Class of 2012
Final Placements :XLRI Jamshedpur – Class of 2012
Final Placements :IIM Kozhikode – Class of 2012
Final Placements :IIM Calcutta – Class of 2012
You may also like to read:
Final Placements – Class of 2012 : The big test for the IIMs
Summer Placements 2011-13 – JBIMS Mumbai
Summer Placements 2011-13 – IIM Bangalore
Summer Placements 2011-13 – IIM Calcutta
Summer Placements 2011-13 – IIM Lucknow
Summer Placements 2011-13 – IIM Indore
Summer Placements 2011-13 – IIM Kozhikode
Summer Placements 2011-13 – XLRI Jamshedpur
Summer Placements 2011-13 – FMS Delhi
Our facebook page : InsideIIM
Follow us on twitter here : @InsideIIM