The 6 IIMs Alumni Report – Locations & Companies – Part 1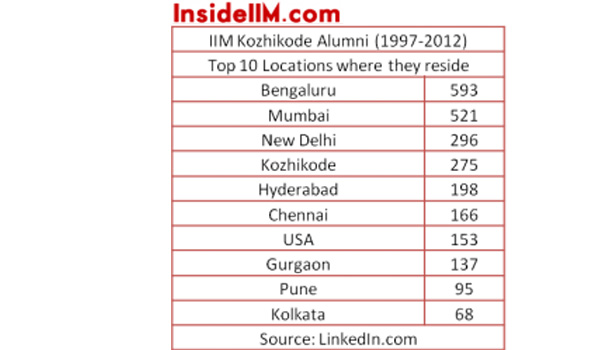 LinkedIn.com has made life easy for all of us. We thought we should make it easier for all you aspirants and current students. Using freely available data on LinkedIn.com, Team InsideIIM presents to you the 'Alumni Report'. We have looked at all professionals who have mentioned one of the  older 6 IIMs as a part of their Education on their LinkedIn.com profile and done some analysis for the last 15 years. This is the first in a series of reports that we shall bring to you on alumni in top schools of India!
This report focuses only on 2 aspects – Locations and Companies. Every professional who has attended one of the 6 IIMs between 1997 to present (About 15 years) is included. If you look at the flagship PGP programme, it includes about 16 batches (Lowest being IIM Indore 13 batches).
Since the data is user-generated, we cannot say that the figures are 100% accurate. But we suggest, you look at the data and figure out a trend rather than splitting hair on every statistic. For e.g. IIM I and IIM K (13 & 14 batches respectively) show a trend which suggests they are twins 😛
Please note the following before you proceed forward :
1) The data may include a few fake profiles. However, The number is too insignificant to distort the trend.
2)It includes professionals who may have attended other programmes at these institutions. Not everyone, in the sample has attended the 2 yr flagship PGP programme. For e.g. it may even include someone who has done a 3 day certificate programme at any IIM.
3) It includes current PGP students who are undergoing summer internships and have updated their profile with the name of the organization they are interning in.
4)We have not filtered for domain/function. So if there is someone in a bank's technology team, since he/she is an employee of the bank, it would be counted below.
Lets look at the data :
IIM Ahmedabad – Dates Attended – 1997-2012 – Total Sample – 8,647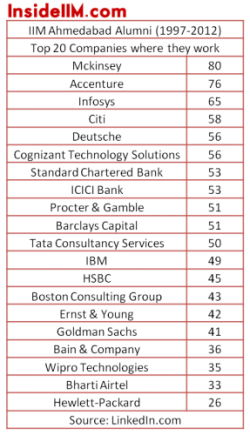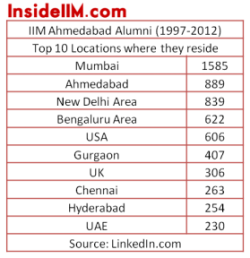 IIM Calcutta – Dates Attended – 1997-2012 – Total Sample – 12,384
IIM Bangalore – Dates Attended – 1997-2012 – Total Sample – 11,081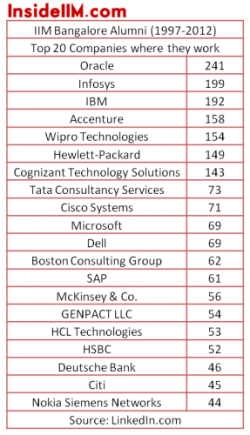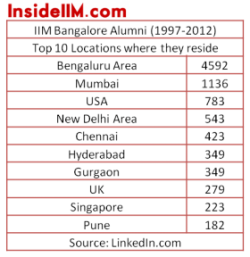 IIM Lucknow – Dates Attended – 1997-2012 – Total Sample – 5,196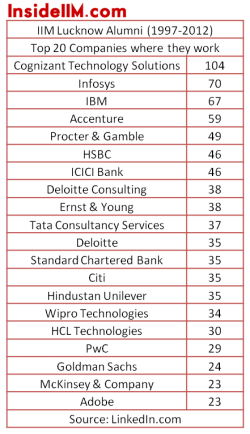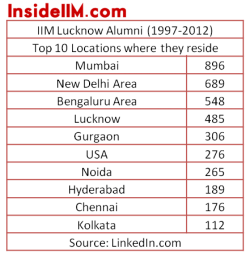 IIM Indore – Dates Attended – 1997-2012 – Total Sample – 3,212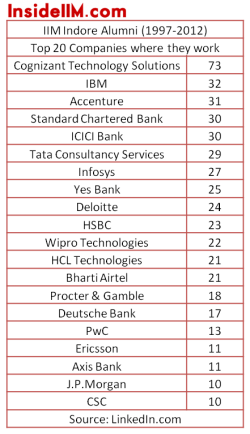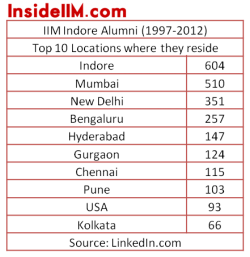 IIM Kozhikode – Dates Attended – 1997-2012 – Total Sample – 3,273
The above data is as on 20th April 2012. It will be republished again as on 20th October 2012 which shall see inclusion of the Class of 2012 with their updated permanent roles.
Next  we shall bring to you the non-IIM top business schools – ISB Hyderabad, XLRI Jamshedpur, FMS Delhi, JBIMS Mumbai, SPJIMR Mumbai
While this report is only indicative, we shall publish more slices of this data which you shall find more useful. We promise there are more interesting insights coming your way 🙂
The 6 IIMs Alumni Report – Banking & Finance – Part 3
The 6 IIMs Alumni Report – Consulting & FMCG – Part 2
The 6 IIMs Alumni Report – Locations & Companies – Part 1
The Most definitive Student Exchange Programme Report – 2011 (One of its kind report for top business schools in India)
New ! – Industry Series : Interview with Rishiraj Singh Pruthi – Head, Customer Marketing at Abbot Nutrition
Read our Final Placement Reports for the Class of 2012 :
Final Placements :IIM Lucknow – Class of 2012
Final Placements: IIM Bangalore – Class of 2012
Final Placements :XLRI Jamshedpur – Class of 2012
Final Placements :IIM Kozhikode – Class of 2012
Final Placements :IIM Calcutta – Class of 2012
You may also like to read:
Final Placements – Class of 2012 : The big test for the IIMs
Summer Placements 2011-13 – JBIMS Mumbai
Summer Placements 2011-13 – IIM Bangalore
Summer Placements 2011-13 – IIM Calcutta
Summer Placements 2011-13 – IIM Lucknow
Summer Placements 2011-13 – IIM Indore
Summer Placements 2011-13 – IIM Kozhikode
Summer Placements 2011-13 – XLRI Jamshedpur
Summer Placements 2011-13 – FMS Delhi
Our facebook page : InsideIIM
Follow us on twitter here : @InsideIIM