InsideIIM's list of India's top MBA colleges in 2021 has now been released! This year's rankings have seen some interesting changes: for the first time, XLRI has been edged out of the top five and has been replaced by an IIM. ISB has seen a significant change in its rankings, and for the first time, IIFT Delhi has slipped out of the top ten.
This year, the third generation of IIMs (baby IIMs) continue to collectively find themselves at the bottom, while IIM Rohtak emerges as the least favoured amongst the second generation of IIMs (new IIMs). So where in these rankings do the likes of MDI Gurgaon, NITIE, IIFT, SIBM Pune, NMIMS and IIM Shillong feature? Find out in the latest InsideIIM MBA rankings of India's top MBA colleges.
---
Big Takeaways From InsideIIM's Ranking of India's Top MBA Colleges In India 2021
Every year, InsideIIM releases its rankings of India's top MBA colleges. These rankings are based on MBA aspirants' perception and desirability of Indian b-schools across the country. This year, the InsideIIM rankings were created based on approximately 1100 responses collected from within the InsideIIM community. Here's a brief summary of what the rankings revealed:
IIM ABC continue to take up the top three positions, in that order. XLRI Jamshedpur has been edged out of the top five by IIM Lucknow, and IIFT Delhi has been edged out of the top ten by ISB. SPJIMR Mumbai continues to retain its position amongst India's top ten MBA colleges.
MDI Gurgaon, JBIMS, NITIE, and SJMSoM, and TISS have been ranked ahead of IIM Shillong in 2021. SIBM Pune features amongst the top twenty business schools of India.
Amongst the second generation (new) IIMs, IIM Trichy emerges as the most favored business school, while IIM Rohtak emerges as the least favored. IIFT Kolkata has ranked ahead of NMIMS Mumbai and SCMHRD Pune. All four IITs listed in these rankings have ranked ahead of third generation (baby) IIMs.
Want to know how you can ace your WAT PI rounds? What if we tell you that we have exactly the right set of people to do that for you? Unilever and InsideIIM is back with Changemakers 2022, a place where you get mentorships from the brightest minds at HUL, understand the nitty gritty of the WAT PI rounds, find an entry to marquee b-school competitions and a golden opportunity to intern with Unilever. Excited? Register here if you have cracked your CAT, XAT exams this year.
---
IIM Ahmedabad India's Top MBA College, IIM Lucknow Pips XLRI, ISB Features In The Top Ten
To no one's surprise, IIMs Ahmedabad, Bangalore and Calcutta have been rated as India's top MBA colleges. This year, IIM Bangalore has gained a slight edge over IIM Calcutta for the second position. These are three of India's oldest and most desirable business schools, producing stalwarts that have gone on to lead billion dollar companies. These three institutes are also amongst
the top hundred business schools in the world
.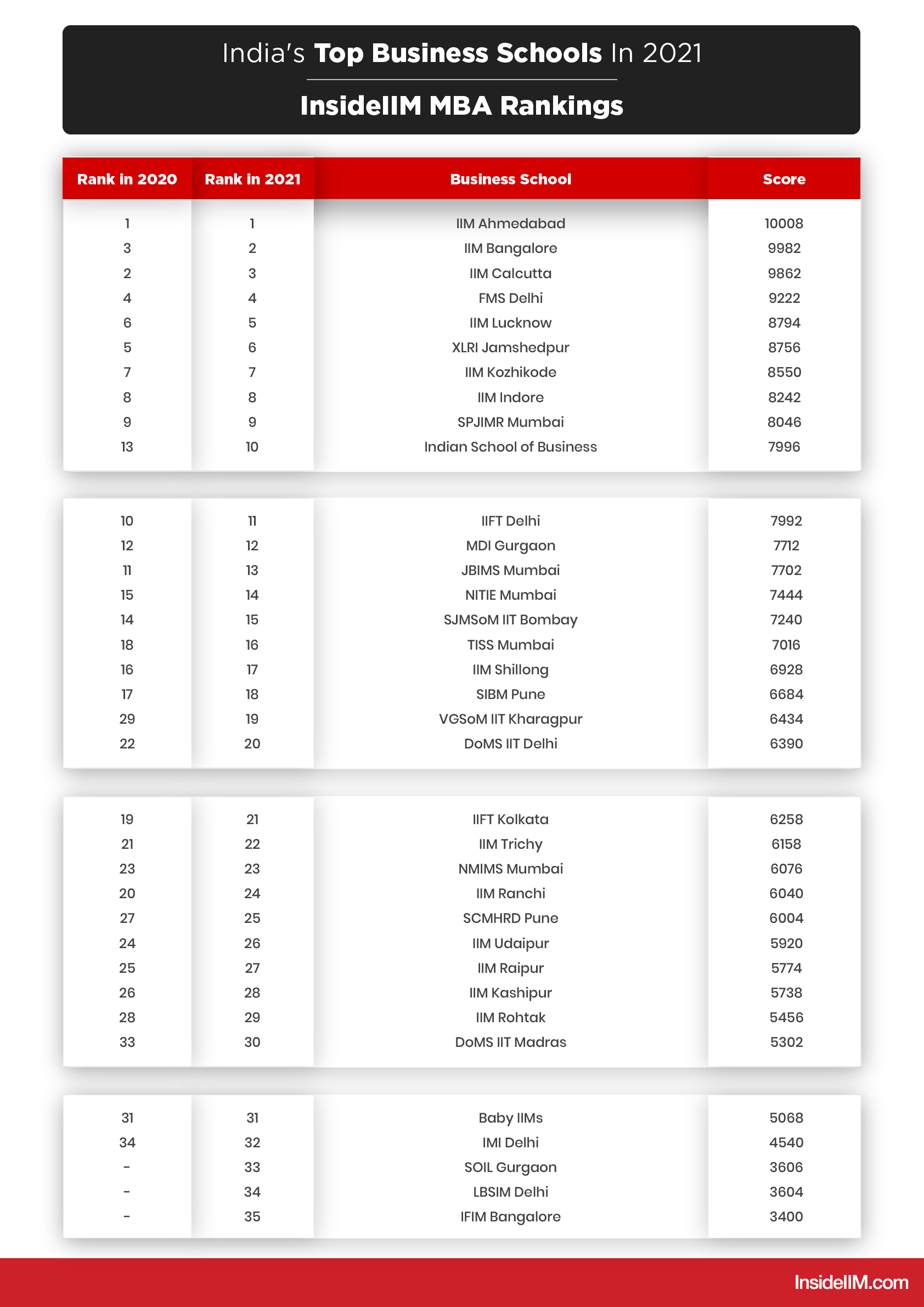 Note - MICA, IMT Ghaziabad, XIMB, KJSIMSR, TAPMI, XUB, IFMR, SDA Bocconi Asia Center, Great Lakes Chennai, FORE, Goa Institute of Management, and WE School were ranked but declined to participate in these rankings.
---
Amongst the top five, government MBA colleges rule the roost. FMS Delhi continues to be the business school of choice for aspirants across the country. A large contributor to this is the relatively high return on investment that FMS provides to its graduates, charging only ₹2.00 lakhs for the two year program; an amount that some can pay off with just their summer internship stipends. This year, XLRI Jamshedpur has been edged out of the top five by IIM Lucknow, though only by a whisker.
Amongst the top IIMs, IIMs ABCLKI have been ranked in that order. IIM Indore has perhaps not been favoured over IIMs L and K due to the huge batch size at the institute. Even so, the institute manages to achieve 100% placement for its batch year-on-year,
including for its Class of 2021.
XLRI Jamshedpur has been favoured over IIMs Kozhikode and Indore. ISB has significantly improved upon its position from last year.
XLRI Jamshedpur, SPJIMR Mumbai, and the Indian School of Business are the top three privately owned management institutes in India.
---
IIFT Delhi Narrowly Misses Out On A Top Ten Spot, SJMSoM Ranked Above IIM Shillong
For the first time in three years, IIFT Delhi has been edged out of the top ten, though only by nanoscopic margins. MDI Gurgaon, JBIMS, NITIE and SJMSoM also feature amongst India's top fifteen MBA colleges in 2021. Notably, the IITs have ranked ahead of the second and third generation IIMs in terms of desirability. IIT Bombay's SJMSoM has done particularly well, ranking ahead of IIM Shillong.
NITIE Mumbai, despite accepting only engineers and offering a specialized management program, has featured amongst the top fifteen b-schools in India. TISS, another business school offering a specialized program, has improved upon its rankings as compared to last year. TISS, along with FMS and JBIMS, has one of the highest ratios of return on investment amongst India's top business schools.
SIBM Pune has been ranked ahead of second and third generation IIMs. Ranked well ahead of SBM-NMIMS Mumbai for the fourth consecutive year, these rankings should settle the oft-occurring
comparison between SIBM and NMIMS
. IIT Kharagpur's VGSoM has been the biggest gainer since last year, improving its rank by ten positions.
---
---
IIM Trichy The Best of The Second Generation of IIMs, IIFT Kolkata Ranked Ahead of NMIMS
If you were wondering which of the CAP IIMs + IIM Rohtak is the best of the lot, the InsideIIM MBA rankings has found an answer. IIM Trichy has emerged as the top second generation IIM in the country, ranked ahead of business schools such as SBM-NMIMS and SCMHRD. On the other end, IIM Rohtak continues to be the least favoured amongst the second generation of IIMs.
Over the years, NMIMS has begun to slip out of favor in the minds of MBA aspirants despite being located in Mumbai and having an average salary higher than that of the newer IIMs. Perhaps the institute's large batch size, colossal program fee, and the lack of a residential MBA program could be contributors to the institute's current position in these rankings. This year, IIFT Kolkata has ranked ahead of SBM-NMIMS Mumbai.
Related Links:
---
To what extent do you agree with these rankings? Which business schools aren't ranked where they belong? What would your list of India's top ten business schools look like? Let us know in the comments!