Trick Or Treat Because It's Halloween At IFMR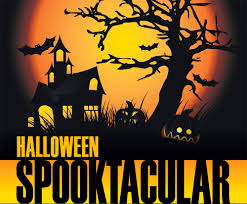 It was late October, the frenzy was the setup and everyone was decked up. Started with bewilderment with a great chunk to turn up and ended on a lovely note with lots of memories and peaceful bang up.
Clichés have never been our history and doing something trendy has always been our loud mystery. We, Laasya define the cultural vivacity at IFMR. So, this time we decided to go for a quirky beat and after lots of brainstorming we came up with an idea of conducting Halloween at IFMR. With a little amount of time but great synergy, we held our event named Spooktacular. We started off with decoration and did some ornamentation with the colours of dark and topped that with a little garnishing of spookiness. Red was the colour, black was the dresses and terrifying makeup was on their faces. Spiders on the wall and white doll to sprawl, we filled our ambience with horror on the top.
Nritya team performed their brilliant piece of spin and twirl and Abhinaya (Drama) club was with their usual dazzling whirl.  Some games like Guess the horror story and mummy wrap up was ready on our plate to serve our mates. Our big 'treasure hunt 'was the last game of the night which ended up quite well with juniors winning the game.
At last, what is a fright night without a frightful essence! We showcased one of the spookiest movie "Lights out" to complete our Halloween night in a terrifyingly cherish and small musical note with our fellows dancing like never before. We ended our event with a strong bond to perpetuate in our heart and a faith to conduct every coming event with full enthusiasm and assiduity.
In between the tough schedule of a b-school, the Halloween night was a sprite of joy for the students. Showcase of talent was at its epitome. Such an out of the box event gave the students to explore their talents more.
——————
About the Author:
Anjali Dasila
"First year MBA student at Institute for Financial Management and Research (IFMR).
Student Representative of IFMR Laasya"
IFMR Graduate School Of Business, Krea University
Established in 1970, IFMR Graduate School of Business, Krea University is a leading business school with the objective of moulding ambitious young men and women into competent and socially responsible organizational leaders in a global setting. IFMR GSB is fortunate to have pre-eminent faculty members, most of whom have Ph.Ds from well-known institutions in India and the United States.